You are now in the main content area
The Forefront — Special episode: Renaming our university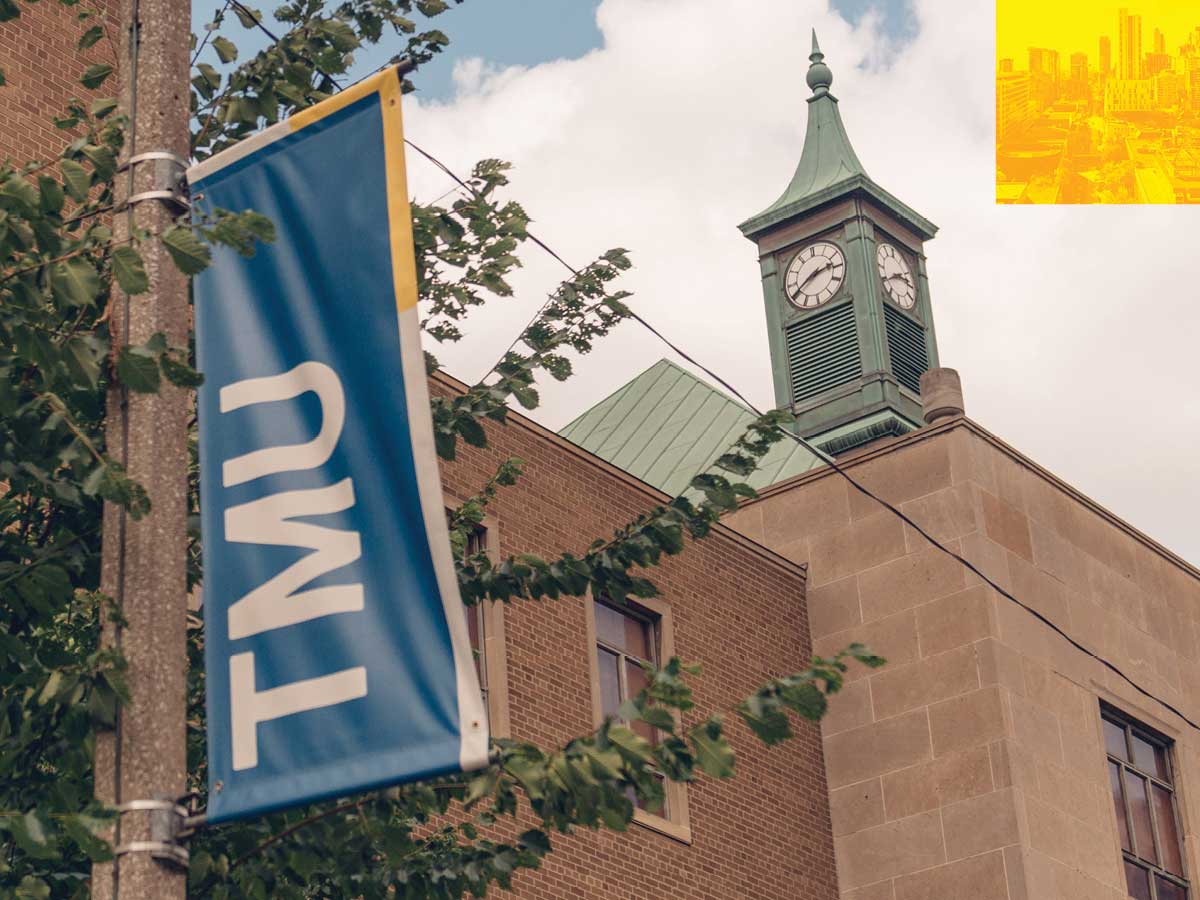 Season 3, Episode 1
Description
In 2021 the Standing Strong Task Force provided a list of recommendations for how the university can address the legacy of Egerton Ryerson and forge a new chapter. One of the recommendations was a renaming to reflect our university values better. The process included feedback from more than 30,000 people, with over 2,600 name suggestions. In April 2022, the name Toronto Metropolitan University (TMU) was announced.
In this episode, we chat with TMU elder Joanne Dallaire, author and journalist Waubgeshig Rice and chair of the University Renaming Advisory Committee, Jennifer Simpson, as we explore the process behind the renaming and the significance of this move for TMU's Indigenous communities.
Amanda: This is The Forefront, a Toronto Metropolitan University podcast that explores ideas for cities. I'm Amanda Cupido.
So here's the problem: There's a dark history of colonization and residential schools in Canada. As a country, we're in the midst of some difficult conversations about identity, history, and a way forward. Sound familiar? For those of you who listened to season 2 of this podcast, you'll recognize this problem from one of our previous episodes. But to kick off season three of the forefront, we want to continue the conversation about how the university is overcoming its own legacy of a painful past.
For more than 70 years, TMU was named after Egerton Ryerson, a man celebrated for his leadership as the Chief Superintendent of Education for Upper Canada in the mid 19th-century. In recent decades, concerns have been raised about his written contribution to the early discussions regarding education for Indigenous people. Ultimately, those discussions led to the establishment of Canada's residential school system—a system that has caused immeasurable trauma to Indigenous communities across the country. In 2020, a task force was established to examine Egerton Ryerson's legacy and provide recommendations for how the university should respond. Near the top of their list: rename the school. And in April 2022, the Board of Governors unanimously approved a motion to rename the institution: Toronto Metropolitan University!
Waub: To see what has happened in recent months is just amazing. And I couldn't have ever really foreseen it happening.
Amanda: This is Waubgeshig Rice — but he says we can call him Waub. He's a freelance journalist and writer – and graduated from the Bachelor of Journalism program at TMU back in 2002.
Waub: When I was there in the late 90s, and early 2000s, we counted probably only about 50 or 60 students who self identified as Indigenous, and we were, you know, a fairly tight knit group, I'd say, you know, being in such a large downtown institution, I think a lot of us really sought out the familiarity of fellow indigenous people. And pretty much everyone was of the similar mindset that it was a little weird to be at an institution named after Egerton Ryerson. And we didn't like that it was named after him. But, you know, there were no widespread efforts, or big courses of change back then other than what we were raising internally, which was never really recognized.
Amanda: Waub knew all about Egerton Ryerson from a young age. The university actually wasn't the first school he attended that was named after him.
Waub: The first school that I went to in my home community was called Ryerson Indian Day School. Yeah, that's where my, I guess formal education began. And it was a day school in name only. So when I started there in the early 1980s, our bands, my community of Wasauksing First Nation, had assumed control of the school and had lobbied the federal government for autonomy over our community education.
Amanda: Before communities like Waub's took them over, day schools were similar to residential schools. Except students were able to go home to their families at night. But, Waub's dad, aunts, and uncles all attended Ryerson Indian Day School, where they endured abuse for speaking their native language and expressing their culture.
Waub: My parents, you know, always kept me informed as to the realities of being Indigenous in what's now called Canada. And they explained who Ryerson was and I knew as a child that he had a hand in creating this terrible system.
Amanda: When Waub decided he wanted to go to journalism school, going to another institution named after this person was a tough choice.
Waub: When I decided to go there, back when I was 19 years old, and in the late 1990s, it was like a compromise. You know, it was very much a paradox that I felt I was walking into because I knew who he was, but I wanted to go there to study journalism, it was the place I wanted to be. And it's, you know, it's sort of a matter of weighing your existence in many ways, just being Indigenous. It's like, okay, what, what of my values or what of my beliefs do I have to compromise in order to obtain the goals that I've set out for myself? And that was very much what it was like, for me, it's like, okay, I want to go to school for journalism, at this institution that is somewhat revered for journalism, but it's named after this, this dude who is quite unfavourable. But prospective students don't have to juggle that. They don't have to have that existential debate, when they're just choosing for their future. And I think that's a really good thing.
Amanda: While the name change was definitely a big deal for him, the thing that really hit home for Waub was when protesters pulled down the statue of Egerton Ryerson on campus last summer.
Waub: Having known who he was basically my entire life and seeing him really propped up in what I thought were unfair and unjust ways. It was, I guess, like, I didn't know, in some weird, weird way, like a feeling of justice, maybe? It's like, okay, you know, finally, the real story is being told, and this statue has been removed. And hopefully, we'll finally have more meaningful discussions about Canada and its history, and the white men who are responsible for creating this place that inflicted so many harms on so many different communities and nations.
Amanda: So how do you even begin to tackle this? To answer that, we have to bring in Jennifer Simpson.
Jennifer: It's a complex task to rename an institution. And, you know, very excited that Toronto Metropolitan University was ready to say, yes, we're going to pick up this complicated question of how we might identify and then move into a different name that serves all of our community well. So I was very excited about TMU taking a leadership role in that context.
Amanda: Jennifer was the Chair of the University Renaming Advisory Committee. In November 2021, they invited everyone in the community to give their opinion.
Jennifer: We had over 30,000 people provide input, which to me is just incredible! You know, the 30,000, those were students, staff, faculty, alumni, donors, university stakeholders, partners, those individuals provided their input.
Amanda: From all of that feedback, Jennifer and her team identified a few specific criteria that mattered to the community. People wanted a timeless name that reflected the school's values and diversity. They also wanted to make sure it sounded like a university.
Jennifer: And we had very robust conversations about possible names, the challenges with those names, the categories, different names, the parameters by which we were making decisions, it was very rich, complex, ongoing conversation amongst the committee about what would make sense, you know, we really tried to look at so many different angles, which with each of the possibilities, so we could give the President the best list of viable options.
Amanda: Now I know some people may have differing opinions on the new name, but you have to know – finding the right name took 8 months. And there was a lot of discussion.
Jennifer: There's no institution now, no university in North America related to a name change that can say, It's too hard. We can't do that. We don't know how. It's too risky. It does mean we have to learn how to live with difference. You know, in the renaming committee itself, we had a lot of different opinions. So working at decolonization, at making change, at more equitable practices, it will require us to talk with each other, it sometimes will mean that we disagree. And you know, this is I think what universities offer as well, is spaces for disagreement, and then figuring out a way to move forward together.
Amanda: Before TMU could start making changes, it first had to examine its legacy. The first building block in the name change process was the Standing Strong Task Force, which was co-chaired by Joanne Dallaire.
Joanne: Ryerson was considered to be, you know, a very powerful person, you know, coming up with education system, you know, and people didn't understand that, yes, he did do that. But even back then it was very discriminatory and bigoted, there was different education for boys and girls, from Blacks and Indigenous people, you know, it was just very divisive. And when you're moving forward into hopefully a cultural paradigm that is inclusive and celebrates everyone, you have to take those harmful components out of there.
Amanda: Joanne is the university's Elder and Senior Advisor for Indigenous Relations and Reconciliation. She's been teaching people about reconciliation for over 20 years. She believes that education is the key to an inclusive future.
Joanne: I'm always going to have people in front of me who are just hearing about this stuff for the first time. You know, but at the same time, they have a different point of view, a different lens on life. And I have to understand that there are always going to be people who don't know. And my job is to not shame or blame not to do to others what was done for us, because people believe differently, even if it's exactly polar opposite from what I believe, they have a right to believe that.
Amanda: For her the name change was all about education.
Joanne: I think an educational institution is just that, it's an educational institution. It means to me that the name change continues to educate and will continue to educate as people struggle with the name change as people say, you know, well, you guys used to be called Ryerson, how come you changed? You know, like it's a continuous thing. So I think it's really important that a university did it first.
Amanda: When Joanne was appointed to co-chair the Task Force, she knew that now was the right time for this kind of conversation.
Joanne: I think this comes back to kind of the political climate because of the pandemic, because of all of these things, where awareness was kind of in your face. And people have just gotten to the place where, you know, look, it's really time to change this stuff. You know, it's really time to move forward, not just throw words at it, but really take action and move forward. So many things just made it the right time.
Amanda: Another one of those reasons? The 215 unmarked graves that were found at a residential school site in Kamloops, British Columbia in May last year.
Joanne: My teachings are, you know, you listen to the little ones, the little ones are the ones that will tell you the truth, they just speak their truth. And so I saw that as the, these little ones chose this time in the world with the pandemic, and all the other things that were going on to be revealed and say, hey, look, you can't pretend this didn't happen anymore. The truth was out there, and I think, you know, that climate was right on so many levels for this work to be done.
Amanda: Those graves, and the countless others that have been found since, helped motivate Joanne to dedicate herself to the work. And to convince others that even though big changes can be difficult, they're worth it.
Joanne: Nobody wants to change. We all like familiarity. It makes us feel safe and comfortable. But it is time for the world to change. You know, we see so much global unrest and hatred that is precipitated by...we hate what you believe, we hate what you've experienced, we hate what you've caused me. You know, this is the darkest side of humanity. And so those of us who proclaim to be in the light need to really work to make sure that those changes happen. And that we find pockets of people who are willing to make even the smallest changes. And we can take, you know, sometimes when we look at the global picture, it becomes like, oh my god, it's so overwhelming. How can we ever do this? You know, when people talk about, when they get the teachings of, you know, what it meant to be Indigenous in Canada, oh, my god, it's so big. But it's only so big, because you're hearing about it the first time. So I always tell people when I'm teaching or talking or whatever, take something that you've heard today, and talk about that at supper. Share what you learned with someone else. And if you hear someone speaking negatively, if you can safely say something about it, without shaming and blaming that person, because we don't know what we don't know.
Amanda: Before we go, there's one more question I want to ask: what does everyone think of the new name?!
Joanne: I like it, I like it, because it really, you know, the word, metropolitan. When I hear that word, I think of kind of a global city, you know, with lots of culture, lots of activity, tons of opportunity, a place to just go and flourish. And you know, because TMU is in the downtown core, it just made so much sense.
Waub: It's great that, you know, they removed the Ryerson name, and that is called Toronto Metropolitan University now, and I think it's a fine name. It's, it's accurate [laughter]. You know, it's, it's, it's a metropolitan university that's in the city of Toronto, you know. But I wasn't expecting anything else, you know, it was the safest choice, and probably the best one, in my opinion. But overall, it marks a new course for the institution, and its faculty and students. And it's an opportunity to create a new history, which I think is really positive.
Jennifer: I love the new name. I love it. I love it. Like it was so interesting, because I think as committee members all of us were so focused on...it wasn't so much about what each of us individually thought. But we wanted, ultimately, the name that was chosen to serve the community well. And so why I get excited is that it does. And I think we've seen that I think it's borne out in responses. And even now, the, what I would call the inhabiting, the learning the new name, how people are using the new name, people are excited. You know, they love that it references Toronto, that it references our urban location, Metropolitan, the diversity of voices and cultures and peoples and perspectives. So I'm very excited about it.
Amanda: This podcast was created for alumni and friends by University Advancement at Toronto Metropolitan University. Special thanks to our guests on today's episode: Waubgeshig Rice, Joanne Dallaire, and Jennifer Simpson. This podcast was produced by me, Amanda Cupido and Emily Morantz. It was edited by Katia Galati. Michael Allen is an advisor to the show. All of us are proud grads of TMU! To learn more about the renaming of the university, and for more episodes of this podcast and others, visit torontomu.ca/alumni/podcasts.