You are now in the main content area
Telling stories of identity and multiculturalism through film

Telling stories of identity and multiculturalism through film


The ability to create and share our stories has never been easier – there are smartphones ready to act as video recorders or cameras in many people's pockets. With themes exploring identity, belonging and multiculturalism and tapping into this digital accessibility, two storytelling projects led by Toronto Metropolitan University (TMU) researchers are empowering graduate students to share their experiences through creative endeavours.
For the i am… project, 28 three-minute films were created by graduate students from a variety of academic disciplines and from across the country who examined topics of identity and belonging. The narratives are rooted in personal stories and experiences, from the challenges of diasporic motherhood, to a parent's journey to Canada from Tibet, to whether Soo Kyung can just go by "Sue".
The i am… project was led by TMU professor Anna Triandafyllidou, the Canada Excellence Research Chair (CERC) in Migration and Integration, and by Gemini award-winning filmmaker and scholar Cyrus Sundar Singh. They tasked the graduate researchers, whose disciplines spanned from mechanical engineering to performance, with conceptualizing and producing films within their pandemic bubble.
A unique confluence of current events, such as the 50th anniversary of Canada's first multiculturalism policy, an increase in anti-Asian hate during the pandemic, the Black Lives Matter movement and a growing awareness of the inequities faced by Indigenous Peoples in Canada, along with other injustices, sparked professor Triandafyllidou's idea for the project. "We should engage with each other. We shouldn't get polarized; we should work together towards something," she said.
She has previously used film as a way to showcase research in her work. Now, with smartphone technology making video capture more accessible, the i am…. films are the research. "For me, digital storytelling was a way of overcoming these divides and actually interrogating the concepts," said professor Triandafyllidou. "The film allows us to break free of these conceptions."
She recruited Sundar Singh as her project partner. He provided mentorship and guidance to the participants over the six months of the program, with the films debuting in June 2021. Sundar Singh was able to tap additional mentors from the film industry and bring in professional services like editing to help execute each student's vision.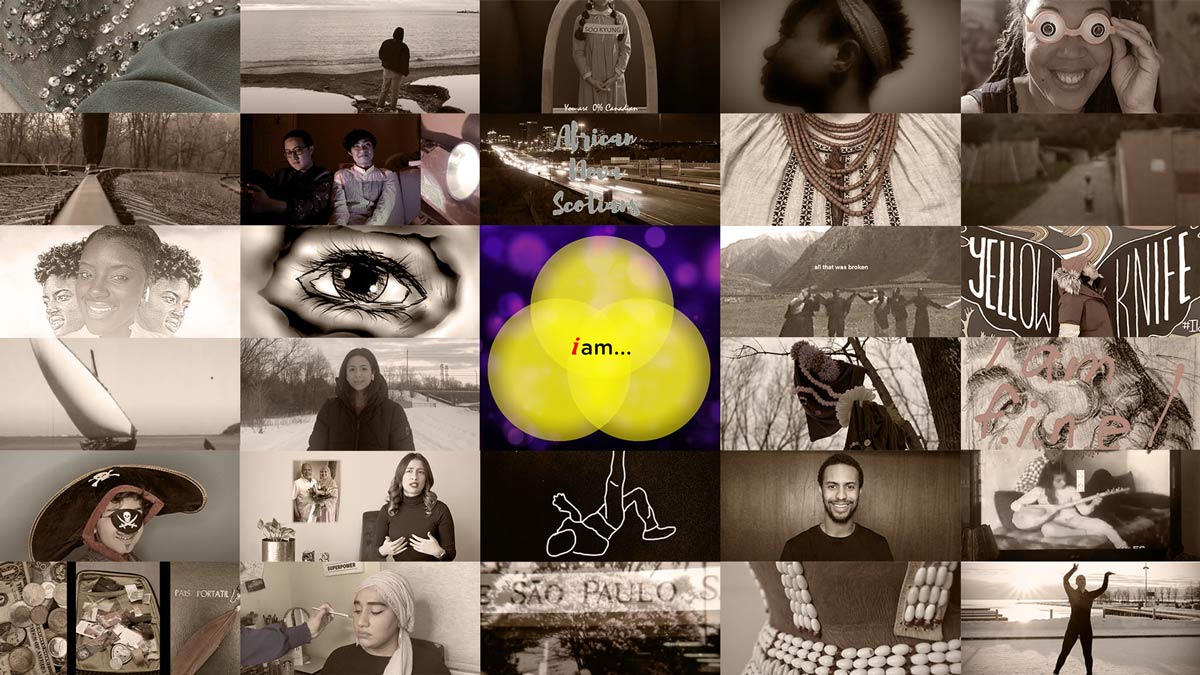 The 28 novice filmmakers were selected for the i am… project through a review process that included academics and film industry professionals. A key part of the project was ensuring the storytellers came from a range of disciplines instead of tapping only film-savvy students. "It's about having something to say. It's about expression and not the delivery of the expression," said Sundar Singh. Through the process of helping the participants frame their narratives, he watched the concepts of the stories grow and change. The results showcase a wide diversity of experiences and storytelling approaches, from poetry recitation to familial interviews.
Professor Triandafyllidou says the results tended to fall into one of three categories: the journey to Canada, fitting in and intergenerational reflections. These are not new topics, she observes, but the digital storytelling method offers an alternative way to examine and research them.
Building on the success of i am…, the two have teamed up again to lead a second creative storytelling project called Under the Tent that will focus on multiculturalism and premiere in July 2022. Eighteen students were recruited, again from across disciplines and the country. Under the Tent expands the storytelling mediums to include approaches in addition to films, such as performance, photography and material art.
Sundar Singh notes tents are by nature impermanent and their uses can range from leisure to survival. "Multiculturalism is not a fixed idea. It floats, it's dynamic and it's alive and it shifts and changes," he said. The Under the Tent projects will be shared on July 2, 2022 at the Aga Khan Museum. (opens in new window) In addition to the live event, a sampling of the projects will be available on the CERC Migration website in the future.
View the i am… films (opens in new window) online.
The i am… films will be screened at the Aga Khan Museum on June 29, 2022 (opens in new window) .


We should engage with each other. We shouldn't get polarized; we should work together towards something.