You are now in the main content area
Graphic Communications Management - BTech

Is it for you?
Graphic Communications Management (GCM) is an interdisciplinary program that gives students the creative, technical, and business expertise necessary to excel in the print and packaging industries.
GCM grads are creative and made unique by their technological and leadership acumen, which they use to bridge design and manufacturing. They're innovators with a human-centred mindset.

In GCM, you'll master the entire printing workflow from design and production to management, marketing and communication. This includes access to photo-quality proofers and printers; digital, offset, 3D and flexographic printing presses; computer-based simulators; binding and finishing machines among other technologies.

Academic requirements
Ontario Secondary School Diploma (OSSD) or equivalent with a minimum of six Grade 12 U or M courses including the following program specific requirements.
Typically, a minimum overall average of 70% establishes eligibility for admission consideration; subject to competition individual programs may require higher prerequisite grades and/or higher overall averages:
English/anglais (ENG4U/EAE4U preferred)
Grade 11 U or M or Grade 12 U mathematics (one of: MCF3M, MCR3U, MHF4U, MCV4U, MDM4U)
Recommended: Grade 12 M Principles of Financial Accounting (BAT4M) and/or Communication Technology (TGJ4M)
Note: the minimum grade(s) required in the subject prerequisites (normally in the 65-70% range) will be determined subject to competition
Academic admission requirements for all other applicants are available on the admission requirements page.
Tuition and fees
For detailed fees information, visit tuition and fees by program.
Full-time format 2023-2024:
Ontario students fees range: $7,232 - $7,738
Out-of-province students fees range: $8,060 - $8,582
International student fees range: $33,462 - $33,881
First-year courses
Here is a preview of first-year courses based on the available undergraduate calendar information.
Your future
Project manager
Graphic designer
Marketing associate
Print production specialist
Manufacturing supervisor
Work with traditional and digital print providers, commercial printing companies and pre-press facilities, design firms, advertising and marketing agencies, consumer goods companies or packaging companies.
Graduate studies including business, packaging, environmental management, digital media or print media.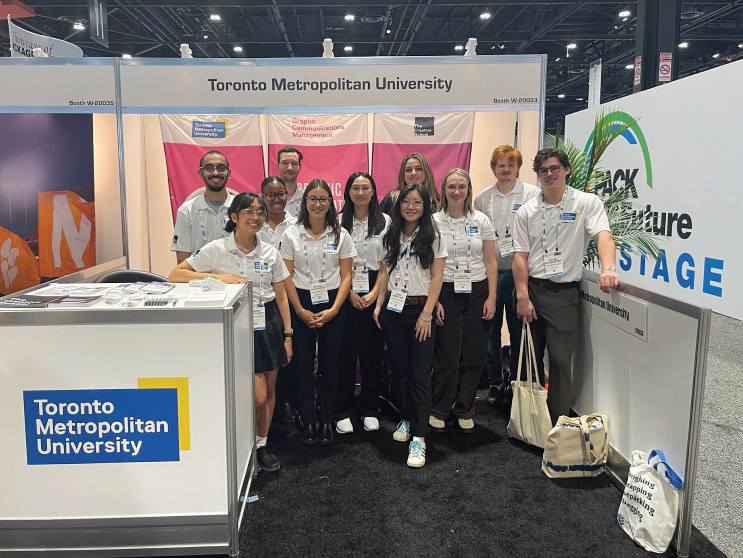 Virtual tour
Explore Toronto Metropolitan University's unique urban campus in the heart of downtown Toronto from the comfort of your own home!

Notes:
Actual minimum grade ranges required for fall 2024 admission/wait list consideration will be determined based on grades and qualifications presented by the applicant pool as they become available. Required grade ranges may fluctuate from year to year (up or down) as a result of competition. Applicants not educated in Ontario may present the equivalent of the Ontario requirements. TMU reserves the right to determine equivalency at its sole discretion.