You are now in the main content area
How to Confirm Your Tuition Deposit Was Received
New undergraduate, law and graduate students are required to pay a tuition deposit to confirm their spot in their program. Payment dates and amounts are confirmed in the Offer of Admission and on Approved Students for undergraduate applicants.
New students can confirm that their tuition deposit was received via the Student Center on MyServiceHub. Note that it can take three to five business days for your payment to be processed and applied toward your account.
Account Summary
In the Student Fees section of the Student Center, your Account Summary displays the balance on your account.
A tuition deposit charge is not posted on your account. If you are a new student with no other charges and/or payments, the balance will be zero before your desposit has been received.
A negative amount indicates a credit balance. This confirms that a payment was received.

If you have other charges and payments on your account, such as fees for courses and residence, this balance will reflect those fees as well. See Account Inquiry for more information.
Deposit Statement
The Deposit Statement confirms receipt of your tuition deposit and is available to new students on MyServiceHub between mid-May and late July. This statement can be used as a receipt and proof of payment.

Access the statement by clicking on the Deposit Statement (PDF) link in the Student Fees section of your Student Center on MyServiceHub.
Confirm that your Academic Career and Term are correct, and click View Report to access and open your Deposit Statement. If your Statement does not appear, check that pop-up blockers on your internet browser are not preventing you from accessing the PDF.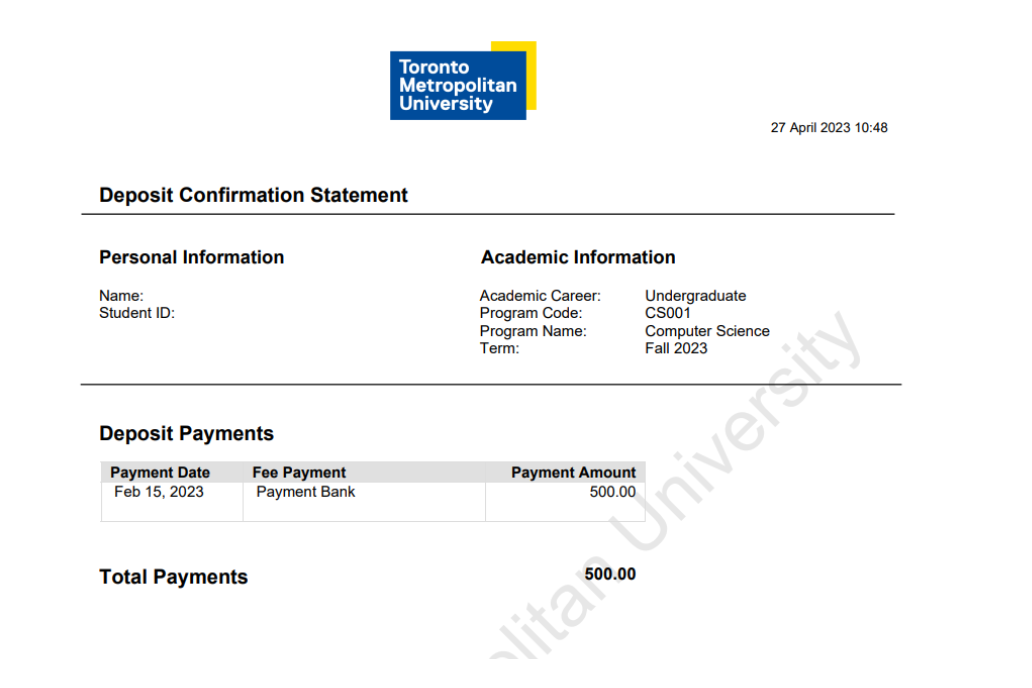 The Deposit Statement will include a tuition deposit amount, and if applicable, a Residence Application Fee.