Student Spotlight: Michael Fecenko
Mature student, mathematics aficionado and avid athlete earns Mathematics Faculty Scholarship
January 13, 2021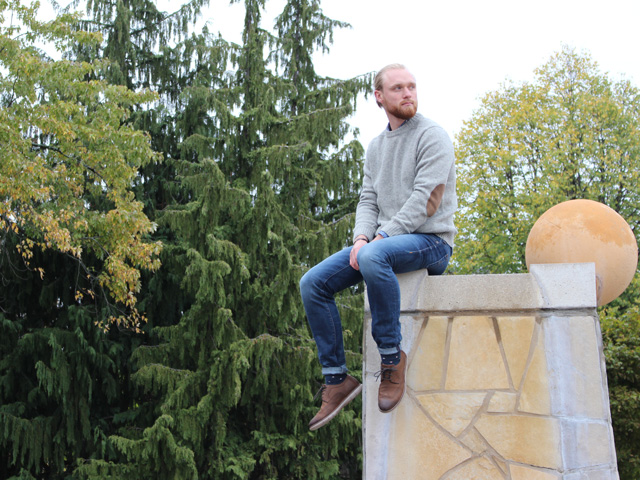 Earlier this year, the Faculty of Science recognized exceptional students from the 2019-2020 academic year. Today, we chat with one of them, Michael Fecenko — a later-blooming math student who's found a new direction in life through Financial Mathematics.
Although the pandemic began spreading just as Fecenko was finishing first year, he can look on 2020 as a milestone year — and in a seriously good way. With a CGPA of 4.3, he picked up the Mathematics Faculty Scholarship, and hit a few other first-ever events in athletics along the way.

Q: Congratulations on your scholarship win. How did you react to the news?
In bed, 2:00am, I noticed the congratulatory email and was ecstatic, though this is news you want to celebrate with those close to you. I called my wife who was away for the weekend, no answer. I called my brother in Texas and a couple others, but nil. Of course I couldn't get back to sleep, so I just lay in bed until the sun came up, with a grin that would not go away. It took a few days to calm down from the news.
I generally do well academically as a student, but I absolutely did not enter this program expecting to do so well. I think my genuine interest in the program's material fueled my success. It's still hard to believe and I feel honored to have this award as recognition of my success.

Q: Some kids develop a passion for math early on. But you were a late bloomer?
Sort of. I had finished a bachelor's degree in Life Sciences at McMaster University, but decided I didn't want to follow a career in that field. So, for two years I worked as an Assistant Store Manager as I was trying to decide where life would take me.
One day, the Senior Regional Sales Manager handed us managers a bunch of metrics, figures and data. I found myself drawing from intuitive math to interpret the numbers and explain clearly how I arrived at my conclusions. This was one of many experiences that helped me to appreciate my ability and enjoyment of math. After checking out the Financial Mathematics program at Ryerson, I thought: It's time. Let's get it! I applied, enrolled, and here I stand a proud Ryerson Financial Mathematics student.

Q: Word has it you're also very sporty. What are you into?
Bouldering holds a soft spot in my heart. That's rock climbing without a harness and for lack of a better expression, it is "just absolutely the best"! I have climbed up to a V7 level and can lift 225lbs on the bench press, so yeah, I guess I'm pretty athletic.
I had first started more serious competition playing tennis in high school and got to play at the provincial level. But my biggest weakness has always been running, so I used the time throughout the pandemic to train my stamina. My first 5K run in March 2020 was horrendous— panting and out of breath. But I began and continued to work through a 16-week training plan, and completed my first 42.2 km marathon with my dad this past September. I hit another milestone shortly after: my first imperial century ride (100 mile cycling ride) with my brother in December. I find myself constantly seeking new athletic challenges, and being goal-oriented I have already set my sights on new goals for this coming summer season.

Q: You don't really seem to fit the "introverted math nerd" stereotypes. Can you speak to that?
There was a time when I was shy and reserved, where anxiety would hit as my manager urged me to greet customers. But after a few years in retail and experiencing life, I grew in many ways. I have realized the importance of constantly developing my interpersonal skill set, making me the person I am today. Pursuing a career in math does not need to be mutually exclusive of enthusiastically interacting with people. I invite the opportunity to meet new people and with the right mindset we can all learn from each other's experiences.

Q: Looking beyond graduation, what do you see for your future?
With every course, I am learning more — like what drives changes in stock price, how to make informed investment decisions or how to analyze distributions of data. I can see so many applications for math and so many different paths to go down. A few paths interest me more than the rest, though I think part of the thrill is not truly knowing where I will end up.
People around me tell me how passionate I get when I talk about and use math. And after the award win, there's no better affirmation that I'm on the right path.