New Faculty Profile: Elodie Lugez
Assistant Professor, Department of Computer Science
September 15, 2021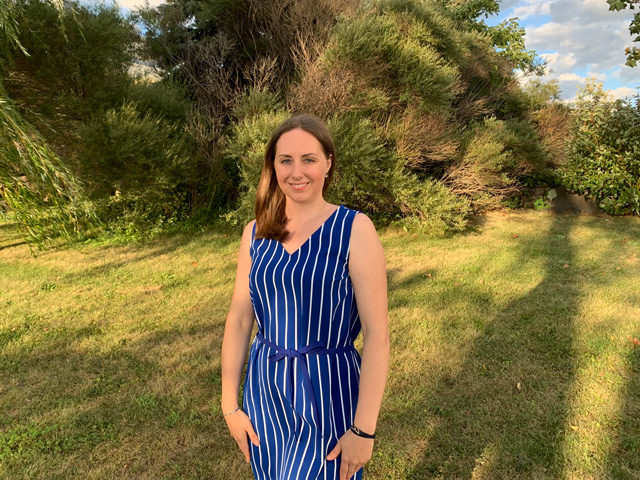 Elodie Lugez joins the Department of Computer Science from her previous position as Assistant Professor at Bishop's University in Sherbrooke, Quebec. She brings real-world experience as an industry researcher, with expertise in the computer science behind biomedical applications.
You left a tenure-track position at Bishop University. What attracted you to Ryerson?
Ryerson's vision is very much aligned with my own. A major attraction is the focus on real-world, applied learning. That's exactly what I do: translational research that relies on knowledge of computer science. It's also what I want to help students achieve: build a solid conceptual understanding and be confident that they can tackle any problem.
What is your research program?
I specialize in automated tracking for radiotherapy, both internal (brachytherapy) and external (external beam radiotherapy). I design the means to track the motion of a target. That could be part of an organ or a medical tool, such as a catheter. The goal is to improve the quality of patient care by accurately localizing the target, and thereby, improving the accuracy, speed and overall delivery of radiation.
After your PhD, you actually went straight to work in industry?
Yes, I was an Applied Researcher at Elekta, a leader in radiotherapy devices. I worked on two products that are currently on the market to treat millions of patients every year. For one product, Unity (external link) , a MR-Linac machine, I designed tracking methods that follow a cancer site and tell the device to shoot or to stop shooting radiation at the patient. I also worked on a product called Clarity (external link) . My contributions on this system focused on its feature for localizing soft tissues, such as the prostate, in real time during treatment delivery.
We hear you're quite sporty. Which ones are you into?
You'll usually find me jogging, swimming, or playing volleyball in summer. In winter, it's skiing. I come from France, near the Alps. So, whenever I visit in summer, I love to do "via ferrata". It's a blend of hiking and rock climbing, where the paths have protected steel cables, ladders and rungs attached to the rocks. I really love it!
What's one thing people would never guess about you?
When I bought my condo, I actually ripped out the entire bathroom and renovated everything all by myself. It looks really great, so I'm really quite proud of it!