You are now in the main content area
Admission Requirements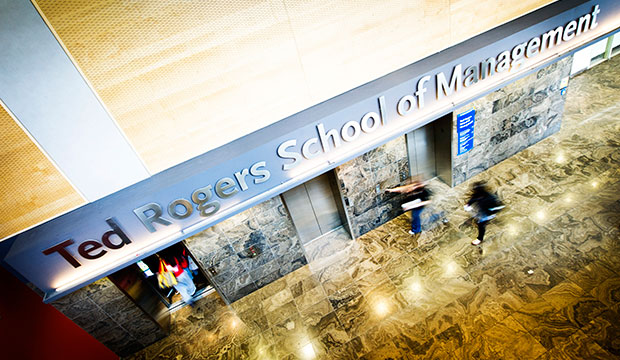 Degree
Bachelor of Commerce (Honours) in Hospitality and Tourism Management. Four years of study following Grade 12 U/M graduation.
Admission for high school students
Ontario Secondary School Diploma (OSSD) or equivalent with a minimum of six Grade 12 U or M courses including Grade 12 U courses in: English and Mathematics (one of Grade 12 U Advanced Functions (MHF4U), Calculus and Vectors (MCV4U) or Mathematics of Data Management (MDM4U)).
Notes
ENG4U/EAE4U is the preferred English.
The minimum grade(s) required in the subject prerequisites (normally in the 65-70% range) will be determined subject to competition.
Grade 12 U Advanced Functions (MHF4U) or Grade 12 U Calculus and Vectors (MCV4U) are the preferred Mathematics courses.
Typically, a minimum overall average of 70% establishes eligibility for admission consideration.
Subject to competition, candidates may be required to present averages/grades above the minimum.
Admission for college students from Hospitality & Tourism related programs

If you have completed a 2+ year hospitality and tourism related diploma with a minimum 3.0 CGPA at a college in Ontario, elsewhere in Canada or abroad, we encourage you to apply! We are committed to providing academic pathways and reducing barriers for students looking to transfer from college hospitality and tourism related programs.
Notes
Admissions and our School will review your application and transcripts from your College to determine how many credits you will be granted.
Depending on the type of program and courses you studied at the college, you will receive either advanced standing or direct entry.
If you qualify for advanced standing, you will be placed in the second year of the program (3rd semester). If you qualify for direct entry, you may get placed to start in the 3rd year of the program (5th semester).
In both cases you have to do some reachbacks for courses from the first and second year, and you might have credits for some elective courses.
Your offer of admission will outline the courses that were applied for credit from your college for your Basis of Admission (BOA) and which reachback courses you will have to complete.
If there were courses from the college that were not used for your BOA or for automatic credit, you can still apply for more transfer credits

, opens in new window

, if applicable. The assessment of credits will be done once you have accepted your offer from TMU. You must have at least a B on those courses to be able to get transfer credits.
When a student comes in as a transfer student from another college, they must complete at least 50% of the program at TMU to receive the Bachelor of Commerce degree.