You are now in the main content area
News & Events
Events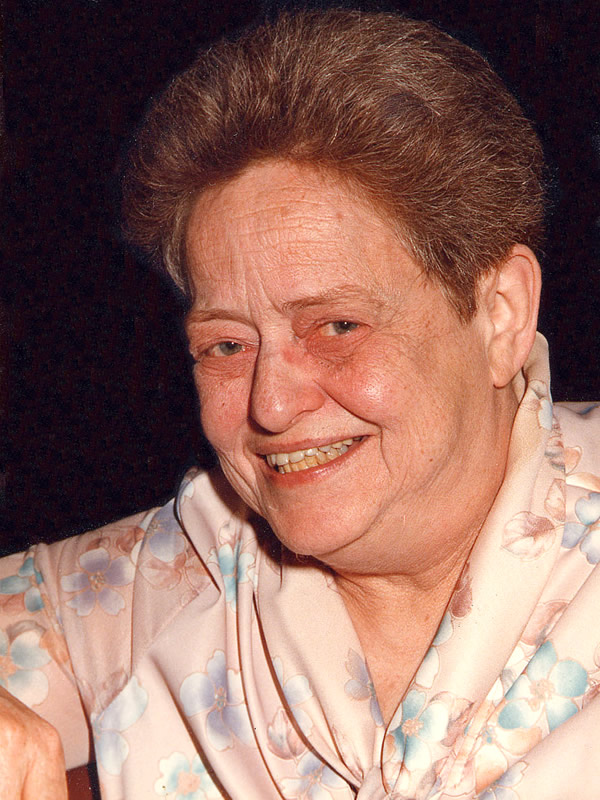 The Phyllis Clarke Memorial Lecture is held annually to honour the memory of Phyllis Clarke, a member of the Department from 1977 until her death in 1988. The first lectures were held the following year, and have been a regular, and much-anticipated event since that time. From 2009 to 2018, the Phyllis Clarke Memorial Lecture was generously supported by CUPE Local 3904 (external link, opens in new window) , which represents Contract Lecturers and Graduate Assistants at Ryerson. CUPE Ontario (external link, opens in new window) – and the other CUPE Locals on the Ryerson campus (Locals 233 and 1281) – joined Local 3904 in providing annual support for the Lecture for a three-year period from 2009 to 2012.
Phyllis Clarke
1924 - 1988
Phyllis Esphere Clarke died on March 21, 1988, having lived a life devoted to socialism, trade unionism, feminism, community activism and teaching.
A longtime member of the Communist Party she ran (unsuccessfully) for elected office on several occasions. While living in Saskatchewan, she ran in the 1953 federal election in Prince Albert, where she lost to John Diefenbaker, who later became Canada's 13th Prime Minister. In Toronto in 1962, she ran in the federal constituency of Davenport, losing to Walter Gordon who went on to be Minister of Finance and President of the Privy Council in the Liberal government of Lester Pearson. Also in 1962, she ran for a seat on Toronto's Board of Control. Her obituary in The Toronto Star reports that the Toronto media "expressed surprise" that she received 16,555 votes.
Phyllis served on the Toronto Public Library Board from 1977 until 1984, and as its Chair in 1979-1980. She played an important role in making public libraries more committed to Canadian literature and multicultural/lingual literature. The Toronto Reference Library now holds her papers (The Nelson and Phyllis Clarke fonds) in its Baldwin Room.
Phyllis was active in labour struggles from the 1940s onwards. She was a founding member of the Graduate Assistants' Association (GAA), which became the Canadian Union of Educational Workers (CUEW) in 1980, and then amalgamated with the Canadian Union of Public Employees (CUPE) in 1995. For the CUEW, she undertook one of the first studies in Canada of the unequal place of women faculty members in Canadian universities. An interest in labour matters apparently ran in her family, for her father was J.L. Cohen, whose 1950 obituary in The Globe and Mail described him as a "dynamic, sharp-witted man who rose from humble beginnings to become the most influential labour lawyer in Canada."
Phyllis was also active in tenant rights issues, and served for many years on the Board of Parkdale Community Legal Services.
In addition to a Ph.D. – earned in 1977 with a dissertation entitled Application of Marxist Thought to Canada – Phyllis also held a B.A. and an M.A. from the University of Toronto. She co-edited (with William Beeching) Yours in Struggle: Reminiscences of Tim Buck (1977) and (with Carla Cassidy and Wayne Petrozzi) Authority & Influence: Institutions, Issues and Concepts in Canadian Politics (1986). She also authored "West Toronto Citizens Organize" in Citizen Participation in Library Decision-Making: The Toronto Experience, ed. John Marshall (1984).
Phyllis joined the Department of Politics at Ryerson in 1977, and helped define its commitment to intellectual inquiry and social justice. One colleague wrote shortly after her death, "For as long as I have known her, the work that Phyllis did was inseparable from the obsession with a just order, 'Where the free development of each is the condition for the free development of all.'
Another colleague wrote in a memorial tribute in the Socialist Studies Bulletin, that with Phyllis' passing: "Socialism has lost a champion."
Phyllis was predeceased by her husband, Nelson, in 1982. She is survived by her step-daughter Lesley Towers.
(Photos provided by Lesley Towers and used with permission)
The Phyllis Clarke Memorial Lectures

February 2018

"Four Theses on the Comrade"

former co-editor, Theory and Event
author or editor of 12 books, including

Crowds and Party, 2016
The Communist Horizon, 2010
Democracy and Other Neoliberal Fantasies, 2009

Click here (opens in new window) to see a podcast of the entire event.

26 January 2017

"What's the Matter With America?"

founder of The Baffler magazine
author of What's the Matter With Kansas?, The Wrecking Crewe, and Listen Liberal.
past columnist for The Wall Street Journal and Harper's Magazine.

Click here to see a podcast of the entire event.

Click here to hear a Ryerson Today interview with Thomas Frank.

24 March 2016

"The Methodology for a New Politics: Changing the 'Operating System' of the Left after the 2015 Greek Experience."

Andreas Karitzis

author of Logic and Method of a Left Government (in Greek)
founding member of the "Hub" for social economy, empowerment, and innovation

Click here to see a podcast of the entire event.

26 March 2015

"Lifting Up Low-Wage Work: Global Perspectives"

Stephanie Luce (external link, opens in new window)

CUNY School for Professional Studies
Professor of Labor Studies
Joseph S. Murphy Institute for Worker Education

CUNY Graduate Center
Department of Sociology

Click here to see a podcast of the entire event.

03 March 2014

"The Systemic Crisis of Financialization"

Costas Lapavitsas (external link)

SOAS, University of London

Associate Dean (Research), Faculty of Law and Social Sciences
Professor in Economics
Academic Staff, Japan Research Centre
Asia-Pacific Centre for Social Science Coordinating Committee Member

SYRIZA (Greece)

18 Mar 2013

"Québec and Québec Solidaire: Linking Sovereignty, Equality and anti-Neoliberalism"

Member of the Québec National Assembly
former co-leader of Québec Solidaire

13 Mar 2012

"Canada: Ideology in the Ascendant"
The culture of inequality, the politics of division, the attack on democracy

Stephen Lewis

Companion of the Order of Canada
Honorary Doctor of Laws, Ryerson University
UN Secretary-General's Special Envoy for HIV-AIDS in Africa (2001 – 2006)
Distinguished Visiting Professor, Ryerson University
Chair of the Board, Stephen Lewis Foundation
co-director of AIDS-Free World
member of the Board of Directors, Clinton Health Access Initiative
member of the Board of Directors, International AIDS Vaccine Initiative
Commissioner, Global Commission on HIV and the Law

Click here to see a podcast.

10 Mar 2011

"Global Crisis, Fiscal Restraint, and Public-Private Partnerships"

Department of Economics, University of Manitoba
winner of the John Kenneth Galbraith Prize in Economics and Social Justice (May 2010)
author and editor of several books, including
Public Service, Private Profits: The Political Economy of Public-Private Sector Partnerships (with Salim J. Loxley), Fernwood Publishers, 2010


Joint Sponsors: CUPE Locals 223, 1281, 3904;
Ontario Council of Hospital Unions/CUPE

10 Mar 2010

"Operating in the Obama Moment: Challenges for Progressives"

Bill Fletcher Jr. (external link, opens in new window)

longtime labour and international activist
author of Solidarity Divided (his most recent book)
former President and CEO of TransAfrica Forum
Executive Editor of The Black Commentator
founder of the Center for Labor Renewal


Click here to see a podcast of the event.

10 Mar 2009

"Still a Marxist After All: Lessons and Insights for our Time"
held in cooperation with TVO and the Big Ideas series

Leo V. Panitch*

Canada Research Chair in Comparative Political Economy
York University
co-editor of Socialist Register

Introduction by Sam Gindin

Click here for a podcast of the entire event.

*Jacobin published this obituary (external link, opens in new window) by Vivek Chibber on 21 December 2020.


12 Mar 2008

"Challenging the New Global Constitution"

Stephen McBride (external link, opens in new window)

Professor, Dept. of Political Science, Simon Fraser University*
Director, Centre for Global Political Economy

*Later Canada Research Chair in Public Policy and Globalization at McMaster University.


15 Mar 2007

"Rethinking Politics in the Age of Networks"

Hilary Wainwright


Editor, Red Pepper

(external link)

Research Director, New Politics Programme, Transnational Institute, Amsterdam
Honorary Fellow, Sociology Department, Manchester University

27 Mar 2006

"Waiting for Care: Challenging the Agenda in Health Care Reform"

Pat Armstrong


Canadian Health Services Research Foundation
Canadian Institutes of Health Research
Chair in Health Services and Nursing Research

An article based on the 2006 Phyllis Clarke Memorial Lecture appeared in (PDF file) Relay (external link) (July/August 2006): 6-9.

21 Mar 2005

"Neoliberalism and Resistance: Creating Alternative Economic Realities in Post-Apartheid South Africa"

Robert Pollin

Co-Director, Political Economy Research Institute
Dept of Economics and Political Economy Research Institute (PERI) University of Massachusetts – Amherst

10 Mar 2004

"Against Global Apartheid: The Futility of International Economic Reforms"

Patrick Bond

former economic advisor to South African President Nelson Mandela

24 Mar 2003

"Making Politics Matter"

Jack Layton

National Leader, New Democratic Party

18 Mar 2002

"Globalization and Social Justice"

Sam Gindin

York University
Former Director of Research, Canadian Auto Workers

04 Apr 2000

"Paper Boom"

Jim Stanford


Economist, Canadian Auto Workers (CAW)
Author
Lecturer

24 Mar 1999

"Self-Determination for Aboriginal Peoples in Canada"

Beverley Jacobs, LL.B.


Mohawk Nation, Bear Clan, Six Nations of the Grand River Territory

27 Mar 1998

"The Future of Canada in the Global Economy"

Maude Barlow

Chair, Council of Canadians

30 Sep 1996

"From Apartheid to Democracy: Social Change in South Africa"

Richard Van der Ross

MP (Western Cape Legislature)
Rector and Vice-Chancellor, University of the Western Cape

23 Nov 1994

"Women, Community and Politics"

Hilary Wainwright

Senior Research Associate
International Centre for Labour Studies at Manchester University, GB

10 Nov 1993

"Still Waiting for Democracy?: Canada After the Election"

Rick Salutin

McLean-Hunter Chair of Communications Ethics, Ryerson University
Award-winning Playwright and Author

06 Apr 1993

"Aboriginal Self-Government: The Way Ahead"

Kathie Jack

Golden Eagle Woman, Moose Clan
Ex-Chief Ojibways of Onegaming

Rodney Bobiwash

Policy Analyst, Native Canadian Centre

20 Mar 1992

"After Communism: What Future for Eastern Europe?"

Alex Callinicos

Professor, University of York (GB)

29 Nov 1991

"After the Elections: Toronto in the 1990s"

Jack Layton

former Councillor and Mayoral Candidate, City of Toronto

14 Nov 1990

"Canada's Role in Advancing Democracy"

Ed Broadbent

President, International Centre for Human Rights and Democratic Development
former National Leader, New Democratic Party

06 Apr 1990

"The Struggle for Social Justice: Canada's New Reform Movements"

Dennis Howlett

Ecumenical Coalition for Economic Justice
Pro-Canada Network

24 Nov 1989

Panel Discussion: "Reform and Repression: China After Tiananmen Square"

Tim Brook

Dept. of History, University of Toronto

Hu Shuang Quan

Fay Sims

Refugee Coordinator, Amnesty International

30 Mar 1989

"The Internationalization of Japan: Emerging Strains in the Japanese Workplace and Family"

Merry White

Dept. of Sociology, Boston University

08 Mar 1989

"Canada's Immigration Policy: The Half-Open Door"

Reginald Whitaker

Dept. of Political Science, York University