You are now in the main content area
Sustainability Ambassador Program

Are you passionate about sustainability and contributing to a sustainable campus? If so, we encourage you to get involved with TMU's Sustainability Office through the Sustainability Ambassador Program.
About the program
The Sustainability Ambassador Program is a volunteer leadership program open to undergraduate and graduate students who are interested in promoting a culture of sustainability at Toronto Metropolitan University through peer-to-peer education, engagement, research and action.
As a Sustainability Ambassador, you will work with a team of like-minded peers to lead and inspire students, staff and faculty by organizing projects, initiatives and campaigns that promote sustainability. Work will be conducted in close collaboration and guidance from the Sustainability Office and broader university staff, researchers, students, and partners. The goal of the program is to enhance engagement and participation by offering opportunities to gain knowledge and skills while supporting a network of sustainability leaders across campus.
What you'll gain from the role
A deeper understanding of sustainability and learn how you can turn that knowledge into action.
An opportunity to build leadership skills, relationship-building skills, event coordination and presentation skills, to name a few.
An opportunity to receive mentorship and networking opportunities, as well as be a part of a growing sustainability community.
Experience to build your resume and demonstrate your capability in tackling sustainability issues.
Experience to build your resume and demonstrate your capability in tackling sustainability issues.
Earn a Level-Up Badge and Boost your Co-curricular Record!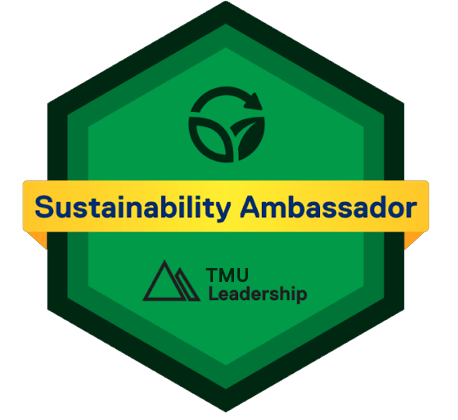 Eligibility

We are seeking part-time or full-time undergraduate and graduate students in any faculty at TMU who:
have a positive attitude with a passion for sustainability
are prepared to be professional and reliable as a Sustainability Ambassador and peer educator
have the ability to take the lead and work cooperatively in small and large teams
Commitment
Sustainability Ambassadors are expected to:
Attend one mandatory orientation/training session (approximately 1.5 hours)
Attend at least four (4) bi-weekly team meetings to connect, collaborate and share knowledge
Engage and educate a minimum of 150 peers per term and contribute to the overall program goal of engaging with 20-25% of the campus student population
Fulfill two out of three (3) team focus area requirements:

Zero Waste Team : Promote waste reduction, 5Rs and proper waste sorting through conducting at least 3 waste monitoring sessions/tabling
Events Team: Support at least 3 events or campaigns (e.g planning, day of support, photography, etc.)
Educators Team: Conduct at least 2 classroom presentations, student group/club presentations, or residence presentations.
Focus areas
Our aim is to direct the time and efforts of our sustainability ambassadors to help support: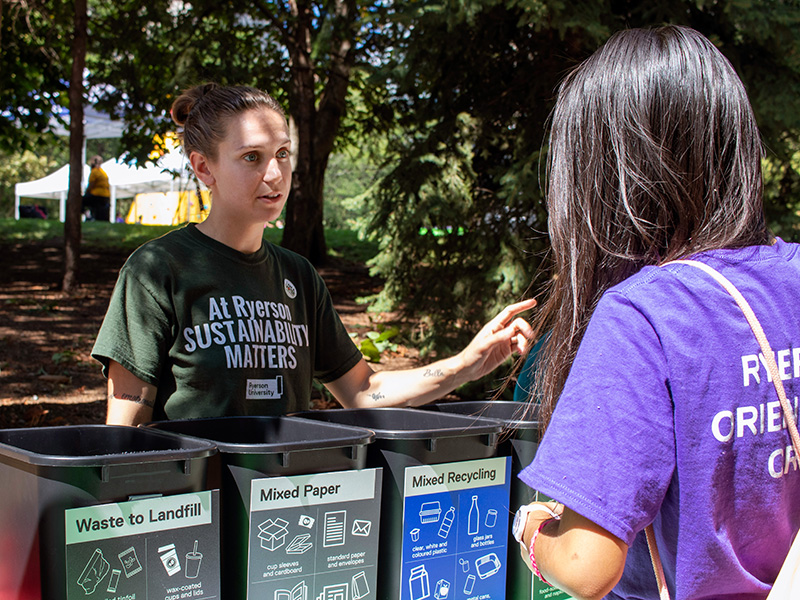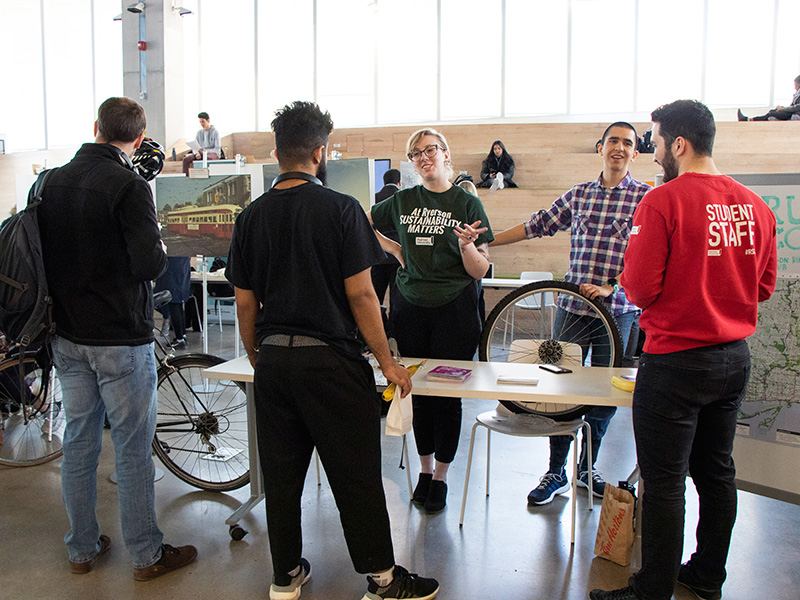 Apply now
To apply, complete the Sustainability Ambassador Program Application Form.
Note: The process may take approximately 10 to 15 minutes to complete.
Questions?
If you have questions about the Sustainability Ambassador Program, please contact Sharmilla Raj, sustainability engagement lead at sustainability@torontomu.ca or 416-979-5000, ext. 6273.