You are now in the main content area
*In April 2022, the university announced our new name of Toronto Metropolitan University, which will be implemented in a phased approach. Learn more about our next chapter.*
The Toronto Metropolitan Centre for Immigration and Settlement (TMCIS) aims to be a leader in the transdisciplinary exploration of international migration, integration, and diaspora and refugee studies. In addition to supporting research in these areas, the Centre's mission includes mentoring students and consolidating Toronto Metropolitan University's reputation as the pre‐eminent site of knowledge development and exchange with governments, community organizations, and other academics.
Featured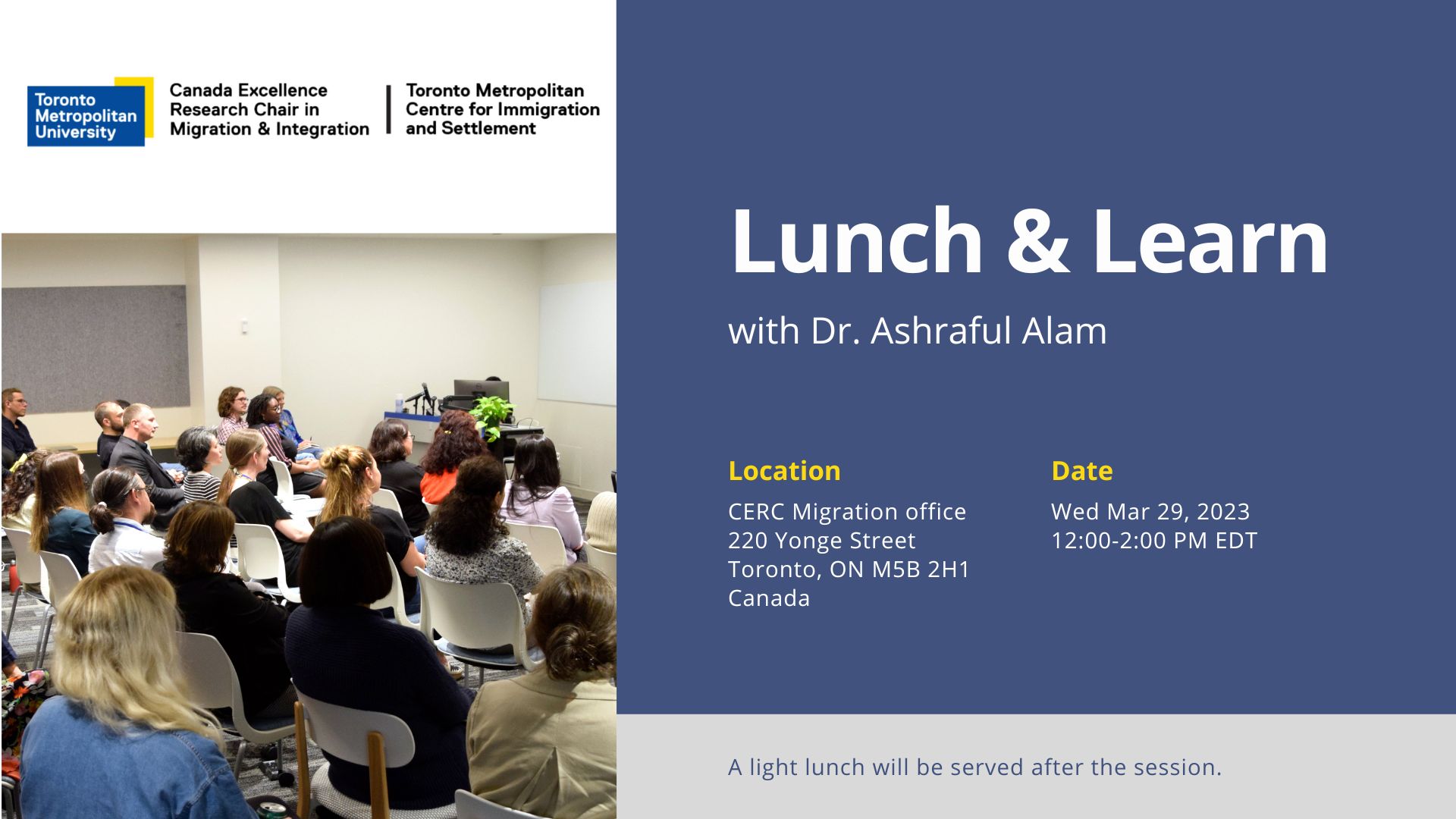 Latest Publications
Working paper no. 2023/03
Decolonizing Migration Studies: The Case of Hospitality, Sanctuary, and Solidarity
Harald Bauder, Nick Dreher, Omar Lujan & Oluwafunmilayo Asolo, Toronto Metropolitan University
Working paper no. 2023/02
Access to Early Childhood Services by Precarious Status Families: Negotiating Multiple Borders in a Sanctuary City, Toronto Canada
Judith K. Bernhard (Toronto Metropolitan University), Julie E. E. Young (University of Lethbridge) & Luin Goldring (York University)
Working paper no. 2023/01
Online Communications and Service Delivery in Canada's Settlement Sector: The State of Affairs
Stein Monteiro, Nevyn Pillai & Masoud Kianpour, Toronto Metropolitan University
Spotlight on migration no. 2020/4

'Safe' countries and 'fraudulent' refugees: Tools for narrowing access to Canada's refugee system
Chantel Spade & Tearney McDermott, Ryerson University
Research brief no. 2020/1
Private sponsorship in refugee admission: Standard in Canada, trend in Germany?
Vanessa Pohlmann & Helge Schwiertz, University of Osnabrück
Recent and Upcoming Events
TMCIS occupies space in the traditional and unceded territory of nations including the Anishnaabeg, the Mississaugas of the Credit, the Chippewa, the Haudenosaunee, and the Wendat peoples, and territory which is also now home to many diverse First Nations, Inuit, and Métis peoples. This territory is covered by Treaty 13 signed with the Mississaugas of the Credit, as well as the Williams Treaties signed with multiple Mississaugas.