You are now in the main content area
Accounting and Finance (BComm (Hons))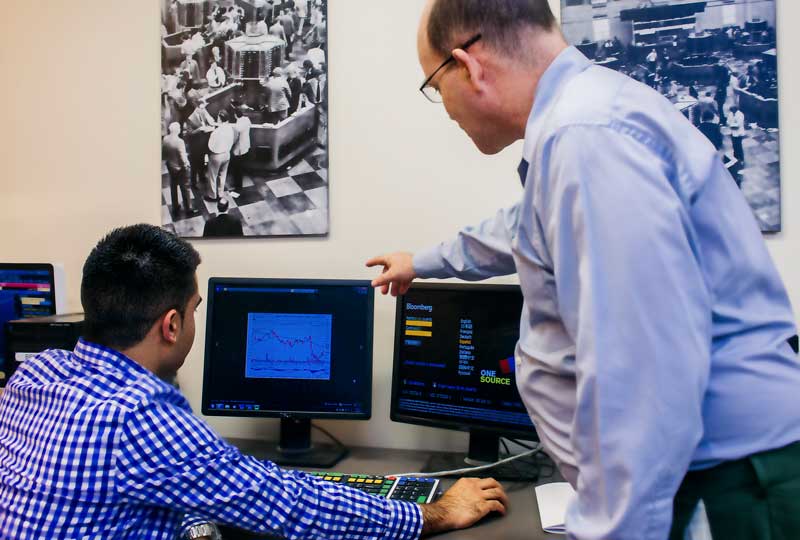 Want to become a Chartered Professional Accountant? Fast-track your CPA designation at the Ted Rogers School.
The Ted Rogers School of Management now offers a Professional Master's Diploma in Accounting for graduating students. You will be able to complete the Core and Elective components of the CPA designation at TRSM immediately after graduating with your Accounting BComm. Once you have completed the Professional Master's Diploma, you can fast-track directly to the Capstone portion of the CPA Professional Education Program before writing your Common Final Exam and earning your CPA.
Who do our alumni work for?
Accounting alumni work for employers including the Big Four professional services firms (Deloitte, Ernst & Young, KPMG and PwC), Imperial Oil, Canada Customs & Revenue Agency, TD Canada Trust and RBC Financial Group.
Your future career

Litigation Support
Business Valuations
Audit and Assurance
Fund Accountants
Financial Analyst
Financial Controller
Tax Consultant
Debt Recovery

The perfect location for finance
The Ted Rogers School of Management is just steps away Canada's leading financial district, giving you opportunities to easily connect with industry experts and potential employers. Our location makes the Ted Rogers School accessible to corporate partners, including the accounting and finance leaders on our Advisory Council.
Become an Excel guru and amaze your future employers with skills in fraud detection, financial analysis and project management. As a Finance student, you will complete a technical, practical and challenging curriculum that creates job-ready graduates. Specialize in fields including personal financial planning (CFP), corporate financial management, or investment management. Finance graduates can move onto a variety of exciting careers in Toronto's Financial District – Canada's largest – just steps away from the Ted Rogers School.
Your future career
Compliance
Investment Banking
Specialized Investment Advisor
Risk Management
Business Analyst
Risk Analyst
Financial Analyst
Project Manager
Academic requirements
Ontario Secondary School Diploma (OSSD) or equivalent with a minimum of six Grade 12 U or M courses including the following program-specific requirements.
Typically, a minimum overall average of 70% establishes eligibility for admission consideration; subject to competition individual programs may require higher prerequisite grades and/or higher overall averages:
English/anglais (ENG4U/EAE4U preferred)
Advanced Functions (MHF4U)
Calculus and Vectors (MCV4U)
Note: A minimum grade of 75% is required in the subject prerequisites
Academic admission requirements for all other applicants are available on the admission requirements page.
Tuition and fees
For detailed fees information, visit tuition and fees by program.
Full-time format 2023-2024:
Ontario students fees range: $10,239 - $10,295
Out-of-province students fees range: $10,967 - $11,023
International students fees range: $38,432 - $38,488
First-year courses
Here is a preview of first-year courses based on the available undergraduate calendar information.
Your future
You'll be able to draw connections across disciplines and make contributions to fields including:
Financial management
Public or corporate accounting
Capital markets
Insurance
Mutual and pension funds
Portfolio analysis
Personal financial planning
Graduate studies including TMU's MBA program, or professional designations such as CFA or CPA. Graduating Accounting students can apply to TMU's professional master's diploma program in Accounting, an accelerated path to a CPA designation.
Bloomberg Lab
Become Bloomberg Certified and access real-time interactive financial information in TRSM's Bloomberg Lab. TRSM student Maxwell Carr won $10,000 in the Montreal Exchange Options Trading Simulation Challenge in 2017 by researching financial data in the Bloomberg Lab.
Currently offering personalized academic advice to Accounting and Finance students and Business Management majors*, this central unit helps you make the most of your university experience through advising appointments and drop-ins.
The Student Advising team takes a holistic approach by supporting you through course selection and connecting you with specific resources and extracurricular activities on campus.
* High-impact advising continues to be available in all other undergraduate programs, as well.