Undergraduate Students Present Research Papers at ICERI Seville
March 09, 2023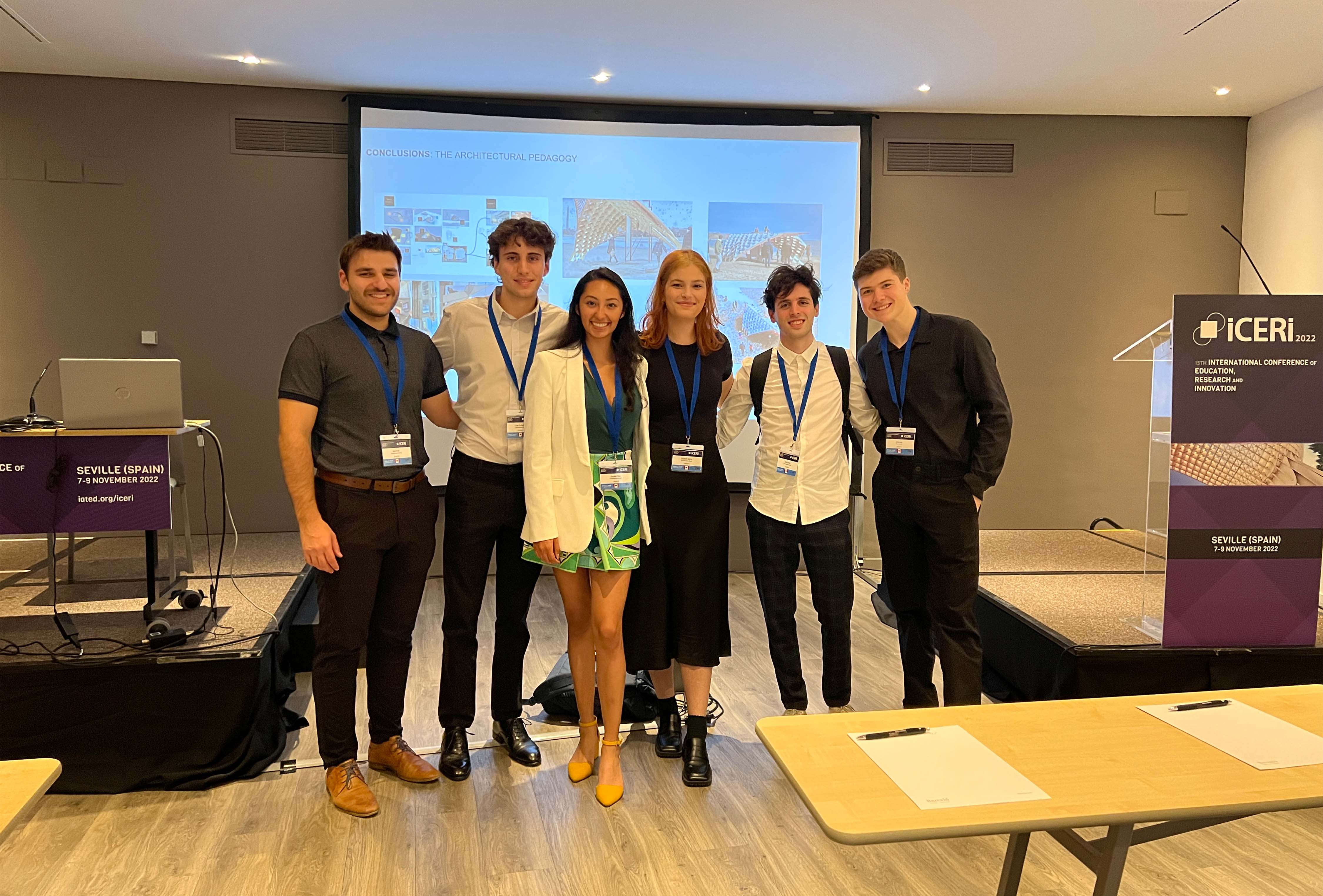 In November, the 15th International Conference of Education, Research and Innovation (external link) took place in Seville, Spain. As international borders opened again, six undergraduate students from the Department of Architectural Science were able to visit Seville not only as delegates, but also as presenters. For many of these students, this was their first international conference–and their first speaking opportunity.
The students, which included Ariel Weiss, Jake Levy, Jake Kroft, Luke De Bartolo, Sadberk Agma, and Daniela Diaz, represented the department with research papers highlighting studio pedagogy, virtual reality (VR), digital tools, and design-build projects here at DAS.

Beyond the study abroad opportunities offered within the architectural science program, which includes an exchange semester or taking a 4th year studio abroad, the department also offers international opportunities in a research capacity with guidance from faculty members.

Daniela Diaz, an undergraduate student, was approached by Associate Professor Vincent Hui about the research opportunity after being a camp counsellor in the Toronto Met Day Camps. For Luke De Bartolo and Jake Kroft, their involvement with the project started when they were employed as research assistants under Professor Hui. The group, which also included Sadberk Agma, Jake Levy, and Ariel Weiss, then collectively worked on writing the research papers, which were all submitted and accepted by the conference.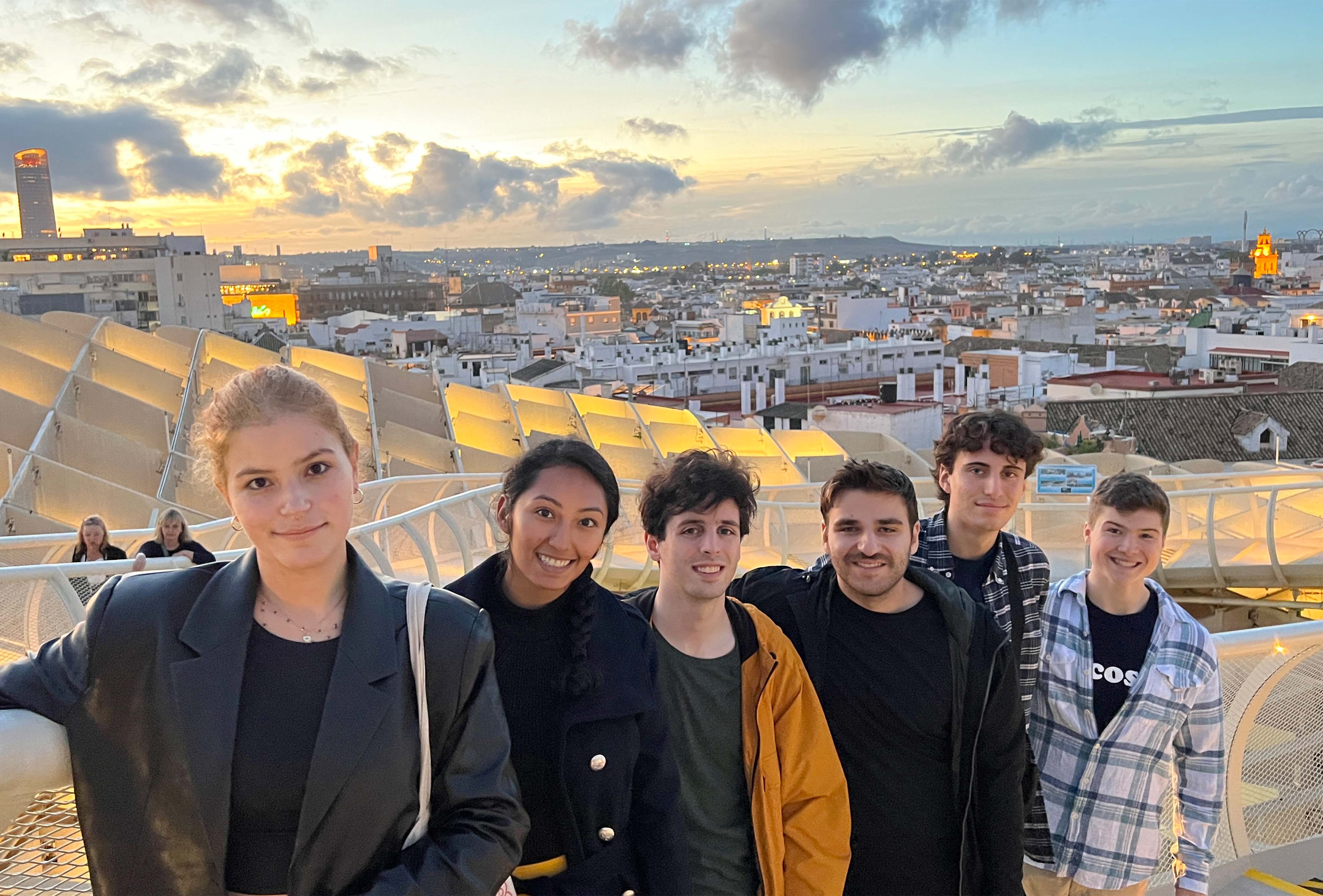 In a quick internet search, Seville appears to be magical. The stillness in the photographs, which captures only a fraction of the city's beauty, show small glimpses of the city's decadent gothic architecture, its Moorish and Roman traditions, and in a digital collage, arches framing opulent palaces and plazas.
Jake Kroft, whose memories from the trip spanned from Spanish cuisine to electric scooters, fondly remembers the city's prodigious architecture. Kroft noted that the view on top of the Metropol Parasol at sunset, is a memory he'll never forget.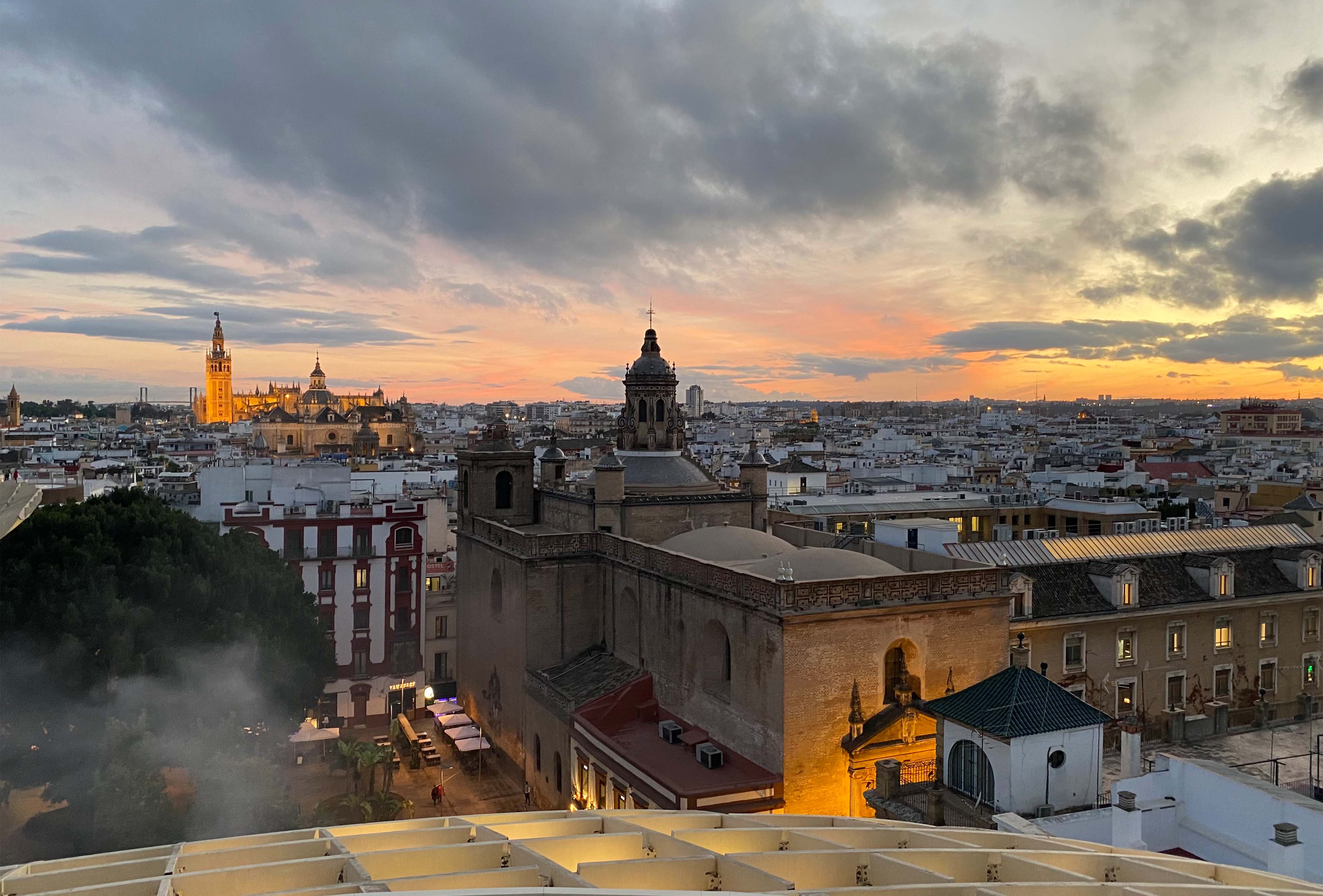 With dusty blue clouds floating over the tops of cathedrals, Seville's architecture is unlike anything in Toronto, whose architectural history is young and still growing.
"Seville is home to several architectural wonders, both historical and contemporary. Exploring these was a highlight of my experience abroad as I was exposed to different architectural styles and techniques which we don't see in Toronto. One of my favourite experiences was the Royal Alcázar of Seville, which is a palace featuring a wide range of historic buildings and residences," says Luke De Bartolo.
Daniela Diaz echoes the sentiments of De Bartolo and Kroft by saying that, "exploring the wonders of Seville was one of the best experiences. Eating tapas and [...] scootering by the Guadalquivir while it was pouring rain was really fun."
For these students, Seville was the perfect companion to their first international conference. To better understand their international experience, we interviewed Luke De Bartolo, Jake Kroft, and Daniela Diaz about their experience presenting their research papers, their favourite presentations at ICERI Seville, and the importance of global experiences for undergraduate students.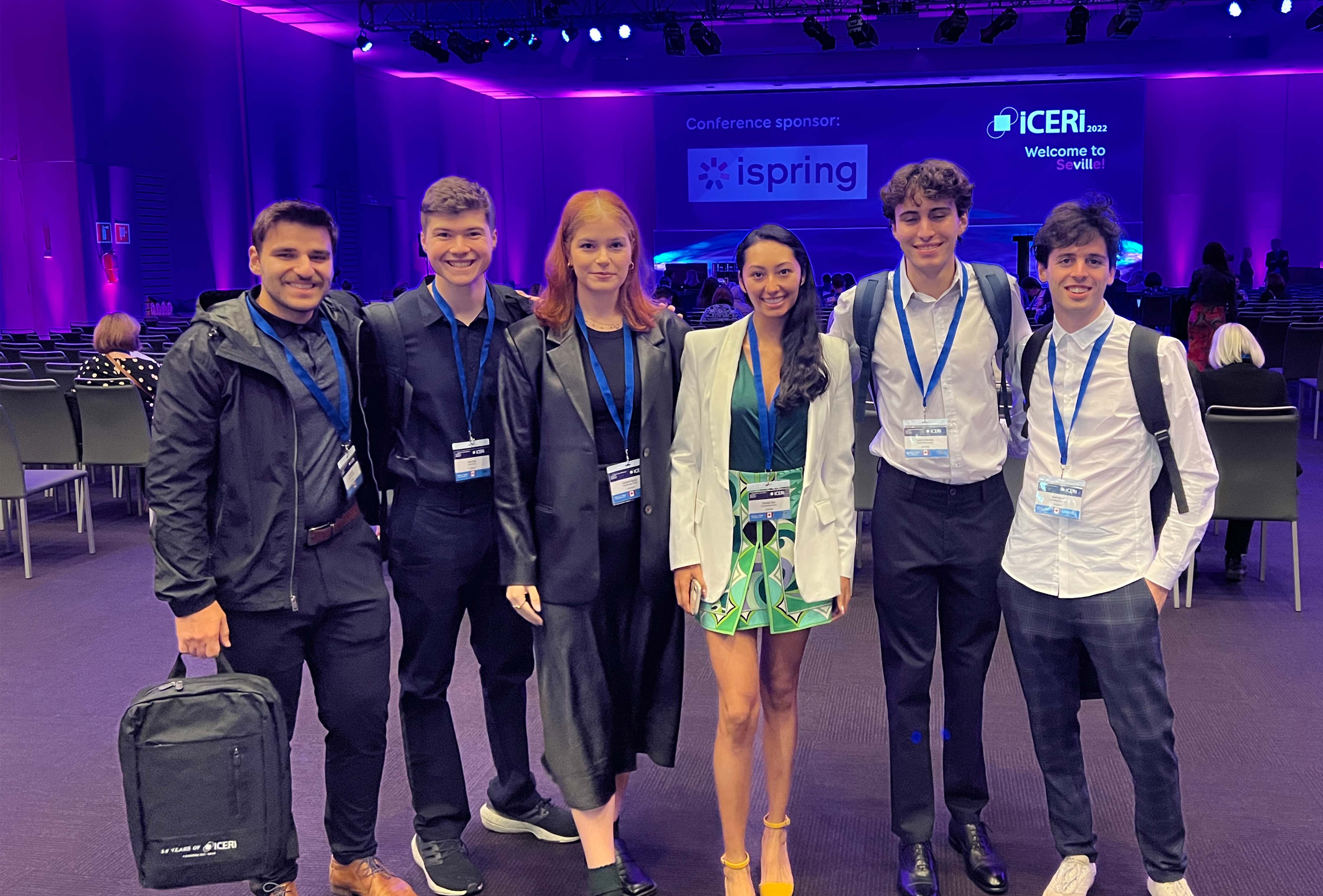 Could you tell me about your presentations? What was your experience like speaking at a conference?
Luke De Bartolo: Presenting at the conference was unique because it was my first experience doing so in a professional setting, especially amongst fellow researchers. The presentation itself was about ten minutes long, with some time afterwards for questions from other speakers and conference attendees who were also studying the use of virtual reality in academia. This experience was positive in the sense that it allowed me to develop my presentation skills, which can be applied both academically and professionally.

Jake Kroft: We presented four research papers about various topics showcasing DAS work including design-builds, the digital tools used for the projects, and studio pedagogy. It was a great opportunity to present on an international stage and represent the department and the university. The experience was useful in developing presentation skills that are pertinent in the field of architecture.
Daniela Diaz: Presenting amongst professors, PhD students, and active professionals in the field was a bit nerve-racking but a great experience overall. Presenting about studio pedagogy resonated with the majority of the audience as we all experienced studying with COVID-19. After our presentation, there was a question period and to our surprise, there were a lot of questions in terms of Toronto Metropolitan's architecture program, the current and past design-builds, and the technology being worked on at DAS. Two professors came up to us afterwards and asked about the possibility of an exchange or bridging with TMU. Not only were we physically learning and developing our skills, but we were also representing TMU at an international level.
How do you think education, research, and innovation correlate with one another? Do you think there should always be innovation in education and in its pedagogy?
Luke De Bartolo: As the world constantly shifts and adapts, especially evident during the COVID-19 pandemic, I feel that it's important to research and innovate new methods of teaching and learning, especially for the betterment of students. Modern innovations within education must be explored in order to allow academics to realize their true potential, and make meaningful contributions within academia and beyond.
Jake Kroft: As time goes on, there is a constant evolution of methodology that can range from technique to material innovation. It is important to keep education fresh and introduce new methodologies by taking part in the research of innovative praxis. I do think there should always be innovation in education. However, the old things that work should not be forgotten and should be tapped into to enhance the understanding, and in some cases even the innovation in various pedagogies.
What was your favourite presentation at the conference and why? What was the most interesting thing you learned?
Luke De Bartolo: The presentations given during the architectural education portion of the conference were very interesting. One professor spoke about her research studying new construction and fabrication methods, including how structures could be built with 3D concrete printers. While my research focused more on digital representations of architecture through the use of AR and VR, it was interesting to hear about how modern-day technologies are advancing physical fabrication as well.

Daniela Diaz: I would have to go with Luke on this one as well! I had previously conducted research on 3D-printing homes. This presentation in particular had a lot of innovation, and they also tested some of their own theories. It was great to see that technology is being utilized to solve social issues in architecture.
Jake Kroft: I enjoyed all the presentations at the conference with varying topics. I really enjoyed the presentation titled "Developing a Virtual Reality Training System for Agricultural Machinery." This paper was presented by a research team from Ireland and highlighted a comprehensive, video game-like training system for agricultural machinery. The large, complex machines used for things like harvesting in agriculture can present difficult and dangerous learning environments and their team developed a VR tutorial platform for trainees to learn how to operate various machinery in an immersive and safe environment.

Was there anything that you learned at the conference that you brought back to your degree here at DAS?

Luke De Bartolo: My experience preparing for and participating in this conference has given me greater insight into the benefits of using virtual reality technology as a tool for architectural visualization– especially within an academic setting. Hearing other presentations about the use of VR within other disciplines, ranging from agriculture to childhood education, broadened my perspective on the subject as well. As a student, I hope to use this tool for the betterment of my own studio projects, enhancing both project development and presentation methodology.

Jake Kroft: Same as Luke! But also, the experience of presenting on an international stage provided a useful medium for practicing public speaking and enhancing my presentation skills– which are a large part of expressing architectural ideas in school. I was also exposed to a wide range of research for the first time, and learned how important research is in innovating and discovering new and more efficient ways of doing things in all disciplines.

Daniela Diaz: In terms of my personal skills, I believe I developed presentation skills, public speaking skills, and networking skills. Additionally, it was very interesting to learn about the cool and innovative ways in which other disciplines– close to or related to architecture– are utilizing technology and conducting research that they are then able to test out themselves. I think that being surrounded by so many different academics also encouraged me to keep pursuing research and to continue furthering my studies.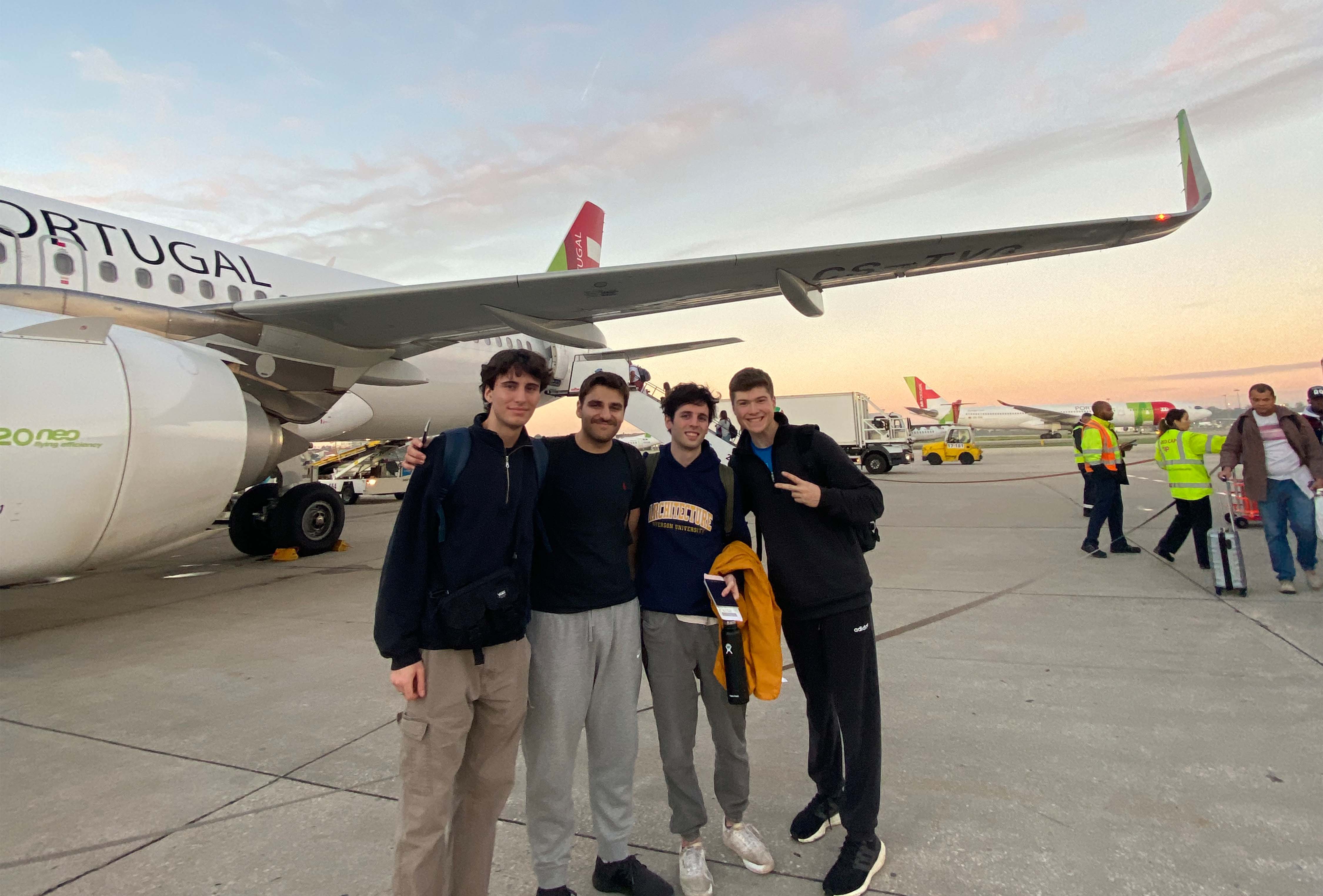 Why do you think it's important for students to participate in international experiences and opportunities? Do you think that ICERI Seville has changed your perspective of your degree and career path in any particular way?
Luke De Bartolo: International experiences can significantly diversify undergraduate students' understanding of their studies, allowing them to gain new perspectives and insights from fellow academics who may come from different backgrounds. Personally, attending this conference has made me more excited about researching and documenting the methodologies behind architectural visualization, and how these techniques may be transferable both within academia and the profession.
Jake Kroft: International experiences and opportunities give students the ability to see a wide range of perspectives in various fields of study. It also gives students the opportunity to see new places and experience different cultures. This conference gave me a greater appreciation for the importance of research in academia. It also made me more eager to travel. Seeing Spain for the first time was incredible, and it put into perspective how important it is to see new places and experience different ways of living.

Daniela Diaz: Yes! I absolutely believe that it is important for undergraduates to partake in international experiences and opportunities as it broadens their horizons and opens their mind to new ways of thinking, new concepts, new technologies, and new methods that may not be available or common. The new perspective also allows them to appreciate the quality of education we are currently receiving at TMU and make them proud to showcase their work and represent the university. In addition to the conference, it was also a great experience to see a new country, indulge in their gastronomy, culture, and architecture!
Images courtesy of Jake Levy and Jake Kroft