Undergraduate Students Collaborate on Camp Winston Design Build Project
June 01, 2022
Sixteen undergraduate students spent three days participating in the Camp Winston (external link) Design Build project supervised by associate professor Vincent Hui. Two teams of students across various years collaborated alongside camp staff and contractors. We sat down with core members of the design team to talk about the scope of the project as well as the relationships and skills built between them.
The students involved were:
Hunter Kauremszky
Evan Hills
Alexandra Winslow
Nicole Gabriele
Luca Castellan
Jake Kroft
Melina Elefteriadis
Liam Fujita
Dinura Fernando
Nolan Wong
Jade Branker
Chau Nguyen (Karlie)
Jake Levy
Can you tell us a bit about the project?
Ariel: We were commissioned by Camp Winston to design a shed. Camp Winston is a camp for children with complex neurobiological disorders, and they use animals as part of their therapy program–the kids respond very well to them. Their existing animal paddock was this very small shed. So our original idea was that we wanted to carve these moments of transparency within the shed, and make it an experience which is just as much for the animals as it is for the children, and make this sort of nice atmosphere that they can play in and interact with the animals in. Inside, the animals and children have an area where they can interact. In developing this project, we're using programs like Unreal Engine 5, which is like a real time game engine normally used for making video games. But this is the sort of stuff we're using in order to develop the design and render it as seen here: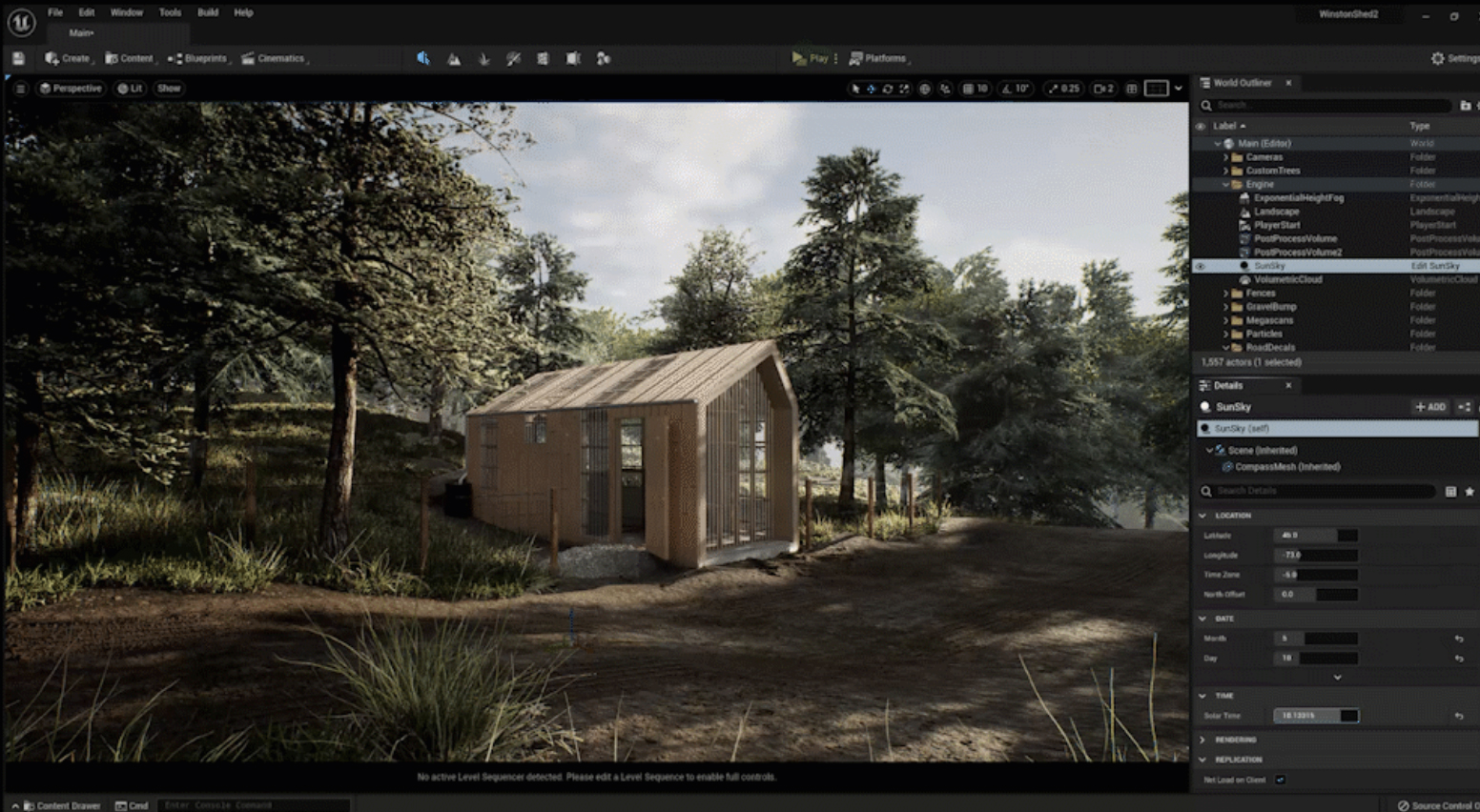 We're able to experience the shed, in a way, before the actual build phase begins, using these tools that we're introduced to in our program. We also took advantage of augmented reality a bit. It's something that happens long before the building actually gets put up, and it's another thing that we're taught how to do and we're supported by our program in learning how to do. Once we're onsite, we can use that augmented reality model in order to verify that things are going correctly.
First we saw the sill plate, then the walls went up. You can see how many kids are involved, so - you have kids lifting the walls and nailing them together.
What was it like meeting for the first time since the beginning of the pandemic?
Sadberk: I think this way of collaborating in person for design builds was new to a lot of students on the team. They started their education during the pandemic, so they didn't have much experience apart from Winter Stations which is still also very much recent. For me, it felt interesting because design builds were such a big part of my experience pre-COVID. It was great to see younger years taking the lead and being very hands on–all the first and second years were amazing.
Ariel: We were only a few design rounds in when this project was interrupted by the pandemic–so really this project has been going on for three years.
Jake: From a first year perspective, it was incredible to be a part of this. We walk into our school building and see all these amazing projects on display, but we don't have the opportunity to talk to one another and network due to the pandemic. For the first time, with the Camp Winston Design Build, we got to speak to one another one on one, instead of just comparing ourselves in the classroom–this aspect of the project was like a breath of fresh air.
Jade: Over the span of a year and a half online, I never got to experience a design build project; suddenly your design comes to life for the first time after what feels like forever–it's pretty amazing.
Daniela: Working as a team meant we were all learning from each other. It was a great experience.
Noah: If I can add one more thing - because we were all screened before being onsite, it felt like an oasis away from everything else, like a sense of normalcy was reintroduced into our lives. We got to interact with each other and build something away from and out of the city, which was really nice.
Can you speak more to the relationship you built between the team and Camp Winston?
Ariel: The people who run the camp were so hospitable.
Daniela: They treated us like part of the camp–we sang their songs, spent time in the park, used their bikes… They made it worth being there - they were so welcoming.

Sadberk: The amazing thing is watching how the community came together for this camp–you can see that each person involved is going above and beyond. You have Marcus who is a retired engineer and volunteers his time on their construction committee. There are contractors onsite who grew up living in Muskoka and only recently found out about the organization and decided to help out. I would love to see how the kids interact with and enjoy the space we've created for them. To feel like you've contributed to that is a great feeling. You can tell that everyone there, including ourselves, didn't treat this as a 9-5 job.
Jade: The camp staff really took time to delve into their intentions with every single decision. They were open to new ideas, you can really see the genuine care they have for the camp and the kids who go there.
What skills learned in the program did you draw upon for this project?
Noah: During the construction process, there were a lot of things that we didn't expect to encounter–a lot of small details that we had to basically work out onsite. And I think our education has given us the knowledge in terms of detailing and small wood construction. I was able to (along with a few other people) come in with ideas–"How can we fix this? How can we adjust the design so that we can remain true to our intentions? How can we build something that won't deteriorate in a year or two?" That's something the program has definitely helped us with–because we're able to bring that knowledge onsite to collaborate with contractors who have been doing it for years, and figure out good solutions to design problems.
Sadberk: I think this role as mediators is really important - so what our vision of the design was, what resources were available, and the process between different people onsite. Being leaders and mediators on a project at the same time is something that our program really does prepare us for. Not just the technical base, but we do quite a bit of group work too in third and fourth year courses. From the beginning, our program really places an emphasis on collaboration. Collaboration is also a key part of the industry, and to see how that manifests first hand onsite - we were able to bring what we learned to the table, especially with regards to the roof of the shed. I don't think we would have been prepared for the design challenges we met without that knowledge.
Ariel: I think this is a really good question for second years, especially because in first year you learn a lot about wood frame construction, but you never really get to put that to the test.
Jake: First year taught me how to understand the terminology and drawings. So for instance, when Ariel was talking to contractors, I was able to understand what they were saying and how this building was being constructed. I was using what my professors taught me in class to understand how this thing's going to go up and how it's actually going to stand–for a long time, hopefully. I learned a lot!
Ariel: Also, just to reiterate again–the visuals, especially in the preproduction phase–the renderings, the VR components - really helped the design team. Even the HoloLens was a great tool.
Sadberk: To add to what Ariel said, it doesn't just help us as students, the visual tools also help clients understand projects better.
Ariel: Yeah, that's a really big one. I remember we showed them a floor plan, and - most people won't see an architecture plan at any point in their life. With the plans, it was hard to convey a sense of scale to them–so the renderings really helped.
Daniela: I will say these digital tools will really help us in the future, seeing as many workplaces in co-op are looking to incorporate them. Having the ability to do a video walkthrough is phenomenal.
How did you collaborate throughout the design build process?
Noah: Initially we broke up into two teams–we had teams of first years, second years, third years from the early stages of the project, then teams of first years, second years, third years who came on in later stages who had to collaborate and bring our own knowledge from those two teams to come up with ideas, then we would come together to merge those ideas and rethink the final design. So it was a really good experience in terms of exposure to other years and their knowledge of certain tools (such as softwares) and ways of thinking.
Sadberk: I think some of us already knew how to work with each other because we had collaborated on design builds previously, so when we transitioned to online we already knew what each other's strengths were and how to communicate. It took around two years after we initially presented our final design to the construction committee to start building–and then in addition to the core design team, we had a group of people helping us with fabrication and we had to figure out how to collaborate with them. Everyone had such a great attitude and open mind–they wanted to learn, and it wasn't just younger years learning from older years–we all learned something from one another. We all have different areas we're good at and specialize in. And because everyone was so open, friendly, and working towards a common goal, we were learning from each other, we were moving together, and there wasn't any butting of heads which was unexpected on a project of that scale!
Ariel: Yeah, a shed is not a one person job. We wouldn't have been able to physically do it without the 16 of us - whether it's cutting or carrying wood, there was a lot of collaboration in those two days where we were actually building it - and we have all the pictures to prove that.
Sadberk: We had people measuring and cutting, we had people painting. We did try to make sure that everyone got to shuffle through the whole process - so it didn't' feel like we were just painting the siding, or that one person was doing the framing, it was a mix of things - so I think people were exposed to different aspects of construction, and, also, I think one thing for younger years is that when we made design decisions on the spot, it wasn't a closed doors thing - if we're having a conversation with the contractor, then you can see other people listening in going "Oh, this is the idea behind it,'' or even like, suggesting ideas: "I understand why you're doing this, why don't we try this?" So that collaboration was so open - we didn't have a very hierarchical energy onsite.
Daniela: And I also think we got a chance to get to know each other. And like others have said, it allowed for first years and second years who had not interacted with other students before more freedom - "Talk to us, how was this course? What did you do here?" there was this openness of - if they have more questions, they can always reach out to us. We're not scary, haha. I didn't feel there was a hierarchy between years - at every single point, no matter what you were doing, whether it was grunt work or not - you were learning from the different years at every point. Everyone was very willing to learn and share whatever knowledge they had. I never thought at any point that you had someone above or below you.
Sadberk: We also had various bonding experiences where we had a moment where we were like "We're going to run into the lake!" We kept thinking of other group bonding activities inspired by activities at the camp. So it wasn't just "Let's work all day and at 5 o'clock, say goodbye." The camp really supported this, they let us use their resources. We had a fire going at one point and were making s'mores, and playing the guitar and singing. I personally love the aspect of knowing everyone–when you're on campus, even if you don't know someone you see them around you doing things. And you really miss that experience when you're online. I've always been involved in the program and knew the years above me and below me right before we went into the pandemic. But I've realized I don't know people from younger years now - so this project was a great opportunity for that.
What were some design challenges you encountered, and how did you approach them?
Noah: One of the main issues we had was with materials on site. Coming into it, we had a lot of responsibilities taken off our shoulders because the contractors were there. Then there was a slight miscommunication between what we thought was going to be put together and what the contractors thought that goal would be. So we were able to talk to them and come to this shared goal as to how we can make things work with what we have. Our design came with some smaller detailing issues–for example, we had this polycarb panel for the windows, and we had to figure out how it flashed away from the inside so water wouldn't get inside. Myself and a few other students, including some first years and second years, were talking to the contractors trying to figure out how to work out a detail that would help push the water out - so we decided to cut a piece of flashing and just stick it at an angle. We kept our design as we imagined it and were able to preserve the integrity of the building in the process.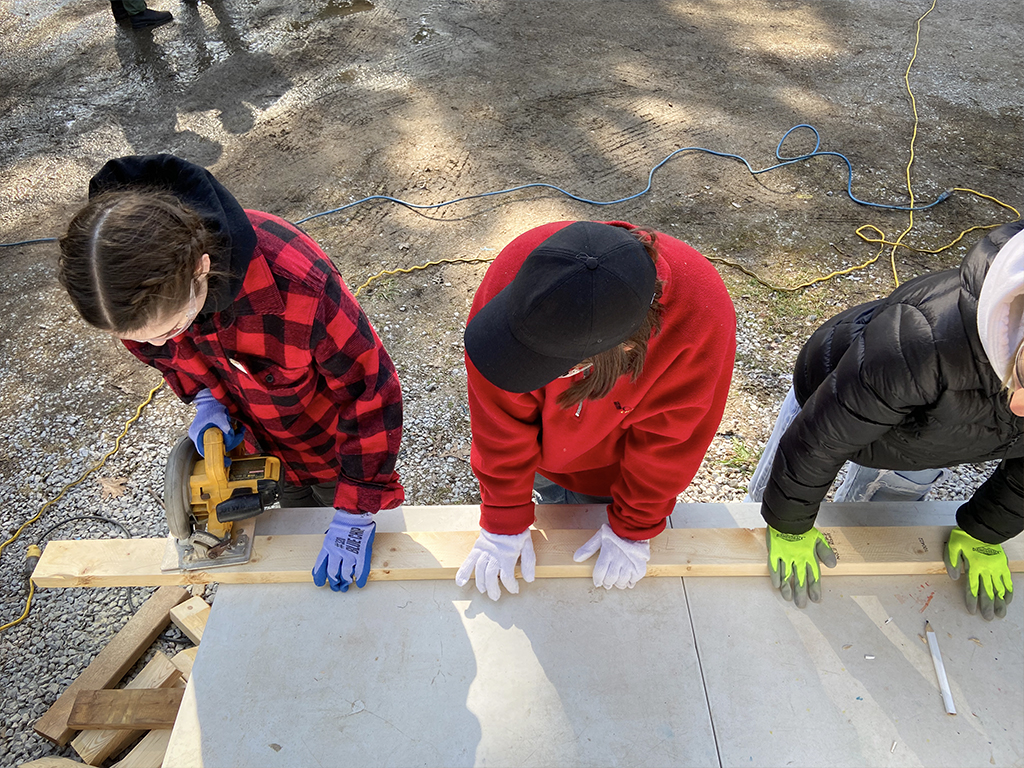 Sadberk: One day I remember Noah saying, "So they brought materials for a metal roof - and we don't have a metal roof." And we said - "Okay - so we get a metal roof now? How does that work?" And we decided to talk to them - and they had their reasons - such as durability, waterproofing. We explained wanting a wood roof - and I remember Marcus saying "Well, if it's not built yet, we can change it," and so I was like, "So we can change it?" And that's the point where we realized we just need to communicate and provide solutions in order to support our vision for the design. We had enough siding to go on the top that would match the sides of the building, and - we need a vapour barrier to make up for what the metal roof would be doing in terms of deflecting water. So we said "Okay - can we get that?" They brought the materials we needed, and all we had to really do was communicate with them. So, we did get our wood roof, haha.
What skills did you learn onsite?
Ariel: Well, there's only so much we can learn in a class environment. For example, when you're installing a wood shed on a concrete pad, I didn't know we had to place some sort of membrane under the wood in order to stop water from getting in. There are some aspects you learn only when you build it. You don't learn how to use certain tools in class, like nail guns. Actually putting things together in reality is a whole different story. And I think the project speaks to the intricacies of that.
Sadberk: We get some experience with fabrication by making models, but it's not really the same–like drilling into concrete, or nail guns. I think Jake did three shots at once! One single nail going into three connections at once. You get very good experience seeing the nitty gritty; when you're designing on paper, it's easy to say "This way of doing it should be fine," and then you get onsite but then you get onsite and realize "Yeah, that won't work". Even after four years in the program, detailing is still something that's very challenging for me: I have to go step by step - "Does this make sense, and this?" Whereas when you're onsite and seeing it happen, it's much easier to understand than sitting at home drawing.
Jake: The contractors onsite were very open. For anyone that was scared of using a tool, they were always right next to you and there to guide you. I was always afraid of the tablesaw - so it was really nice having a contractor right next to me explaining all the steps and safety precautions. How to use it and then actually taking that piece of wood that you just cut and making this big shed out of it. I was nailing together a piece of wood that I cut and thought: "That's me right there on the shed!"
Daniela: And I will say again, that this experience is going to help everyone in the industry. When an architect or a designer actually knows how it comes together, they can guide a project in a smoother direction as opposed to just drawing on paper. I think this really exposed all of us to all the things that happen onsite, and having to come up with viable solutions right away.
Jade: In a lot of the detailing classes, professors will warn you when you can't do a specific detail or design because it can't be constructed that way, and you never fully understand that until you get onsite and are building it yourself. Suddenly you realize, "I can't twist my arm at that angle to get the nail in this way," so it doesn't come together until you experience it like that.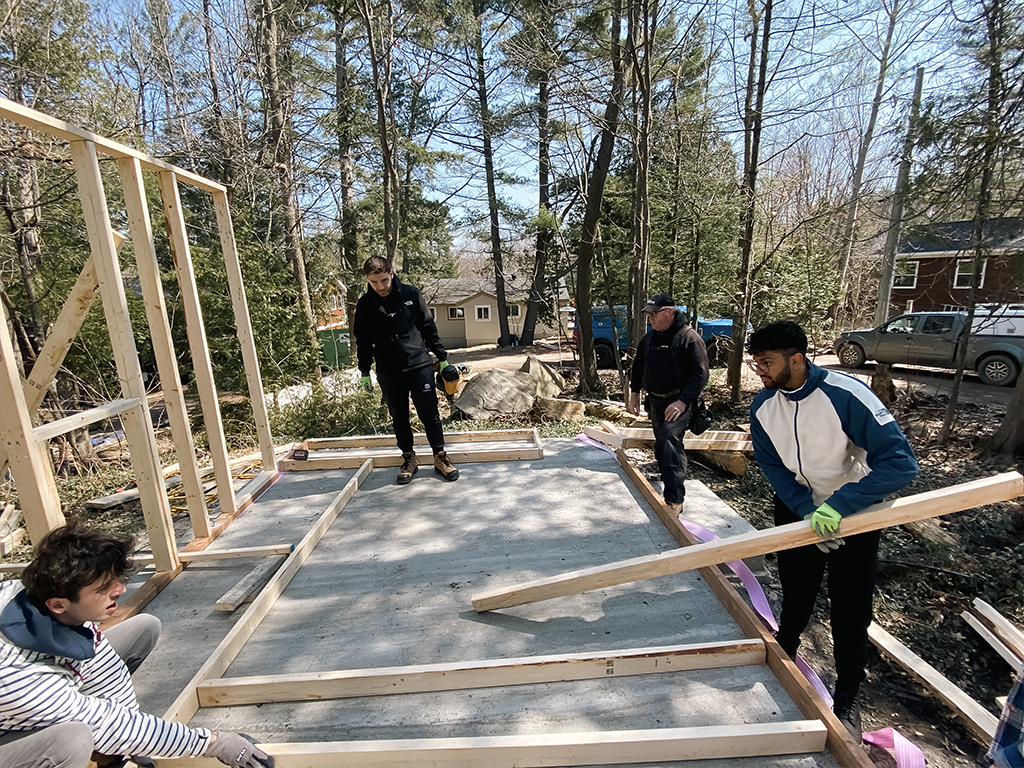 How will you take what you learned and bring it back into the classroom?
Jake: When I spoke to kids at the camp, I understood that they had their own challenges, and were able to express themselves in certain ways (e.g. music) and that quality really touched me. No matter what someone's challenges, there's always a solution - a secret talent or skill, and when you find it you have to let it shine. So I hope one day I'll find my secret skill or talent, and when I do, I'll bring it into the classroom and wherever I go.
Ariel: That's beautiful Jake.
How do you think this experience will shape you as a student and as an architect or designer in the future?
Ariel: We just had interviews with some of the biggest firms in the world as we're going into co-op. The most interesting projects to them and the ones that they wanted to look at (in my portfolio, at least) were the ones that were built. It's easy to make something on your computer that looks really cool but they were very interested to know how to actually build it. I think even just participating in this project and being able to put it on our portfolio is such a big advantage to get over other programs that don't involve this teaching/learning method. And also just learning how to do things with your hands is a great skill - I think architects don't usually get the privilege to do that and I think it's really awesome.
Noah: It's really gratifying to just see the result of all this effort you've put in, and all this work that comes to fruition. I don't think a lot of programs have this. Not only do we gain confidence in what we're doing, but a sense of satisfaction and excitement. It's confirming that all this hard work you're putting in is for a reason - to build in order to make the world a better place.
Sadberk: It acted as a reminder. I feel like architecture school education is great, in the sense that we learn a lot of theory and technical aspects, but I feel like sometimes we progress through education in a way where we put ourselves on a pedestal - when we're designing it can become more about us and less about the user. Doing these sorts of projects solely focused on the user experience is amazing, because when you're' just behind you computer and not really seeing how it's being built or how it will be used, it removes you from that aspect of architecture which is what I personally love. So knowing the people who are going to be there using it, or how they would interact with it–the camp was kind enough to invite us back: "We'd love for you to see the kids using what you've designed and built," it's so amazing to me because it reminds me that we don't do this for ourselves but the people who are using and interacting with that space.
Jade: Who you're really designing for, and how that can shape your process - actually being able to construct it and seeing the people who would be using it, and understanding their day to day experiences, is invaluable.
Daniela: I really enjoyed the whole process. I remember going to camp when I was younger, so now being able to help out and design something for a camp is very rewarding. Knowing that we did that, and having the confidence to say that you can help out with other projects as a result, is amazing. At the end of the day, it's really about knowing how the user will use it and enjoy it. I found it so rewarding. Being designers, we want to see our things being built and people experiencing it and enjoying it.