DAS Welcomes New Faculty Members Ehsan Azar and Helen Stopps
August 10, 2021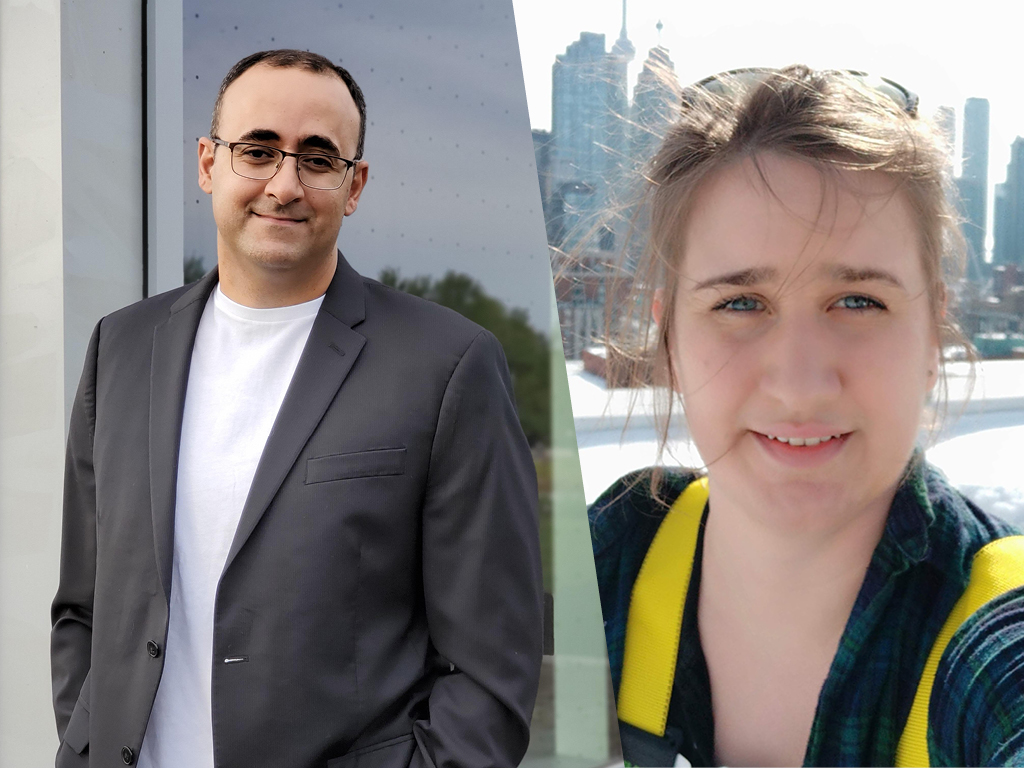 Computer vision algorithms can detect and track objects of interest in construction job sites which can improve and enhance the automation level of project management processes.
Dr. Azar has worked with research partners like the Ministry of Transportation of Ontario and the City of Thunder Bay to bring industry experiences in advanced data collection technologies to infrastructure projects.
"Good quality data helps project managers make informed decisions. Information technology and Artificial Intelligence methods in the built environment offer possibilities for improving both the construction process as well as the operation of existing infrastructure. In particule, growing application of sensing technologies during the construction and operation phases of buildings and other infrastructure projects has significantly increased the amount of data. This creates a number of opportunities to extract key performance indicators (KPI) and patterns for informed decision making. Machine learning methods are among the most promising approaches to use these data to train high-performance classifiers for automated KPI monitoring, pattern discovery, and prediction models.
These AI methods can also pave the way for the development and application of robots in construction and maintenance of the built environment. In addition, they help reduce the environmental footprint of the construction and operation phases of the new building and infrastructure projects."
I'm really excited about the start of our new graduate program in project management. It's unique to Canada and reflects the uniqueness of our department, in that it offers incredible opportunities for collaboration and integration. Moreover, the university is located in the fastest area of construction in North America—there are lots of opportunities for modern and sustainable approaches to construction. This includes commercial, residential, and institutional spaces. It's a great opportunity to engage industry in the development of our curriculum and integrate industry practices.
When it comes to the classroom, Dr. Azar's hands-on approach includes using project-based learning, and delving into real-case scenarios where students can implement concepts in the real world. "Being equipped with strong skills when it comes to state-of-the-art technologies currently used in the industry is an invaluable part of active learning."
Helen Stopps is the newest faculty member of the Building Science program. Her work focuses on enabling data-informed building development, with consideration of the diverse range of factors that influence infrastructure operation and performance.
Stopps' research resides at the intersection of the policy, social, and technical systems that are employed in building infrastructure. For Stopps, buildings are not only complex, technical systems, but are an urban resource shaped by existing policies, industry norms, stakeholder behaviours, and economic and financial factors. This all ties back into a foundation of equity and social inclusion, according to Stopps: "Our development of building infrastructure often varies depending on the regions or social groups that it serves."
By looking at the 'big picture' of why certain technical systems come about and how decision-makers and stakeholders can work together to move forward, Stopps believes that we can improve building infrastructure quality not only in terms of energy use, but also societal well-being. One of Stopps' key insights comes from her background in transportation engineering, where there is a lot of focus on how technical systems impact the quality of people's lives, which is not as broadly considered in building engineering. Lack of data, however, makes understanding the human and environmental impacts of building infrastructure challenging: there just isn't a lot of data on how the building stock operates as a whole. For example, while some initiatives exist to collect data on the energy consumption of buildings (e.g., Ontario's Energy and Water Reporting and Benchmarking (external link, opens in new window) ), there isn't sufficient information available to analyze the technical issues buildings are faced with." Stopps explains, "Are there mechanical systems that create energy issues? Is it common that we have leaky or under-insulated building envelopes? We just don't have the data to understand how common these types of issues are or to quantify their impacts on building stock performance."
Stopps' research takes a two-pronged approach to addressing this challenge, using data-driven methods (external link, opens in new window) to better understand how building stocks operate on a large scale and systemic analysis to understand how political, social, and technical interactions ultimately influence building stock performance.
Stopps recently collaborated with University College in London (external link, opens in new window) to examine the refurbishment process of aging stocks of high-rise residential buildings in both Toronto and the UK, studying the impacts of this process on energy use and resident health and safety. The research began with an analysis of how policies in the UK allowed for the technical missteps leading up to the Grenfell Tower fire. The project resulted in findings applicable in the Canadian context as well. One of the key recommendations of the work was to incentivize the use of integrated design processes in renovations, which, Stopps says, is also relevant to new building construction and can be extended to include the integration of on-going building operation and maintenance.
In the context of Toronto's booming condominium development industry, integrating operation and maintenance factors into the initial building design and construction phases has the potential to improve building performance in an industry in which developers are rarely responsible for ongoing costs. Stopps would like to address issues condominium owners face when it comes to large, complex, engineering issues that developers have left them with, such as failing mechanical systems, inadequate drainage systems, and huge maintenance costs. She notes, however, that identifying the best way to approach these issues is not simple: "Identifying the best leverage points to fairly distribute risks and costs between designers, developers, and suite owners is challenging as this depends on the interactions between policy, industry norms, economic drivers, and homeowners. Encouraging mindfulness in practitioners is helpful in getting people on board with changes to the development process but this alone is not sufficient. Unless there is a huge social pushback - which won't happen in the housing market - a lot of these recommendations have to be codified, and a formal process of risk and cost ownership has to be established."
The social impact of engineering work and architecture, as well as infrastructure is central to Stopps' work. Stopps places emphasis on helping students understand and take ownership of both the direct and indirect impacts their professional work has on people and the environment. She also focuses on the importance of having a solid understanding of first principles in engineering and architecture, which allows students to understand the issues in a more in-depth way and be flexible in terms of career pathways.
Knowing the fundamentals of engineering design, and how science works in general, meant I could move from transportation engineering to energy systems engineering to buildings fairly easily.
"I'm excited to be here at Toronto Met. I love the diversity the university has, and how we in the Architectural Science Department integrate architecture, project management, and building science. I'm also excited for the opportunity I'll have to focus on urban development, equity, and sociological methods through collaboration with Toronto Met researchers and institutions, such as with the Diversity Institute. It's the perfect place for buildings research focused on policy and social implications."