You are now in the main content area
QuanTMU: Quantum Science and Technology at Toronto Metropolitan University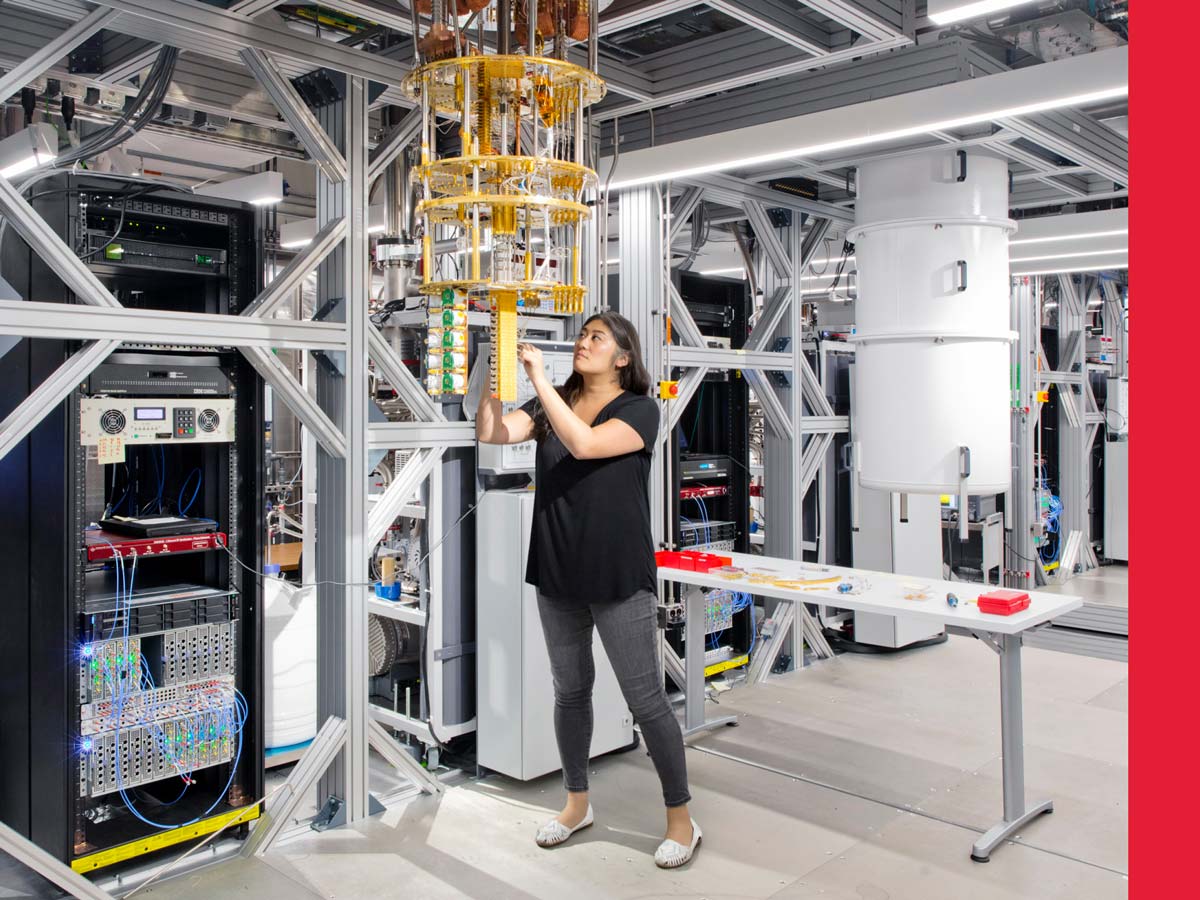 Canada is a global leader in the emerging field of quantum science and technology (QST), which promises to transform how the world works and lives. As Canada's comprehensive innovation university, TMU is uniquely positioned to harness the potential of QST through our entrepreneurial approach to scholarly, research and creative (SRC) activity.
The QuanTMU strategy reflects and aligns with Canada's National Quantum Strategy (NQS) (external link) but carves out key niches where we can harness TMU's expertise to forge long-term research and education partnerships.
Photo: IBM

Research Pillars
We have built our QuanTMU strategy and flight plan on the synergistic combination of our existing institutional resources and the following three pillars of QST research.

1
Quantum software and responsible AI/machine learning
TMU researchers are putting the power of quantum computing to use for the creation of new software tools that deploy AI and machine learning in safe and ethical ways to study systems and data structures too complex for classical computing.
2
Quantum-ready cybersecurity
TMU researchers are working to secure sensitive data and systems from quantum-enabled threats, creating and implementing safeguards that anticipate technologies which have yet to be created or have not yet become widely available.
3
Quantum materials and sensors
TMU researchers are harnessing the unique properties of certain materials, which are incredibly sensitive at the quantum scale, to develop sensors and other hardware that could revolutionize health-care technologies, energy systems and more.


Migration and Integration
Funding Opportunities
Targeted funding for QST research is available in addition to broader funding opportunities through the Mitacs, Ontario Research Fund – Research Excellence, and NSERC CREATE programs.
Photo: IBM

Mitacs Accelerate Special Offers: Digital – AI, Quantum, ICT (external link, opens in new window)

External Deadline: February 9, 2024 (or while quantities last)

Leslie Bone
lbone@torontomu.ca

Mitacs Globalink Research Award (GRA) quantum technologies initiative (external link, opens in new window)

External Deadline: January 12, 2024 (for internships starting in mid-April 2024); March 31, 2024 (for internships starting in July 2024)

Leslie Bone
lbone@torontomu.ca

NSERC Collaborative Research and Training Experience Program (external link, opens in new window) (By Invitation Only)

Internal Deadline: September 8, 2023

Linda Hurrell
lhurrell@torontomu.ca

Ontario Research Fund: Research Excellence (external link, opens in new window)

External Deadline: September 27, 2023

Dayle Levine
dayle.levine@torontomu.ca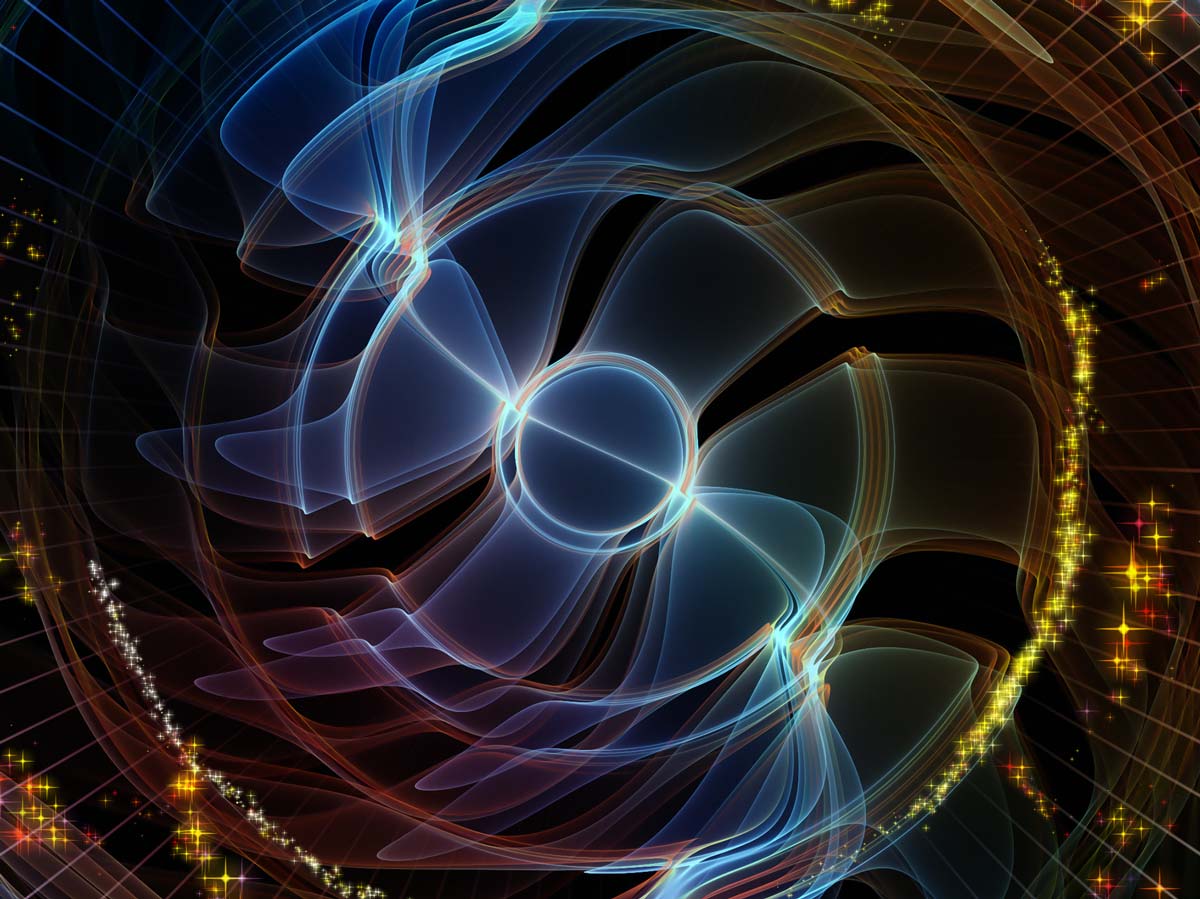 The QuanTMU Circle comprises researchers with deep knowledge or interest in QST who can advance QST or apply it in their research.
Ebrahim Bagheri (Canada Research Chair in Social Information Retrieval) creates technology that presents search engine users with the most relevant and trustworthy information.
Reza Faieghi (Aerospace Engineering) models the relationship between advanced autonomous networks, such as those used to control autonomous vehicles and human behaviour.
Bilal Farooq (Canada Research Chair, Disruptive Transportation Technologies and Services) builds prediction models to inform public policy around future transportation systems.
Nariman Farsad (Computer Science) studies distributed deep learning and reinforcement learning, machine learning for sensing, and deep learning for video processing in virtual and augmented reality.
Farrokh Janabi-Sharifi (Mechanical and Industrial Engineering) developed a robot used during surgery to correct atrial fibrillation, a condition that can lead to stroke or heart failure.

April Khademi (Electrical, Computer, and Biomedical Engineering) develops image analysis and machine learning tools to model the progression of diseases and create personalized therapies.
Naimul Khan (Electrical, Computer, and Biomedical Engineering) develops cloud-based augmented and virtual reality technologies to improve services provided by first responders, educators and health-care providers.
Nagi Mekhiel (Electrical, Computer and Biomedical Engineering) is solving fundamental problems facing the computer industry, including the scalability of parallel processors and the processor/memory speed gap.
Alexandra Mogyoros (Law) explores the architecture of legal regimes that regulate technology, particularly how we regulate private actors and private spaces in the public interest.
Sharareh Taghipour (Mechanical and Industrial Engineering) develops advanced descriptive, predictive and prescriptive analytics-based solutions for physical asset management.
Eric Vaz (Environmental Applied Science and Management) uses spatial analysis, complex system modelling and geographical information systems to understand regional dynamics and inform policy.
Bala Venkatesh (Electrical, Computer, and Biomedical Engineering) works with partners to develop innovative electric power and energy storage systems for smart grids.
Andy Ye (Electrical, Computer, and Biomedical Engineering) works to reduce the power consumption of Field Programmable Gate Arrays, an integrated circuit necessary for advanced computing.
Morteza Zihayat (Information Technology Management) uses machine learning to model search engine use, mine social network data, and improve the performance of computing applications.
Mohammadreza Arani (Electrical, Computer, and Biomedical Engineering) develops new modelling and control tools to safeguard the cyber-physical security of smart grid technologies.
Atefeh Mashatan (Canada Research Chair, Quality of Security Framework for Internet-of-Things) helps prepare organizations for the migration to quantum-resistant cryptography.
Andriy Miranskyy (Computer Science) quantifies and mitigates risks in software engineering, focusing on large-scale software systems, especially those that process and analyze Big Data.
Jelena Mišić (Computer Science) is investigating the use of dynamic platform techniques to detect and defend against multi-stage cyber attacks.
Vojislav Mišić (Computer Science) is exploring the uses of blockchain technology in industries where security and privacy are paramount, such as Internet of Things and e-healthcare systems.
Pawel Pralat (Mathematics) develops machine learning models and tools for mining complex networks and has worked on quantum-resistant communications in connected and autonomous vehicles.
Marcus Santos (Cybersecure Catalyst) is ensuring high quality cybersecurity research, teaching and training to build capacity for the Canadian workforce and industry.
Ozgur Turetken (Information Technology Management) studies the organization and presentation of information as it relates to individual decision-making.
Daolun Chen (Mechanical and Industrial Engineering) develops lightweight, high-strength materials, including high-entropy alloys, used in the manufacturing of cars, airplanes and other applications.
Chil-Hung Cheng (Chemical Engineering) develops recipes for creating porous materials with structures that selectively capture different molecules.
Yaser Dahman (Chemical Engineering) uses the renewable and sustainable resources of agro-industrial waste to develop green biomaterials, biodegradable plastics and biofuels.
Alex Ferworn (Computer Science) develops remote sensing and networked technologies, crewless vehicles and innovative human-computer interfaces for practical search and rescue applications.
Dae Kun Hwang (Canada Research Chair, Microarchitecture for Advanced Polymeric Materials) creates novel polymer-based platforms to develop biomedical applications, such as less invasive microneedles and low-cost cancer detection.
Stefania Impellizzeri (Chemistry and Biology) designs new molecules and materials for applications in nanocatalysis, computer technologies, memory devices and super-resolution bioimaging.
Bryan Koivisto (Chemistry and Biology) designs materials and devices capable of converting light into electric signals, which can be used for numerous advanced sensor applications.
Dafna Sussman (Electrical, Computer and Biomedical Engineering) uses magnetic resonance imaging to detect fetal abnormalities in utero before physiology is permanently altered.
Bo Tan (Aerospace Engineering) has created quantum sensors from fabricated silicon that can be used to detect cancer in its early stages, improving patient prognosis.
Krishnan Venkatakrishnan (Electrical, Computer, and Biomedical Engineering) builds scalable manufacturing methods to produce nanosensors for a range of applications.
Hadis Zarrin (Chemical Engineering) uses nanoengineered materials and machine learning to develop clean energy storage solutions and smart clothing.