You are now in the main content area
November-December 2015

Issue 18: November/December 2015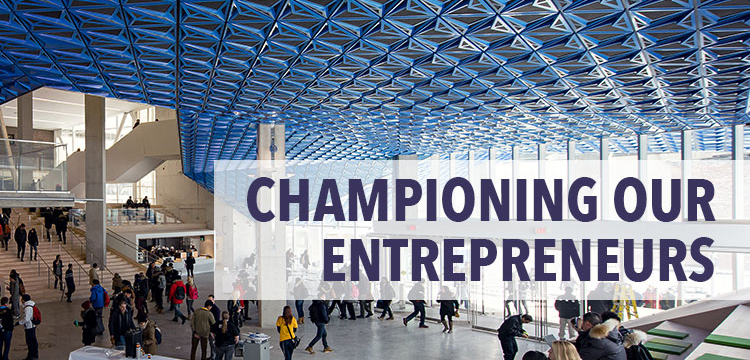 Image: Entrepreneurship is the "career" of the future, and Ryerson is well-equipped to lead the charge in educating our future entrepreneurial innovators. Photo credit: Clifton Li.
This publication is made possible, in part, with the support of the Research Support Fund.
Entrepreneurship is the "career" of the future, and Ryerson is well-equipped to lead the charge in educating our future entrepreneurial innovators.
Our zones and incubators are some of the best that the post-secondary world has to offer. The DMZ was ranked the top of its kind in North America by UBI Global, the Stockholm-based research organization that specializes in benchmarking incubation programs. Since its inception in 2010, the DMZ has launched more than 200 start-ups, establishing Ryerson as a Canadian leader in the shaping the digital economy. Through the zones, students meet other students across disciplines who share their entrepreneurial drive and passion, and faculty who can help them forge their path. With the help of both provincial and federal governments as well as private sector partners, Ryerson is expanding its network of incubators and innovation centres across the province, the country and around the world. Ryerson received $13 million from the Brookfield Partners Foundation to create the Brookfield Institute for Innovation and Entrepreneurship. With the support of $10.7 million from the Canada Accelerator and Incubator Program (CAIP), Ryerson is currently leading a partnership with Simon Fraser University and the University of Ontario Institute of Technology (UOIT) to establish an expansive technology, start-up, and job-creation ecosystem across the country with international connections – the newly named Incubate Innovate Network of Canada (I-INC). Not only is Ryerson Futures helping to fill financing and support gaps, but Ryerson is also partnering with investors around the world to help grow Canadian companies.
Ryerson is widely recognized as a leader in entrepreneurship education, with the largest program in the country. Ryerson's Entrepreneurship Research Institute (ERI) is spearheading new research into entrepreneurial opportunities to look at how they can be encouraged. In addition to examining diversity, social entrepreneurship, and innovative training programs, Ryerson's researchers are part of the world's largest study of transnational entrepreneurship, the Global Entrepreneurship Monitor (GEM), acting as GEM's lead for research in Ontario.
In anticipation of the release of Ryerson's annual GEM Ontario 2014 report — which examines the state of entrepreneurship in Ontario, with Charles Davis in the Faculty of Communications and Design, and Neil Wolff, Dave Valliere and Howard Lin in the Ted Rogers School of Management collecting and analyzing data — we can examine some of the key findings. In 2014, a total of 2,479 Canadians were surveyed, including 759 in Ontario. The general survey of individuals is supplemented by an expert panel which assesses broad conditions shaping entrepreneurship including financing, policies, education and more. The principal findings of this year's survey reinforce that, while Ontario remains a good place for entrepreneurs, more can be done to support growth and innovation among small and medium enterprises. Several key findings from this year's GEM survey also reinforce Ryerson's strategy to drive entrepreneurship, innovation and economic development:
The public's attitude towards entrepreneurship in Ontario and the rest of Canada is very positive – even more so than in the U.S. A substantial portion of respondents indicated that they personally know entrepreneurs, see opportunities for entrepreneurship, believe that entrepreneurship is a good choice and have a high level of respect for successful entrepreneurs. Nevertheless, Ontarians indicated that they are also somewhat risk-averse, with higher rates of fear of failure than Canadians in other provinces or in other jurisdictions.
The level of early-stage entrepreneurial activity in Canada (13.1%) and in Ontario (13.0%) is higher than the average among Innovation Driven Economies (8.54%) and comparable to the U.S. (13.9%); Ontario's rate of opportunity-motivated early-stage entrepreneurial activity is high (41.2%) although lower than the average in Canada (49.1%) or the U.S. (43.4%); Ontario's rate of necessity-motivated entrepreneurship is also high. The national study also highlighted the growing importance of social entrepreneurship.
Ontario's entrepreneurs lag behind others in their investments in technology and technology-driven innovation. This is reinforced by expert concerns about low levels of Ontario investment in research and development (R&D) and the commercialization of technology.
Ontario has a relatively high concentration of early-stage entrepreneurial activity among young adults in the 25-34 age range. Experts believe that while entrepreneurship education at post-secondary institutions is good, more is needed earlier – in grades K-12 – to develop entrepreneurial interests and skills.
The experts also noted positive progress in government programs to support incubation, but continued to identify challenges in financing for new and growing firms and capacity building as important priorities.
The results for female entrepreneurs in Ontario were significantly different than for male entrepreneurs, reinforcing the continued need to consider diversity issues, and, in particular, support for female entrepreneurs as well as aboriginal and immigrant entrepreneurs.
The results of the GEM research for Ontario illustrates the evidence-based approach Ryerson is taking to advancing entrepreneurship and innovation. Whether through finding new ways to produce entrepreneurs or by creating the means to improve communities around them and abroad, Ryerson faculty are in the business of "doing", and that is what being an entrepreneur is all about. This newsletter will highlight a few examples.
Wendy Cukier
Vice-President, Research and Innovation
The lack of fresh produce in the northern community of Naujaat, Nunavut has been a catalyst toward meaningful change that could be scaled across the communities of the north, said Ted Rogers School of Management professor Phil Walsh, the advisor of the Growing North project.
The student-led project, through Enactus Ryerson, opens in new window, saw the construction of a dome-shaped greenhouse in the summer of 2015 in an effort to increase access to fresh food to communities where the high cost of transportation severely limits local access to produce.
If the team can prove the commercial viability of reproducing the domes, Walsh anticipates that the Federal Government will be interested in helping scale the project to the sparse communities in Canada's barren north.
The municipality provided the land and the community provided manpower to help with the project. The benefits associated with community involvement, although "unquantifiable at this stage" said Walsh, are expected to far outweigh the cost of producing fresh produce. "When we look at the economics, it is borderline, until we start scaling up," he said. "There is a lot of capital involved to produce this food." The team fundraised $250,000 for the construction project. But the food itself is only one small piece of a larger puzzle that features multi-faceted social entrepreneurship. "The social benefits are as important as the economic benefits," said Walsh. "[Young people] are getting to see how they can be involved in running the business, they are learning how to grow in greenhouses to the benefit of the community."
The growing season has not yet begun, as the climate is too cold and they days are too short. Although the plans for the current project are purely based with the use of sunlight as a source of light and heat, and will be tested throughout the warmer months, Walsh said the team is exploring the ability to include renewable energy storage in the future to extend the growing season into the colder months where there is no sunlight available. "We are looking at battery storage for renewables," said Walsh, pointing to solar and wind as possible options.
The commercialization of small and medium renewable energy enterprises has been a particular interest of Walsh, both as a member of Ted Rogers School of Management's Entrepreneurship Research Institute, opens in new window and the Institute for the Study of Corporate Social Responsibility, opens in new window, an interdisciplinary institute established to understand the collaboration of government, the private sector and civil society in contributing to corporate responsibility and sustainable development. He sees a real need for collaboration in this project. "These remote communities have to deal with the same issues as an emerging country," said Walsh. "They have no access to services, no power lines and terrible climactic conditions. If we can prove that the project is sustainable then the government would be interested in rolling it out [on a wider scale]."
According to Walsh, the project corresponds with the three pillars of sustainability: economic, environmental and social sustainability. "The project will provide better access to healthy food, more secure food sources and less reliance on fossil fuels," he said.
From a research perspective, Walsh is interested in the policies surrounding community-based projects like these and what practices need to be put in place to encourage their growth and development.
The community involvement has been "the most fascinating part for the team," said Walsh. "It all stems from community engagement theory, which we are researching as part of this project."
Benjamin Canning, a student lead on the Enactus Ryerson project, along with fellow student Stefany Nieto, said that among the population interviewed during an early visit to the community, there was a resounding call for job creation and career experience opportunities for youth.
"We interviewed 10 per cent of the population, and received a 98 per cent consensus," said Canning, adding that many of the youth don't even go on to complete their high school education. The secondary school in Naujaat had approximately 50 students, whereas the elementary school had closer to 400 students. "We see a huge drop off. There isn't a (high school) graduation rate," said Canning. "We're hoping that by creating jobs, they will see more value in education."
As a result, the students made a plan to not only hire two individuals to run the greenhouses but also to get high schools involved through co-operative style education in volunteering for the maintenance of the gardens. The Naujaat high school students are learning everything from horticulture and hydroponics to business and entrepreneurship, said Walsh.
Canning added that through mentorship provided by Walsh and fellow professor Steven Gedeon, Enactus Ryerson's faculty advisor, the group has seen the program grow to higher levels than they anticipated. The students are also looking at ways to create micro-businesses for the women in the community, including the creation and sale of jewelry and food products. "It's a way to jumpstart their economy," said Canning. "A way for them to live a less impoverished life."
Does the answer to engaging high school students in social activism lay in gaming? Robert Clapperton, a professor in the School of Professional Communications, is hopeful it is.
Clapperton and his collaborator Matthew Tiessen, with funding from Ryerson's RECODE program, are developing the Global Social Innovation Game that will lead high school students through social enterprising simulations and allow them to create "risk-free businesses" with a purpose beyond creating income. In dealing with charitable organizations, Clapperton became aware that the groups were having a hard time maintaining youth engagement past large-scale events.
"We get all excited about the events but then interest starts to fade weeks later," said Clapperton. The purpose of the Global Social Innovation Game is to see if students can be engaged for longer periods of time.
The game is based on some of Clapperton's prior work, which includes one of his online classes taught through a simulation game where the students are "hired" at a simulated company and are given tasks to complete for clients. The students are taken through different scenarios and asked to repeat any tasks that are not originally completed well enough, instead of being graded.
In the GSIG, students will interact with simulated online business consultants as they build a socially-conscious business that aligns with five of the United Nations 2015 Millennium Development Goals: poverty alleviation, education, health, human rights, and capacity building and engagement.
Scheduled to be rolled out at two schools in February 2016, the game pilot will be a six week extra-curricular activity aimed at students in grades 11 and 12 that already have an interest in business or other entrepreneurial fields.
Part of the process will be done solely online, while about 50 per cent of the game is a face-to-face interaction with peers and teachers. Students will be encouraged to brainstorm their own unique business idea before proceeding to the building phase. While the goal of the business is to generate income, it must also be socially conscious, beyond donating proceeds to a charity. "We want to introduce the students to the 'plural economy'," said Clapperton. For example, Me to We, external link, opens in new window, with whom Clapperton has worked closely, uses this business model by selling fair-trade hand-crafted jewelry made by Kenyan mothers, boosting the economy in those countries while raising funds for their charity, according to the Me to We website.
Clapperton, who has worked extensively with business incubators, says the game will show students how to start businesses from the ground up. "They will set up the foundation, come up with a business plan and a business model," he said.
Following the initial roll-out, the game will see a larger deployment in the fall after receiving participant feedback and conducting a program review. Students will also be interviewed at the three- and six-month marks to see if greater engagement has resulted from the project.
Diabetes patients are not reaching out to necessary support services, but Ryerson's School of Nutrition professor Enza Gucciardi is finding ways to mobilize services to make them more accessible. According to the research, only 25 to 30 per cent of diabetes patients take advantage of diabetes self-management education services available in the Province of Ontario.
"Diabetes is difficult to manage on your own," Gucciardi said. "It is quite complex and a lot of new behaviours have to be adopted." From the changes in lifestyle to fine-tuning insulin dosages, patients need a lot of support to navigate their new diagnosis, she said.
The problem is multi-faceted, explained Gucciardi. At times, it's the patients who don't follow up on referrals and other times it's physicians who are not aware of the services around them to make referrals. "Physicians are either not aware or they are not familiar with the services, and they don't have established relationships with the education programs so they are not comfortable referring to them," said Gucciardi. "Or patients are declining to go because it is too far or too inconvenient."
Patients may not always take the symptoms seriously either. "When you have a heart attack, you have to go to the hospital and convalesce," she said. "With diabetes you may have some symptoms that are bothersome, but there is no acute event."
In a study conducted with Trillium Health Care Centre, St. Michael's Hospital, and Halton Healthcare, Gucciardi is bringing a diabetes educator dietitian and nurses to general health care physicians and family health offices in order to get in front of patients who need the services. With some funds from the Canadian Institutes of Health Research, they are reaching out to 11 primary care sites in this project in the Greater Toronto Area. The diabetes teams provide the patients, reached through their family physicians, with coaching on self-care, life-style changes, insulin adjustment (monitoring provided via email, as well as telephone), and system navigation.
Clinical practice guidelines are also suggesting that diabetes care management be supported by a healthcare team that can help navigate the new management requirements for diabetes. The mobile teams see patients for about half an hour and assesses their level of diabetes knowledge and lifestyle habits. They also consulted with family physicians for changes and issues like dosage management for insulin or medication recommendations.
Most diabetes patients are classified as Type 2, and are generally diagnosed later in life. Changing their lifestyle habits is often challenging. "They are going to have to adopt new self-care habits and it takes a lot of support and coaching," said Gucciardi. "The team has to develop a rapport with the individual, problem-solve day-to-day issues. As you can imagine, it doesn't fit into the typical 15-minute conversation you may have with your primary care provider. We want to create better partnerships and collaborations with these care providers so we are on the same page when delivering care."
Gucciardi believes this model of care is the way of the future for diabetes support. "Different provinces have different models of health care delivery. In Ontario, it's very fragmented," she said. "Some places are already doing [the team-based model], on an ad-hoc basis," she said. "We want to provide some evidence of whether this model of care if effective or not."
Racialized women are overcoming obstacles to entrepreneurship by capitalizing on their global ties, crafting their brand and using social media in innovative ways.
According to Ryerson Sociology professor Melanie Knight, her research funded by the Ted Rogers School of Management's Centre for Labour Management Relations (CLMR), opens in new window shows that Black women entrepreneurs face many obstacles, race being a major hurdle.
"We are uncomfortable talking about racism, individually and especially systemically," said Knight, who has been researching this field for more than 10 years. "If you are looking at best practices and services, you have to look at how you are reproducing racial privilege."
The stereotype of Black women entrepreneurs is either "that you cook or you do hair," said Knight. And while both models are valid businesses, the breadth of entrepreneurs include: professional, technical, scientific and finance; social and personal services; culture/crafts and recreation; media publishing and entertainment; and trade and whole distribution.
Connecting with these women over the years has been an arduous task. Racialized women entrepreneurs can be almost "invisible," said Knight. A lack of resources makes things like professional listings, advertising or even storefronts prohibitive.
"Many are working from home. [As an entrepreneur with limited resources], you can't afford to have an independent space or even rent and share with someone else, it's just too costly," said Knight. This can add to the discrimination, as many home-based businesses are perceived as less legitimate, she added.
Through attending business events, reaching out to networks, and the help of her research assistants, Knight located 40 women in the GTA engaged in entrepreneurship in a variety of fields.
In speaking with the women, Knight discovered that women are facing difficulties such as limited access to resources, social networks and perceptions of a lack of credibility.
Finding work-life balance was another. Nearly half of the women interviewed were mothers, raising other issues such as access to childcare and limited work hours. "Women are still the primary caregivers," she said. "The masculinist narrative [in entrepreneurship] is that you are pulled into it, that it is a passion." Not always so for women, Knight countered. "[As a mother] either I'm not making enough, or I'm a single parent. Sometimes having a family in itself compels you to do it," she said. "It's not a pull solely, but other factors that push you into it."
Work-from-home scenarios introduce new dynamics and challenges, like work-life balance. "Are you able to craft that separation?" asked Knight. "Balancing the hours, and the responsibilities." Furthermore, 50 per cent of the women entrepreneurs also worked as wage workers (employees) elsewhere, spreading their time even thinner.
Despite these challenges, through transnational linkages, these women are showing their strength by fostering international relationships, developing innovative collaborations and exporting and importing of goods. "They are already doing these things, unsupported and without validation," said Knight.
Knight's research with CLMR has shown that women are using social media and their transnational ties in strategic ways to create strong "self-brands".
The study shows a need for greater government support around equity-focused community programming/training in marketing, business literacy, and social media for those organizations currently doing this work, as well as more structured support to help in the fostering of global ties.
Creating successful industry partners sometimes means looking outside the box, said Rafik Loutfy.
The inaugural Innovator in Residence with the Faculty of Engineering and Architectural Science, Loutfy came to education from over three decades of industry, giving him unique insight into what industry is looking for in partnerships, and his successful project with Bombardier Canada illustrates why.
"We didn't work with them at the tempo of academia," he said. "We worked with them in a different way, matching the industry tempo."
TrackSafe, PlatformSafe and YardSafe are models that were developed to deal with worker fatalities in rail yards and on tracks.
By assembling a multi-disciplinary team of students from various institutions, Loutfy worked not only with Bombardier but also with Bombardier's clients, in order to achieve solutions for safety in the rail yards and on the tracks. "Because I came from industry, I knew this is what I needed to do to develop a solution," said Loutfy.
The solution, in TrackSafe's case, includes a card for employees that tracks their location through checkpoints installed on the tracks, because in the case of public transportation, tracks require visual inspections every 48 to 72 hours. Having workers on the tracks while the trains are operating is almost impossible to avoid, said the project's collaborator, and Ryerson's iBoost director, Pankaj Sood. "The system calculates a safe zone," said Sood. "If a train approaches that zone, the driver gets a warning. We sound audible alerts and visual alerts for the workers."
TrackSafe was originally developed for Bombardier to serve the Metropolitan Atlanta Rapid Transit Authority. Some of the technology for PlatformSafe is currently being tested on GO Transit platforms.
All of these technologies required students from a variety of disciplines including experts in software engineering, digital hardware design, radio signals and human factor design.
The students visited the sites in question themselves instead of hearing second-hand from Bombardier about the challenges. They could examine and take back information to develop solutions that would be "turn-key," said Loutfy. The student-team also led the field testing for Bombardier and were involved in making presentations to customers.
"I was not directing them every minute of every day," said Loutfy. "I gave them a lot of freedom to make mistakes. There was no shame in learning by trying."
The flexibility permitted by the funders of the project allowed the team to be accommodating as customer requests changed during the design process. The project was funded by the Ontario Centres of Excellence, with additional funding from the Federal Transportation Authority.
"They allowed us to change with how the market wanted things," said Loutfy.
Loutfy sees the project as a win-win for industry as well as for academia.
"We developed solutions at a fraction of the cost of what an industrial partner would have had to spend if they developed it internally," Loutfy said. "It is expensive to do research privately. It allowed them to leverage their dollars and lower their risk of failure." Moreover, students gained valuable work experience and, in the process, many students who worked on the project were also hired by Bombardier.
"It's not only about doing research and publishing papers," said Loutfy. "It's about impact. The students were working on real products and solving real problems. They could see what they were working on could result in something really tangible."
Loutfy envisions this model of partnership being bolstered by iBoost, Ryerson's latest business accelerator with customer-centric problems in mind. "Many institutions have not found a way to translate research into turn-key solutions," said Loutfy. "We can make Ryerson that place."
The project has received many awards, including: the Institution of Engineering and Technology Innovation Award, the Altran UK Foundation Award and the Canadian Innovation Commercialization Program Award. It was also awarded $300,000 in funding from International Science and Technology Partnerships Canada.
Using mathematical computer models to predict virus behaviour is changing the way that scientists study biology, said Ryerson Physics professor Catherine Beauchemin.
With funding from an Early Researcher Award from the province of Ontario, Beauchemin is focusing her research on introducing physics into biology. "I feel it is time that biology take a physical approach," said Beauchemin.
Her theory is challenging the conventional methods of research in the field. She is using mathematical computer models to compare how viruses spread from cell to cell, evaluating the factors that determine severity and spread both in cell cultures (in vitro) and in patients (in vivo).
Using mathematical methods, scientists can not only determine the best dosages of antiviral drugs but also optimize the doses for things such as cost, benefit to patient and likelihood of mutation, said Beauchemin.
A leader in virophysics, Beauchemin believes the mathematical equations will give more consistently accurate results in testing antiviral drugs than conventional laboratory testing alone.
"We know there are limitations [with current research methods]," she said. "We know there is huge variability in experimental results." Beauchemin argued that in order to achieve results that are statistically significant, studies would be not only prohibitively costly, but possibly somewhat unethical due to the sheer number of experimental animals that would be required.

"The typical, seasonal flu comes on quickly and then it goes away," said Beauchemin. "You don't give drugs for the flu to everyone because the infection typically resolves before you have a chance to intervene. But there are immuno-compromised patients who shed the virus for years."
As seasonal flu infections are usually resolved by the time a patient is symptomatic, it is difficult to show the effectiveness of antiviral drugs. By the time patients would be recruited into a drug trial, the infection may have resolved naturally. However, antiviral drugs aim to treat more severe strains of the flu, such as avian flu, or to treat infection with seasonal strains in immuno-compromised patients. Recruiting patients in these categories is challenging and presents other issues to accuracy, such as large variations in the disease severity observed in individual cases.
Moreover, the testing on individuals cannot be done on a scale that yields statistically significant results because of the limited test cases. "If you can't do the experiment a significant number of times to know that your results are robust, why do it at all?" said Beauchemin.
By creating mathematical computer models based on parameters such as antiviral drug dosage, the growth rate of infection, and the lifespan of infected cells, scientists can create synthetic experiments predicting the virus' course and outcome when treated with a drug or a combination of drugs. The results of these in silico (in computer) experiments are validated in labs where researchers have been able to reproduce the same results, validating the equations. With those equations in place, the parameters can then be adjusted to find the right combination of drugs for specific goals like benefit to patient and cost.
An expert in the field of flu research, Beauchemin is extending her reach into other viruses including dengue and hepatitis C.
Beauchemin believes a shift toward reintegrating math and physics into virology is essential toward the testing and faster adoption of drugs. "Is biology complicated? Absolutely," she said. "But it is more complicated than the universe? Everything we know about the universe has been determined through physics."
Social Innovation Reception & Showcase
Tuesday, November 24, 2015 | 6:00pm-8:30pm
Sears Atrium, George Vari Engineering & Computing Centre, 245 Church Street, Toronto, ON
Join us for a celebration of social innovation. Ryerson University together with the J.W. McConnell Family Foundation and Ashoka U are hosting a reception for changemakers. Students, alumni and faculty will be showcasing changemaking ideas in a series of short, visual presentations that you won't want to miss.
SportsHack 2015
Friday, November 27 - Sunday, November 29, 2015
Holiday Inn Toronto Downtown Centre,
30 Carlton Street, Toronto, ON
SportsHack 2015 invites developers in Toronto, Vancouver and Halifax to a 48-hour hackathon from November 27-29, 2015. Teams will use big data to develop real world technologies in a competition for the opportunity to work with the CFL and mentors to bring their ideas to market.