You are now in the main content area
Can you feel empathy for a dancing robot?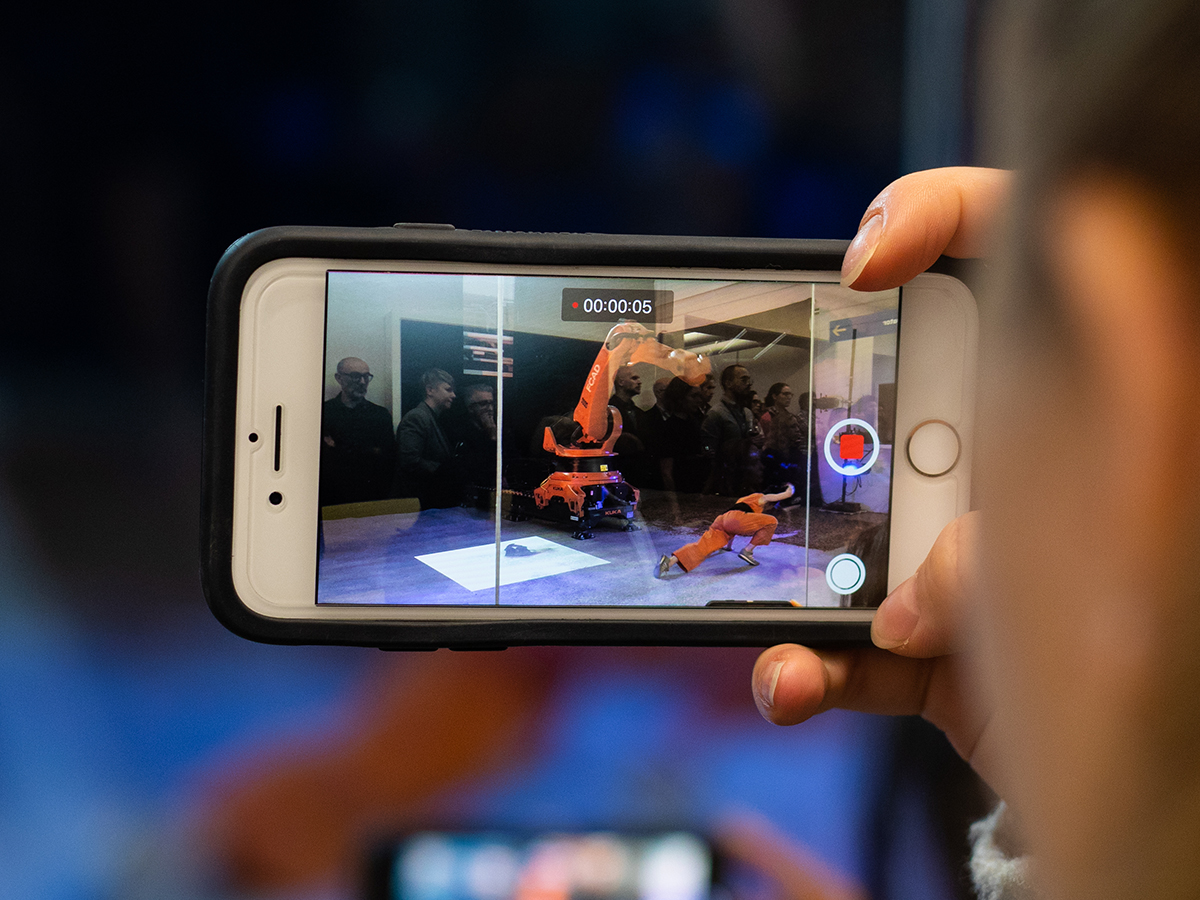 Dance has the power to elicit strong emotions from an audience, but what if the performance was by a robot? Professor Michael F. Bergmann of the School of Performance is exploring the potential of involving intelligent machines in dance choreography and examining the impact this could have on the people who are watching.
In his ongoing project, Uncanny Robots, professor Bergmann and his team successfully produced a duet with a human dancer and a giant robot arm that previously worked in a car factory in Germany. This performance was premiered at the launch of the Faculty of Communication and Design's new facility, the Creative Technology Lab. According to professor Bergmann, the results were surprising.
"One of the interesting takeaways from that first performance was getting feedback from people, who weren't necessarily dance audiences, saying that they felt empathetic towards the robot," he said. "The fact that we're able to create this kind of emotional reaction in people, with something that's not very humanoid and doesn't have a face, means there's a hope, as we move towards automation and more robotics in our lives, for us to maintain that kind of human connection."
To develop the choreography, professor Bergmann collaborated with a dancer, Belinda McGuire. His team also included co-investigators professor Linda Zhang of the Ryerson School of Interior Design and professor Louis Laberge-Côté of the School of Performance. The routine was digitized by 3D scanning the movements and then translating them into a dataset for the robot to interpret. In the next stage of Uncanny Robots, this process will be reversed, and the robot will create its own routine for McGuire to follow.
Professor Bergmann says that, from an artistic standpoint, the main aim of the research is to explore the potential of human-robot interaction through dance. The project also aims to interrogate the societal repercussions of artificial intelligence and increased automation, and to explore their implications for performance art, a field which professor Bergmann argues has always adapted to and embraced what is coming next.
"The first phase of this research has shown us that there does not exist a direct or straightforward approach to combining these two worlds," he said. "We're very much at the point in human-robot interaction where, if you want something to happen, it has to be created. These robots are designed for manufacturing and not for this level of interactivity. There are other products that are, but the interfaces do not yet exist and I think that's the area of research that's particularly interesting."
Professor Bergmann says that general perceptions of robots are largely based on past fictional depictions. He argues that artistic projects can also help to show alternative ways that we may interact with artificial intelligence in the future, and these projects can perhaps influence the development of robotics.
"We have to develop that acceptance," he said, "and hopefully that can inspire new ideas."
The Uncanny Robots project has received support from the Special Projects Seed Grant from the Faculty of Communication and Design, and the Creative Technology Lab.