You are now in the main content area
How the Ryerson community is shaping urban agriculture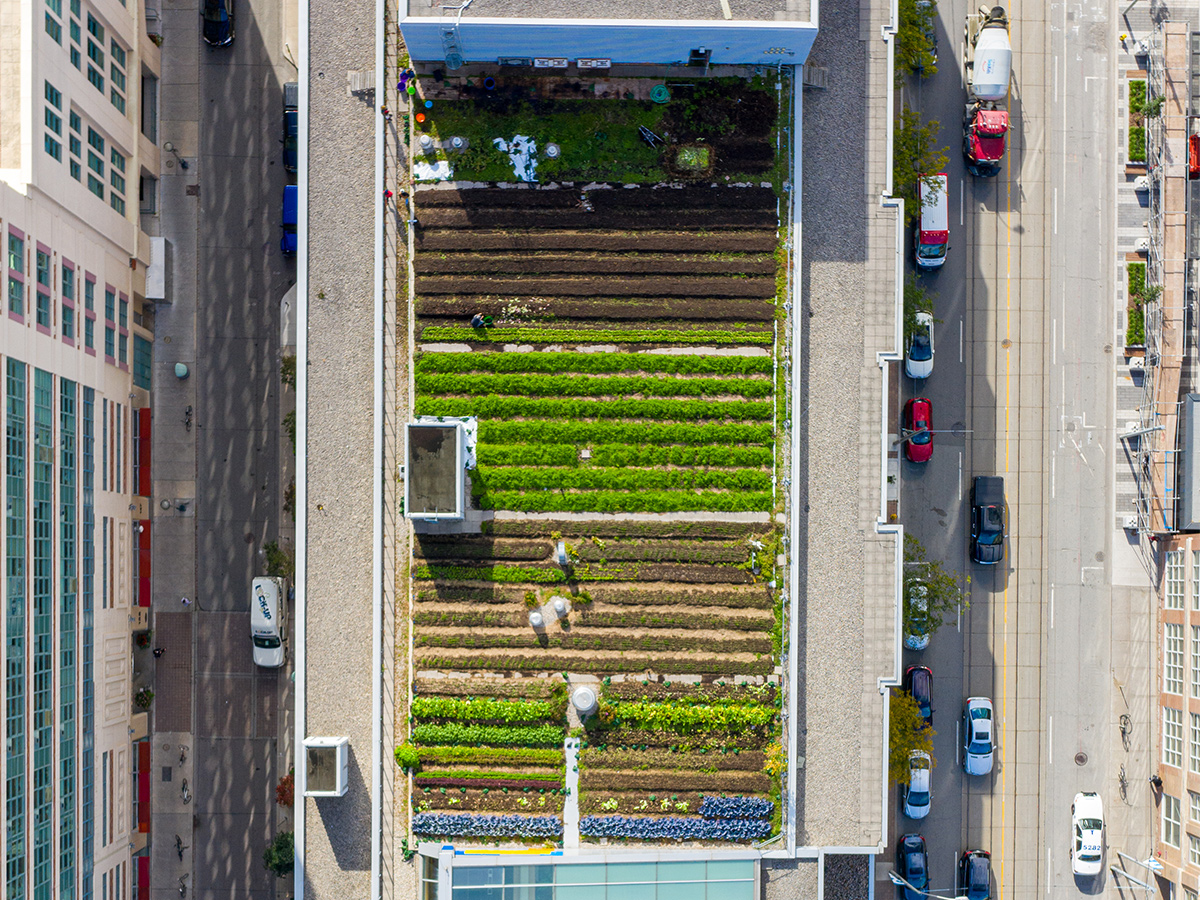 How can we create space in our cities to bring food production closer to home? One solution could be urban agriculture, and for the past decade, Ryerson researchers have been at the heart of innovation in this movement.
Ten years ago, rooftop farming and green roofs were considered fringe concerns for architects, city planners and developers. But according to architectural science professor Hitesh Doshi, the introduction of a 2009 bylaw in Toronto began a decade of steady change in the city's landscape.
Professor Doshi, who chairs the Toronto Green Roof Technical Advisory Group, was a principal investigator for a Ryerson report which played a central role in the creation of the City of Toronto Green Roof Bylaw. It requires new buildings with more than 2,000 m² in gross floor area to have green roofs incorporated into their design. Rooftops to be used for urban agriculture have potential to be designed within this framework. Toronto was the first city in North America to adopt this type of bylaw, and in recent years, cities like New York and San Francisco have introduced their own legislation.
"In some respects, green roofs have become mainstream," said professor Doshi, who is now being consulted on whether similar rules can be included in Ontario-wide building codes. "If you go on the Gardiner Expressway from one end of town to the other, you can't help but notice all the green roofs."
Ahead of the curve on the issue, Ryerson established its first green roof in 2004, when Valerie Pringle (a 1974 alumna of Ryerson's Radio and Television Arts program) and her husband Andrew funded an installation atop the George Vari Engineering and Computing Centre. Professor Doshi says that in the past decade, developers have begun to recognize the additional functions green roofs can offer, including stormwater management, temperature control of buildings and providing a community feature in residential buildings.
"Today, all across North America, people are engaging with this idea of growing plants and vegetables on rooftops," he said. "I'm certainly proud, and I think Ryerson should be very proud, that it all started in Toronto. For me, the eureka moment was the bylaw."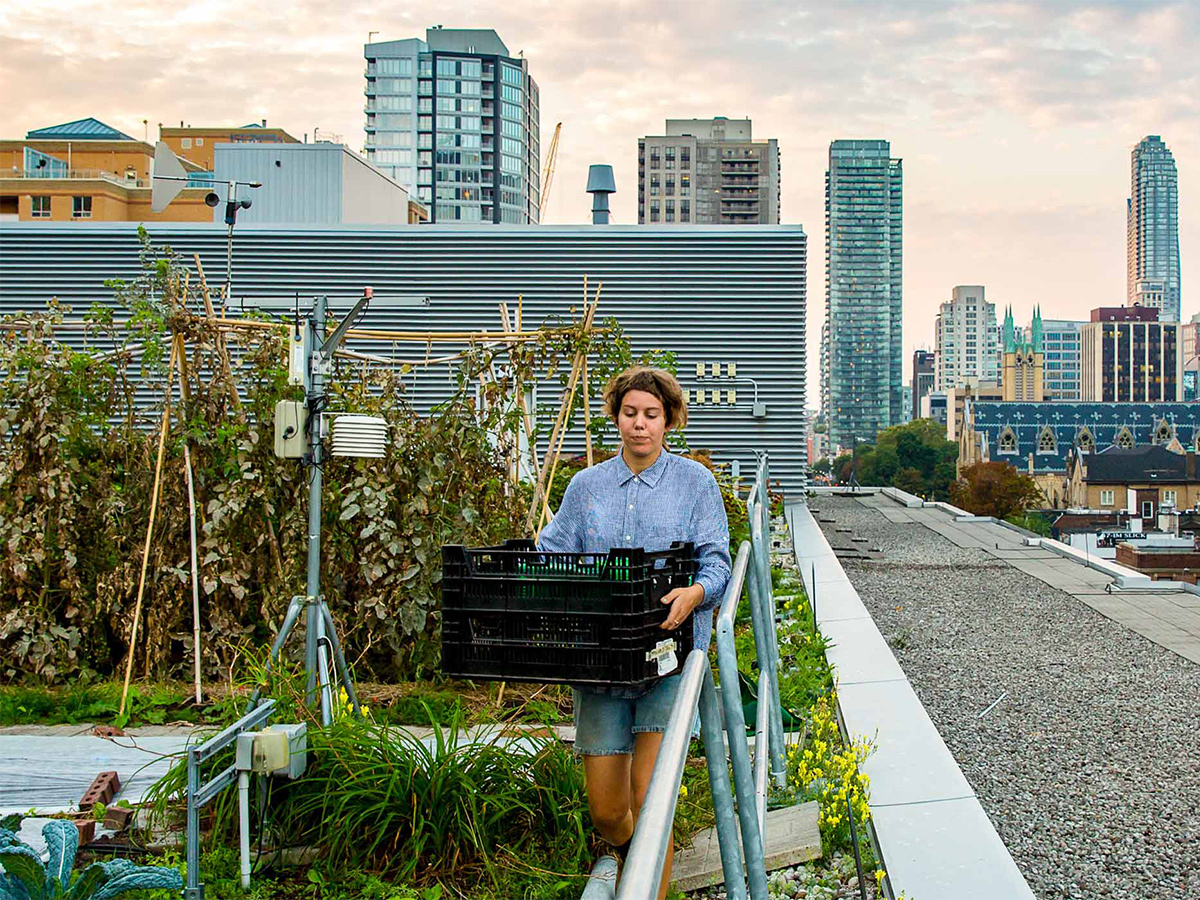 The Carrot City project
While the bylaw was being established in Toronto, a team of Ryerson researchers began to investigate examples of city farming design from around the world in a project called Carrot City. Since 2009, the researchers have gathered more than 100 case studies of urban agriculture and shared them in a touring exhibit at around 50 events on four continents. Professors of architectural science June Komisar and Mark Gorgolewski, and professor Joe Nasr, a research associate at Ryerson's Centre for Studies in Food Security, are Carrot City's co-founders and believe progress among the design professions during the past ten years has been dramatic.
"Along with realizing that climate change is a big issue, we realize that transporting food is part of that," said professor Komisar. "We also realize that local food security is very tenuous – that all you need is a big storm and it can knock everything out for a long time. So as part of urban planning for the health of the city and resiliency, urban agriculture is now an important aspect."
The team has used their case studies to characterize areas of cities that suit urban agriculture developments. In a chapter for the recent book Integrated Urban Agriculture, the team outlined these spaces, which include unused industrial buildings, residential lawns, land around infrastructure like highways or power line corridors, and government complexes with large parking lots. They've observed that the view that the food system is largely a rural operation is now being overturned.
"The more we're fighting climate change, the more important it's going to be," said professor Komisar.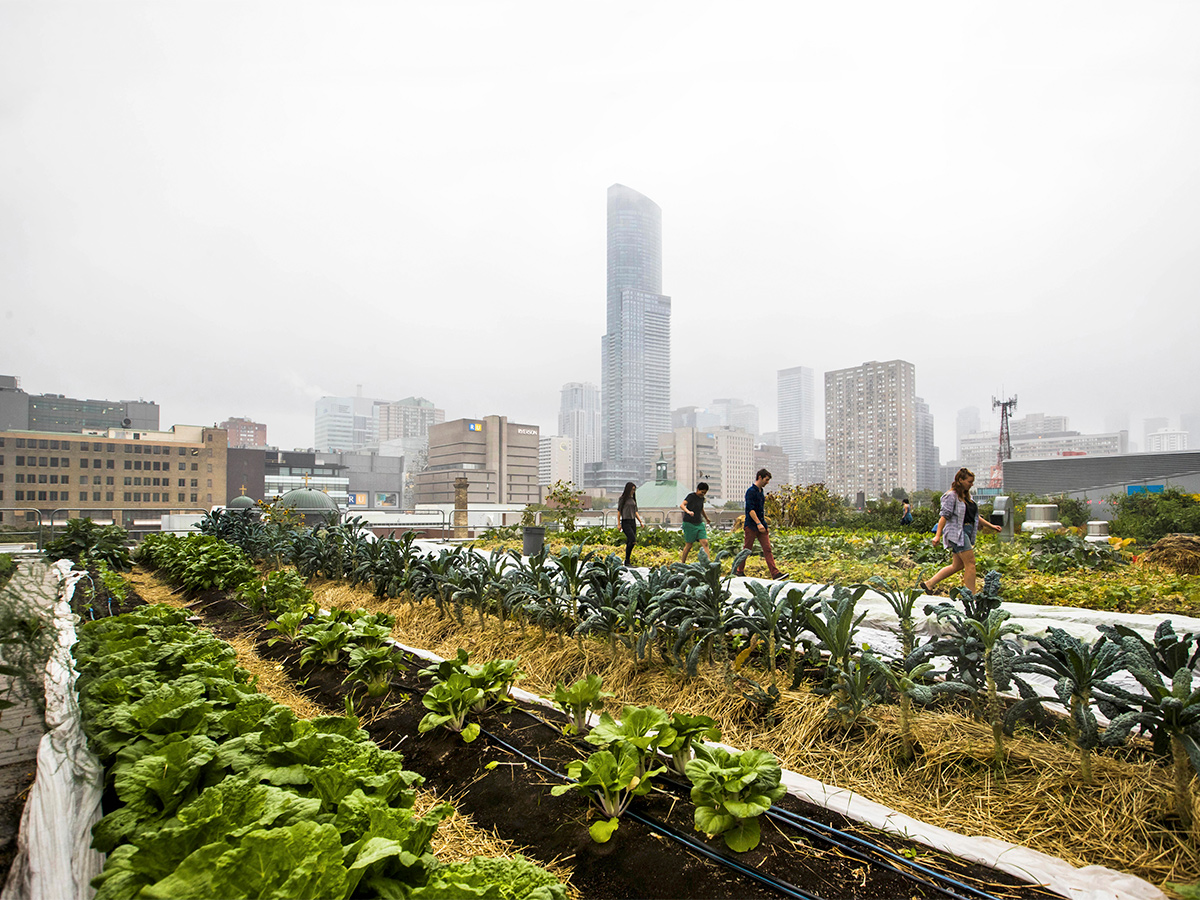 In 2011, Ryerson nutrition students Catherine Lung and Stephanie Nishi started an initiative to grow fresh food on campus, supported by professor Fiona Yeudall at the Centre for Studies in Food Security, Garth Poppleton at Custodial Services and the Carrot City researchers. This led to Ryerson's green roof being converted into an urban farm in 2013.
Six years on, the farm now grows up to 10,000 pounds of produce annually. It employs three full-time staff, two part-time staff and three Career Boost student staff, and it offers community and student education programs. In 2019, 62 per cent of produce went to Ryerson's Harvest Share program, whose customers receive a bag of vegetables each week. Ryerson Urban Farm Stand customers bought 17 per cent of the produce, three per cent went to Ryerson Eats, the university's on-campus catering provider, and 18 per cent went to the Good Food Centre, which works to reduce the impacts of food insecurity for all Ryerson community members.
Urban agriculture developments are often retrofits. But Ryerson will soon be home to the first purpose-built rooftop urban farm to be constructed under the Toronto Green Roof Bylaw. The new facility is being installed on the new Daphne Cockwell Health Sciences Complex, and the university's farmers expect to start work there in spring 2020. Ryerson's second urban farm will allow growing all year round thanks to a greenhouse, and the site is laying fertile ground for further cutting-edge research.
Carrot City has received funding from various international donors, including the Food and Agriculture Organization of the United Nations and The Big Carrot.
 Alumna supports research at Ryerson Urban Farm

Researchers from Ryerson are conducting a study to find the best models for rooftop farming thanks to a new $250,000 gift from alumna Valerie Pringle and her husband Andrew that was donated this year. In the two-year feasibility study, professor Fiona Yeudall and research coordinator Sharene Shafie, in partnership with Arlene Throness, manager of the Ryerson Urban Farm and the Ryerson Urban Farm team, aim to identify how successful rooftop farming operations can be established elsewhere.
The final goal of the project is to form a plan to address gaps in rooftop farming research and collate existing knowledge on the subject. During the study, the investigators from the Centre for Studies in Food Security will issue a series of in-depth surveys to individuals and groups associated with urban agriculture and gather feedback at roundtable events. They have analyzed responses from their first questionnaire and are in the process of receiving responses to the second part. The study will end in spring 2021. It is part of the Living Lab initiative, which is run by the Ryerson Urban Farm to facilitate research that furthers the growth of rooftop farming.
 Smart irrigation for urban agriculture
Professor Kristiina Mai, of the Department of Electrical, Computer, and Biomedical Engineering, is developing a smart irrigation and moisture testing system for rooftop farms. In partnership with green roof manufacturer ZinCo Canada, she is creating a prototype that uses sensors and algorithms to adjust the amount of water that is supplied to plants. Her ultimate goal is to develop an automated network that includes rainwater harvesting apparatus, sensors, solar panels and watering systems.
In preliminary measurements at the Ryerson Urban Farm, professor Mai has discovered that the ecological farming techniques used at the facility can create rich soils that hold water well. This suggests that rooftop farming does not require an added water resource demand. In fact, professor Mai says the practice has an important role in stormwater retention, as well as its productive use in local food supply.
In the future, professor Mai hopes that the availability of smart irrigation technology, which allows building managers to monitor, manage and predict resource requirements, will make it more attractive for other organizations to consider urban agriculture. Professor Mai's project with ZinCo Canada will be completed in 2020. The research is highly collaborative, involving professor Mai's students, the manager at Ryerson Urban Farm, Arlene Throness, and the Living Lab initiative.

Professor Kristiina Mai received funding for this research from the Natural Sciences and Engineering Research Council of Canada.