TMU researcher using AI and VR to reduce transportation-related greenhouse gas emissions has Canada Research Chair renewed
August 29, 2023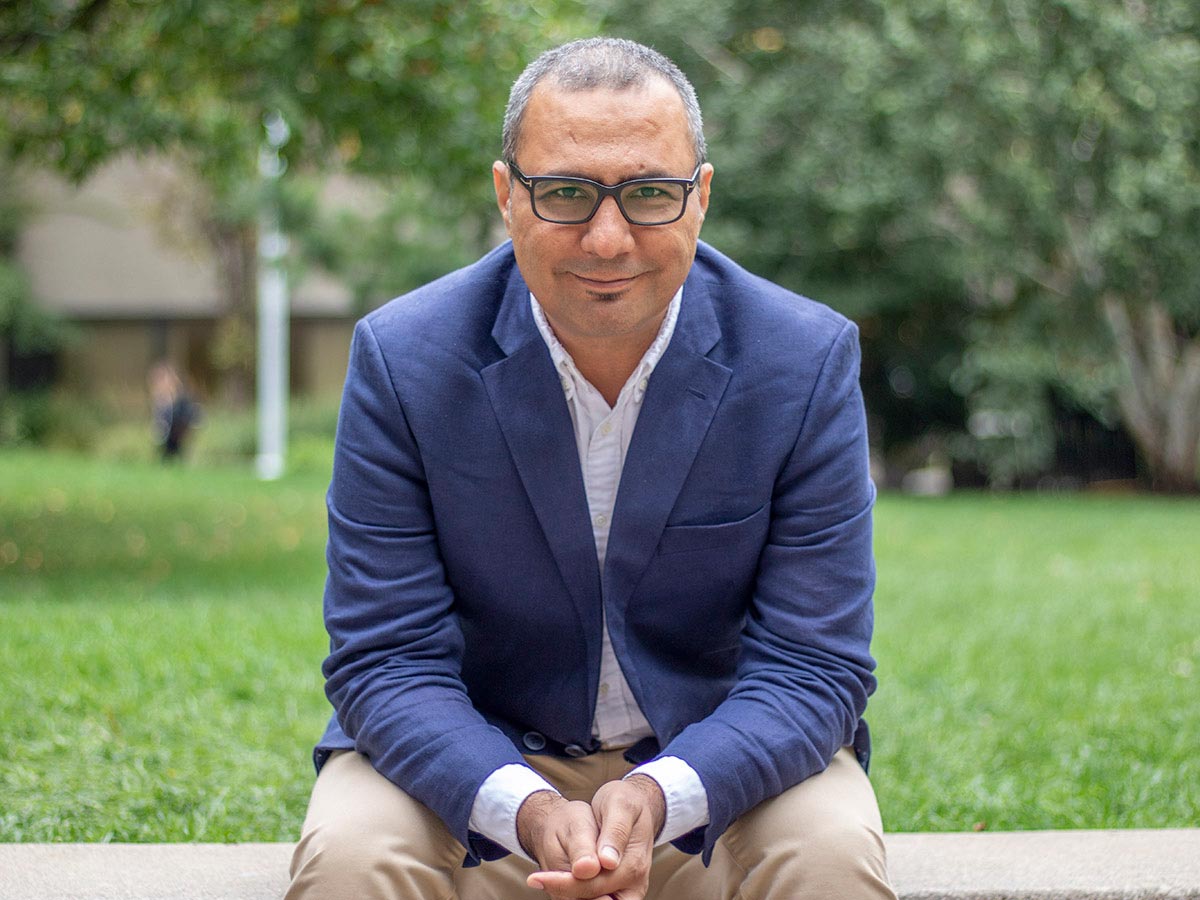 A Toronto Metropolitan University (TMU) professor researching innovative ways to transform urban transportation has had his Canada Research Chair (CRC) renewed.
Faculty of Engineering and Architectural Science professor Bilal Farooq is the Tier 2 Canada Research Chair in Disruptive Transportation Technologies and Services (DTTS). Building upon fundamental research conducted over his past five years as chair, professor Farooq will research DTTS in smart cities to identify and understand the key factors that affect the sustainable adoption of DTTS at the urban scale. Using advanced machine learning and virtual reality (VR), he will further develop novel technologies, algorithms, and modelling and simulation tools to address issues related to climate change, equity and inclusion, privacy, cybersecurity, and algorithm and data bias.
In his first term as chair, professor Farooq researched connected and autonomous vehicles to learn how they operate and interact with other road users in dense urban areas. He is now creating a multi-modal VR environment to further study those interactions and include newer modes of transportation. The new VR environment will allow multiple participants to interact, including autonomous and traditional vehicles, cyclists, e-scooter users and pedestrians.
Another focus of professor Farooq's research is disruptive transportation services, such as Uber and Lyft. He explored how these, and other on-demand transportation services, could be integrated into public transit models in lower-density areas in collaboration with Ontario municipalities. He also began researching how innovative public transit or shared mobility systems could be optimized to reduce greenhouse gas emissions – research that will continue in his second term.
"Over the past five years, I realized that one emerging issue where we can have a huge impact [on climate change] is the decarbonization of transportation systems," said professor Farooq. "Switching to all-electric vehicles takes time, and congestion will still be a problem. Instead, we can look at creating tools like better routing to ease congestion and using hybrid vehicles. These solutions are much more realistic at the moment."
Professor Farooq also aims to expand the impact of this research by focusing on internationalization and creating useful solutions for developing countries. Working in collaboration with TMU's Canada First Research Excellence Fund Migrant Integration in the 21st Century: Bridging Divides research program, professor Farooq also aims to research smart mobility technologies and infrastructure to meet the unique needs of new immigrants.
"Many congratulations to professor Farooq," said Steven N. Liss, TMU's vice-president, research and innovation. "His fundamental contributions to transportation engineering and smart cities research, as well as collaborations with local municipalities, have laid the foundations for more sustainable, inclusive mobility in Ontario. With his renewed CRC, professor Farooq's continued research will lead to significant global impact."
In addition to the CRC program funding, professor Farooq has received support from the Canada Foundation for Innovation (CFI). The funding, provided through CFI's John R. Evans Leaders Fund, will help professor Farooq acquire VR infrastructure to expand his research on behavioural prediction models.
His research is also supported by the Natural Sciences and Engineering Research Council of Canada Discovery Grant program.
Learn more about the Canada Research Chairs (external link) and John R. Evans Leaders Fund (external link) .
The CRC program is an initiative of the Canadian Tri-agency Institutional Programs Secretariat.
Related Links
Finding on-demand transit solutions for low-density areas
Toronto Metropolitan University's Canada Research Chairs
Migrant Integration in the Mid-21st Century: Bridging Divides