TMU and Xanadu team up to advance quantum computing research and training in Canada
TMU and Xanadu will collaborate to provide students and researchers with the knowledge and tools for the future of quantum computing
August 24, 2023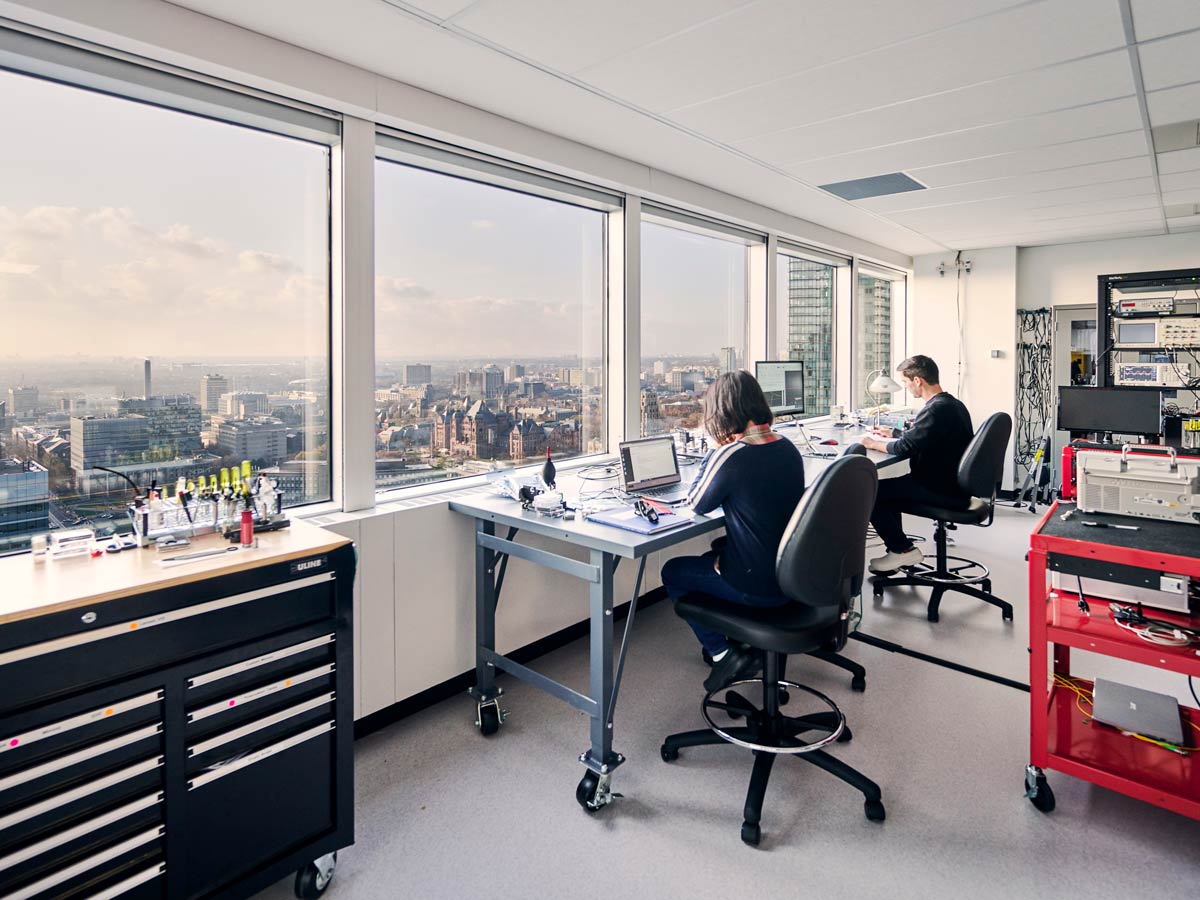 Toronto Metropolitan University (TMU) and global leader in quantum computing, Xanadu, have recently signed a memorandum of understanding, establishing an exciting new collaboration that signifies a commitment to increasing capacity for quantum training, education and research. This new relationship will contribute to TMU's development of a quantum-ready workforce and the advancement of quantum computing research excellence in Canada.
TMU and Xanadu will develop a co-curricular quantum computing and quantum software-focused educational program. The collaboration will give students and researchers across TMU faculties access to Xanadu's world-class quantum hardware and software to explore, co-create and innovate, enabling the development of novel software applications. Students will also learn and work with PennyLane (external link) , Xanadu's open-source software framework, which will be the foundation of the educational assets.
Ontario, and Canada more broadly, is uniquely positioned to become a worldwide centre of excellence in quantum computing. TMU has demonstrated research excellence in the quantum field, from designing quantum-resistant cryptography to using quantum tools in health care. This collaboration will ensure TMU remains at the forefront of quantum computing research and commercialization and leverages the university's expertise in training future talent.
"This partnership offers TMU students and researchers a remarkable opportunity that will shape the future leaders in the advancement of quantum computing," said Steven N. Liss, TMU's vice-president, research and innovation. "Having access to Xanadu's expert knowledge and state-of-the-art technology will allow TMU talent to develop and test real-world applications of quantum computing, keeping Canada at the forefront of this emerging technology."
This new alliance aligns with Canada's quantum strategy to develop, attract and retain quantum talent, advance research and build bridges between academia and industry. The collaboration provides access to hands-on experience and the preeminent quantum education that will deepen the nation's talent pool and ultimately contribute to advancing quantum computing research in Canada.
"Xanadu is on a mission to build quantum computers that are useful and available to people everywhere. Imperative to succeeding in this mission is advancing quantum research and educating the next generation of scientists. We're proud to work with TMU to push these initiatives forward," said Jen Dodd, Quantum Community Lead at Xanadu.
Read more about quantum research at TMU.
About Xanadu: Xanadu is a Canadian quantum computing company with the mission to build quantum computers that are useful and available to people everywhere. Founded in 2016, Xanadu has become one of the world's leading quantum hardware and software companies. The company also leads the development of PennyLane, an open-source software library for quantum computing and application development. Visit the Xanadu website (external link) or follow us on Twitter @XanaduAI.
About PennyLane: PennyLane is an open-source software framework for quantum machine learning, quantum chemistry, and quantum computing with the ability to run on all hardware. To find out more, visit the PennyLane website (external link) or check out the PennyLane demos (external link) , a gallery of hands-on quantum computing content.
About Toronto Metropolitan University*:
Toronto Metropolitan University, formerly known as Ryerson University, is Canada's leader in innovative, career-oriented education. Urban, culturally diverse and inclusive, the university is home to more than 46,000 students, including 2,900 Master's and PhD students, 4,000 faculty and staff, and 225,000 alumni worldwide. For more information, visit torontomu.ca.
*In April 2022, the university renamed and began a new chapter.