Transforming the future of healthcare
By Steven N. Liss, Vice-President, Research and Innovation at Ryerson
March 02, 2023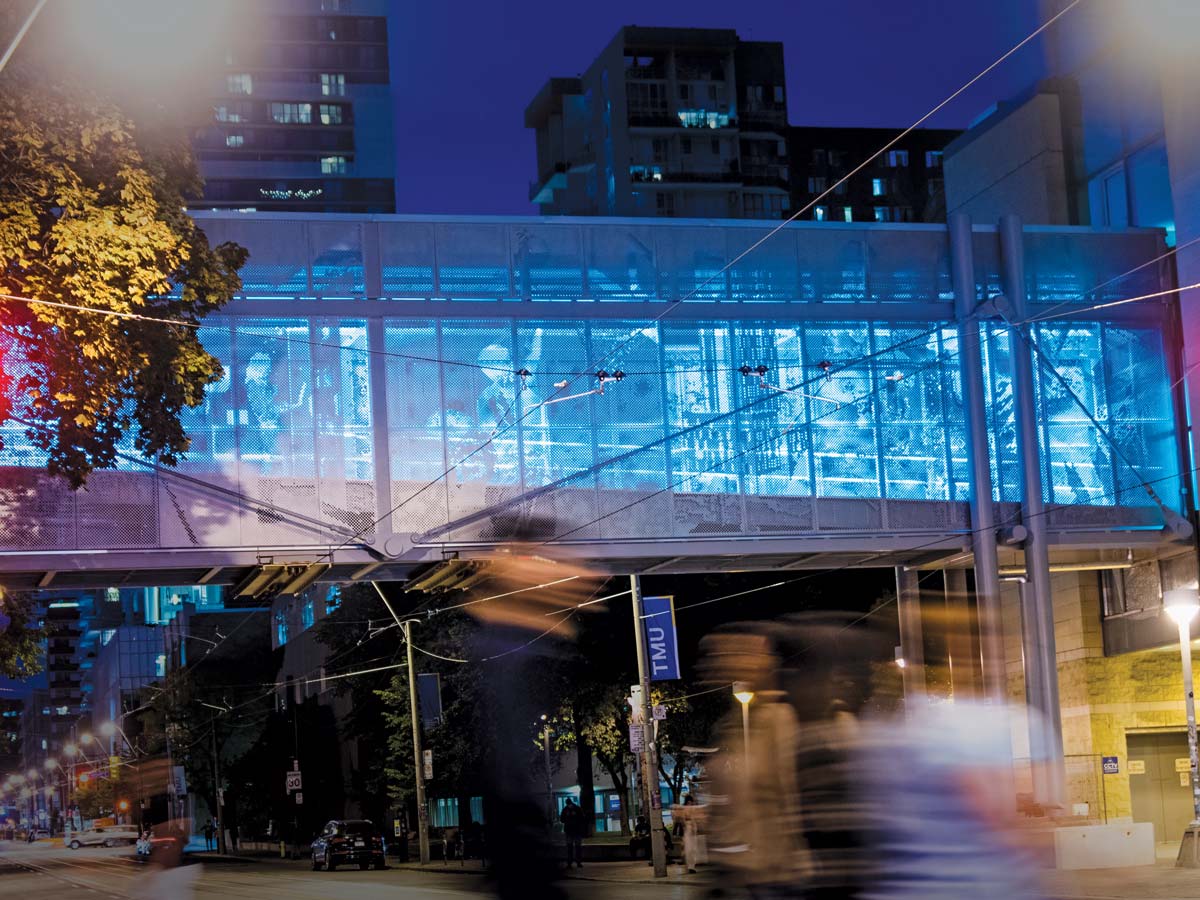 This article was originally published in Canada's Innovation Leaders 2022. Read the original version of the article, external link.
The numerous pressures faced by Canadians, from societal challenges to health crises, have placed a strain on our physical health as well as our mental wellbeing and the bonds that connect us.
At Toronto Metropolitan University (TMU) our researchers are driving positive change by developing tangible and accessible solutions that address these social and community health issues.
The exceptional work and expertise of our faculty provides a solid foundation of innovation and research excellence across many dimensions of health and health care. Their work is characterized by a long history of collaborations and community engagement with the common goal of improving the health and wellness of Canadians.
Mental health is a global issue, and TMU researchers are leading essential research and piloting treatments that are having a significant impact.
Those who have endured trauma require the highest standards of care, and psychology professor Dr. Candice Monson is recognized as a world leader in setting those standards. She leads the advancement, development and adoption of clinical tools used in the treatment of veterans diagnosed with PTSD as well as their family members, both in clinical settings and through self-directed tools such as the mobile app Couple HOPES.
Anxiety and related disorders impact the mental health of thousands of people from all walks of life. Psychology professor Dr. Martin Antony is developing highly effective, evidence-based treatments for social anxiety, cognitive behaviour disorders and other psychological conditions. He has cultivated collaborations with premier institutions specializing in the mental wellbeing of Canadians to ensure that his sought-after programs and tools are accessible to patients directly through frontline clinicians.
Health training struggles to meet the needs of underserviced groups such as the LGBTQ2S community. This was found by the research of nursing professor Dr. Erin Ziegler, who is also working to fill these gaps. Her online Sexual Orientation and Gender Identity (SOGI) Nursing Toolkit has been used by more than 2.5 million individuals worldwide, including health-care practitioners and educators as part of their curricula, and by organizations as part of their professional development and staff training.
Advances at the intersection of medicine and technology are augmenting health care on multiple fronts. A prime example is the biomedical research of engineering professors Dr. Bo Tan and Dr. Krishnan Venkatakrishnan in collaboration with research partners and trainees at the Institute of Biomedical Engineering, Science and Technology (iBEST). Together, they are using AI-powered nanosensors to detect brain cancer in extremely small-volume blood samples with incredible accuracy. This novel "liquid biopsy" technology could enable the early detection of cancer though non-invasive screening.
The next generation of health-care professionals will face unprecedented challenges, and TMU's Daphne Cockwell School of Nursing is embracing technological advancements in its training programs to meet those challenges. The School's state-of-the-art simulation lab is designed to replicate many real-life scenarios and interactions with patients. They also plan to expand their suite of award-winning virtual game training simulations to feature multi-perspective scenarios.
Expanding our capacity to train future generations, planning for TMU's School of Medicine is well underway, and at this new school, we will approach health care differently. We will cultivate a new model of inclusive, community-focused, collaborative healthcare. As a health system that serves one of the most diverse communities in Ontario, TMU's primary clinical partner, William Osler Health System, is an ideal partner. Together, we will address evolving health and health-care needs through research, delivery and practice, collaborating closely every step of the way.
TMU's research community is committed to ensuring that Canada is leading the way in medical, societal and technological advancements to future-ready the next generation of health leaders and practitioners.
Related links:
TMU ranks second for corporate research income growth in annual Research Infosource results