NSERC and Mitacs grants help power the future of renewable energy research at TMU
December 19, 2022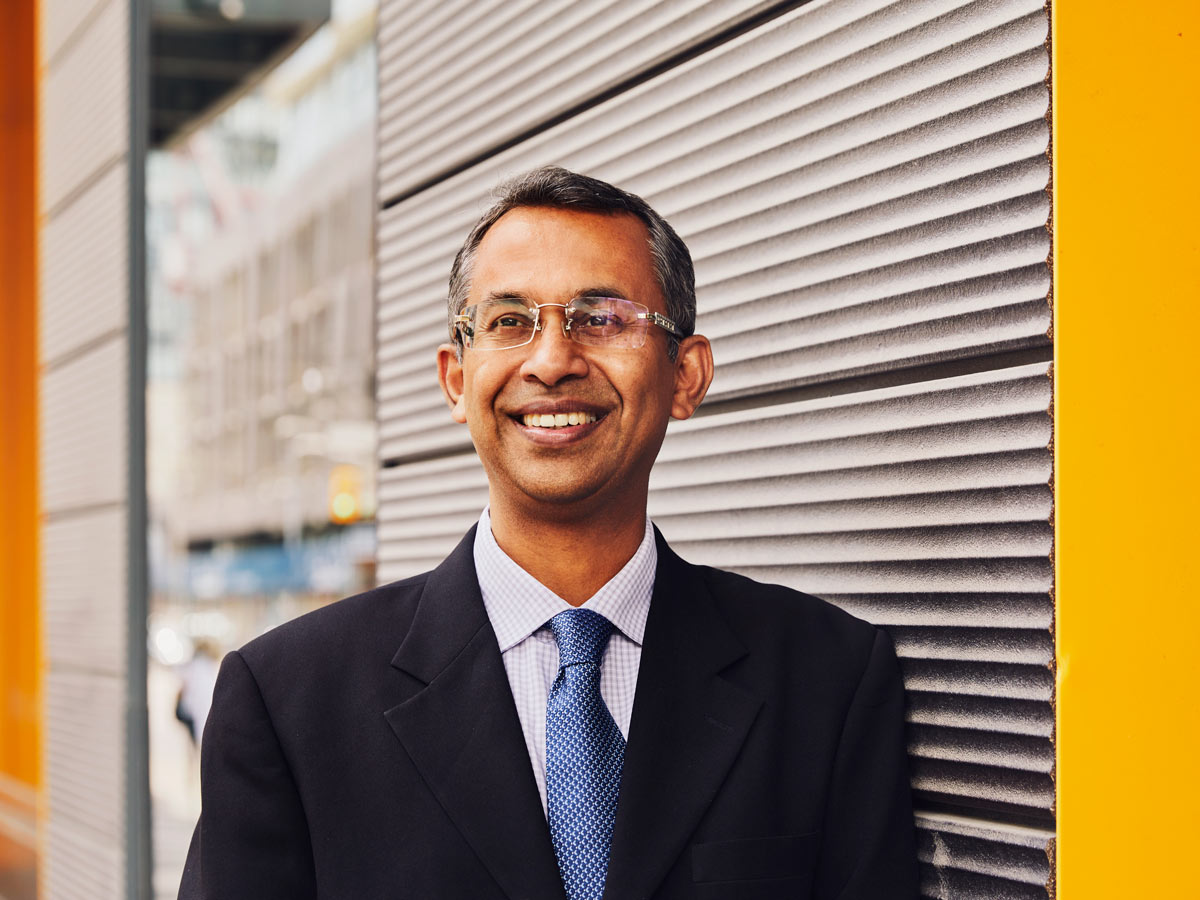 Toronto Metropolitan University (TMU) engineering professor Bala Venkatesh, founding and academic director of the Centre for Urban Energy, has secured more than $4.5 million in funding for projects focused on the future of our power systems in collaboration with hydro companies.

Professor Venkatesh received funding for two five-year projects through project partners, TMU and a joint grant program between the Natural Sciences and Engineering Research Council of Canada's (NSERC) Alliance grants and the Mitacs Accelerate program.
"It's two different projects, but they go hand in hand," said professor Venkatesh, explaining that each will develop solutions to support the increased use of distributed energy resources. He notes that in addition to the expected research outcomes, more than 30 personnel will be trained as part of these two projects. "As Canada prepares for energy transition to a zero carbon 2050 future, we will need many more highly qualified and trained professional who can enable it. These projects will train them and contribute to this energy transition goal," he said.
Examining the future of energy storage for utility companies

The Energy Storage Solutions for Zero Carbon 2050 Electric Distribution Systems project with Toronto Hydro and Halton Hills Hydro will continue a successful history of working together on energy storage projects. A previous research collaboration developed an understanding of the technical side of energy storage. Now, professor Venkatesh and the team will examine the barriers, such as economic or regulatory, facing utility companies in adopting electricity storage technologies.

Concepts to be considered in this project, which is now launching, include how energy storage should impact customer billing and how companies' revenue models should work. "How do we create an industry around it that helps to monetize, and how do we have to change the business model?" asked professor Venkatesh.
Forecasting and modelling with renewable energy

The project Forecasting and Modeling of Distributed Energy Resources, and Models for Distributed System Operator Planning and Operation is in collaboration with Hydro One and Peak Power – the latter was a start-up incubated in TMU's Clean Energy Zone. The project will see professor Venkatesh and his team tackle a project designed to develop forecasting and modelling for the planning and operating of power systems that include solar and wind power generators.

This new project builds on past collaborations with Hydro One on connecting renewable energy to the power grid. While methods on how to anticipate the contributions of individual generators are well-established, this project will work to develop models and forecasting that considers these renewable energy sources' contributions in aggregate, addressing a need to anticipate the occasionally uncertain nature of individual renewable energy units, such as a solar panel or wind turbine, while planning for the whole network.

"We need to develop new methods to represent thousands of contributing resources as a single aggregate model, reduce computational complexity, and provide practical engineering solutions, instead of modeling them individually in a cumbersome manner as it is done today", said professor Venkatesh.
Professor Venkatesh and his team have already started the project and have developed an algorithm and software for forecasting.

"Congratulations to professor Venkatesh and his industry collaborators, along with the entire Centre for Urban Energy team," said Steven N. Liss, TMU's vice-president, research and innovation. "These projects will offer important research and tools that will help shape the adoption of more renewable energy sources for our power grids now and in the future."

The NSERC and Mitacs grant program supports projects that range in scale and complexity that offer training opportunities. Learn more about NSERC Alliance-Mitacs Accelerate grants (external link, opens in new window) .

Learn more about the Centre for Urban Energy.
Related links
​​Toronto Metropolitan University researcher Bala Venkatesh picks up NSERC Synergy Award for long-term collaboration with Toronto Hydro (October 2022)