Toronto Metropolitan University researcher Bala Venkatesh picks up NSERC Synergy Award for long-term collaboration with Toronto Hydro
October 26, 2022
Bala Venkatesh, a professor in the Department of Electrical, Computer, and Biomedical Engineering and the founding academic director of Toronto Metropolitan University's (TMU) Centre for Urban Energy (CUE), has been working with Toronto Hydro, a founding industry partner of CUE, for over a decade.
In recognition of this outstanding R&D collaboration, professor Venkatesh has been awarded the Natural Sciences and Engineering Research Council of Canada (NSERC) Synergy Award for Innovation. The award, in the Partnership with a Large Company category, goes to industry-academic teams who have combined their expertise and resources to make a significant impact on society.
"This recognition is the result of a shared vision, shared values, a shared work plan and shared success," said professor Venkatesh. "Our research is driven by Toronto Hydro's requirements. They have been ready to share their challenges with us, ready to let us know their pain points and have the confidence in us to provide solutions to them. If that investment of time and resources wasn't made by them, this award would not have been possible."
To date, the winning partnership has spanned 18 projects addressing a variety of challenges related to electricity reliability, sustainability, accessibility and affordability. These have included addressing power quality challenges for key customers, such as manufacturing plants and hospitals, piloting a giant, grid-scale battery on the TMU campus and installing a pole-top energy storage system at various locations across Toronto. The latter project also won a Canadian Electricity Association Award in 2018.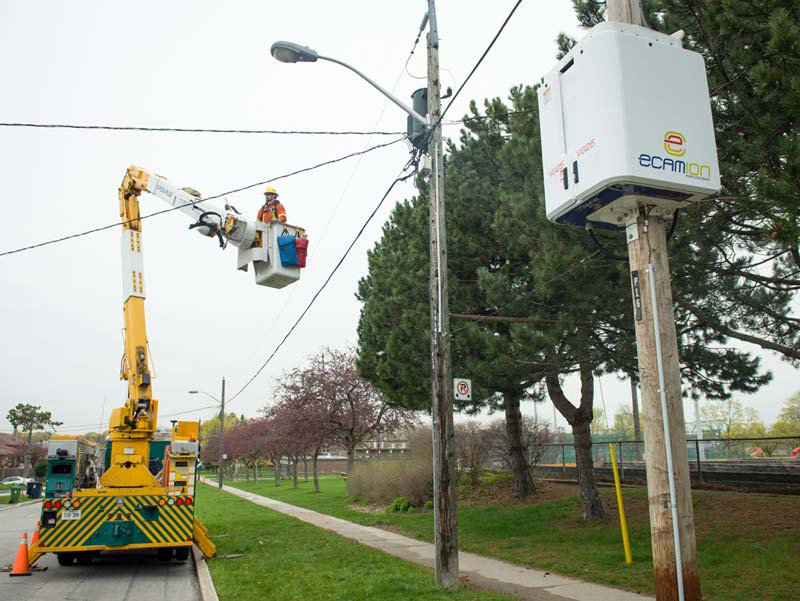 The successful collaboration has also generated hundreds of training opportunities for TMU students to work in the field directly alongside Toronto Hydro professionals, helping them to gain the key skills and practical experience they need to become highly employable in an ever-evolving modern energy sector.
"On behalf of Toronto Hydro, I'd like to thank the Natural Sciences and Engineering Research Council of Canada for recognizing our long-standing collaboration with TMU's Centre for Urban Energy," said Elias Lyberogiannis, the executive vice-president, planning and chief engineering and modernization officer at Toronto Hydro. "We look forward to continuing our innovative work, contributing to a greener energy sector, and helping our city and communities prosper socially and economically."
"Congratulations to professor Venketesh for this exceptional achievement," said Steven N. Liss, vice-president, research and innovation at TMU. "His decade-plus collaboration with Toronto Hydro through the Centre for Urban Energy has made a significant contribution to the city's electrical grid, wider provincial and national energy landscape."
The award of $200,000 will mark the beginning of a new phase for the collaboration, says professor Venkatesh. "The plan for the funding is to use it for more research, especially for strategic research with Toronto Hydro. We hope to develop new solutions, especially around distribution system operation, if possible."
Learn more about professor Venkatesh and his work with CUE., external link, opens in new window
Learn more about the NSERC Synergy Award for Innovation., external link, opens in new window
Related links:
NSERC Synergy Award for Innovation recognizes Ryerson researcher for outstanding achievements in warranty industry partnership.