Premiere of robot dance performance launches Creative Technology Lab
November 29, 2019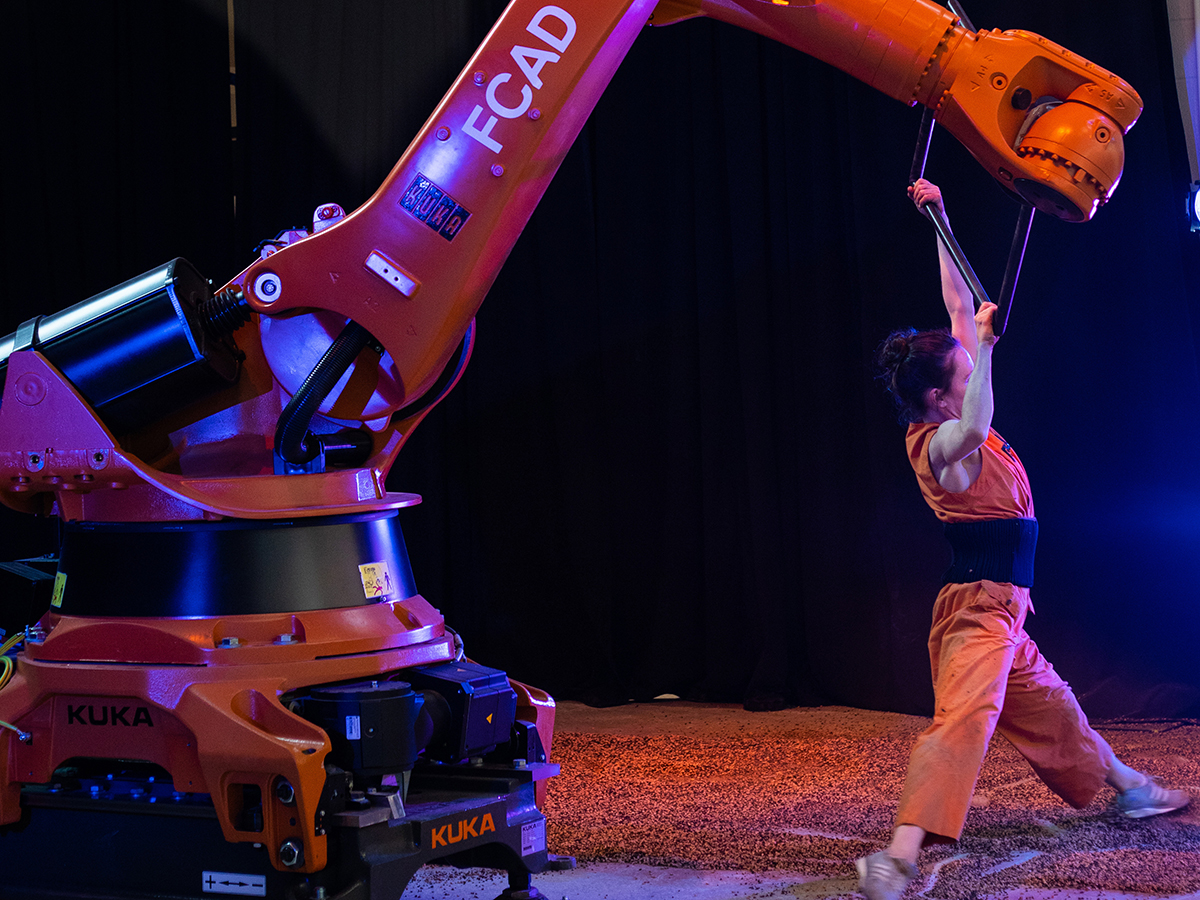 A robot dance performance kicked off a series of presentations and demonstrations at the launch of the Creative Technology Lab at the Faculty of Communication and Design (FCAD). The Ryerson University lab houses an array of new technologies — such as robots, 3D printers, laser cutters, circuit board printers, a 3D knitting machine and virtual reality equipment — which researchers and students can use for projects within the creative fields.
Opening the event on Tuesday, October 29, director of the Creative Technology Lab professor Jonathon Anderson said there were already 13 research projects and six programs for student curriculums taking place in the facility and funding would soon be available for students to conduct their own investigations.
"We are in a unique lab that focuses on research, advanced curriculum and zone learning," he said. "We seek to create an environment that provides hands-on training for FCAD researchers and students to engage directly with the equipment. This hands-approach helps to facilitate creativity and expands the possibilities of what is capable with machines."
Robot choreography and 3D-scanning
The headline demonstration of the evening event was a 15-minute dance duet between dancer Belinda McGuire and a robot that was previously used to weld doors onto cars at a factory in Germany. The Uncanny Robots project is led by professor of performance Michael F. Bergmann, in collaboration with interior design professor Linda Zhang and professor of performance Louis-Laberge Côté.
"The whole piece is based upon an interpretation of movement phrases that Belinda created," said professor Bergmann. "A 3D scan of this movement was then taken to create a dataset that was then interpreted into the robot's choreography. This was the starting point for creative improvisation that explored the capabilities and limitations of both Belinda, the KUKA robot, and their interaction."
Another project on display was The Story of Water: The Erie Canal as a Site of Untold Stories by professor Zhang, which explored the impact of the construction of The Erie Canal in the State of New York. Professor Zhang and her colleagues used the 200th anniversary of the canal's completion as an opportunity to explore the positive and negative impacts the canal has had on people's lives, such as the hardship endured by the workers who helped to build it. Professor Zhang 3D-scanned locks on the waterway and then reproduced these as clay vessels. She then used water from the canal to reform and deform those vessels in order to question the narrative of technological progress through the canal's water itself.
"The Erie Canal is a very important project, and a lot of the commemoration right now is around the positive aspects of it, but it also has a lot of contested aspects," she said. "What we were looking at was, 'How do you take technology that we have today to question those narratives and maybe think about a heritage that can speak to both sides?'"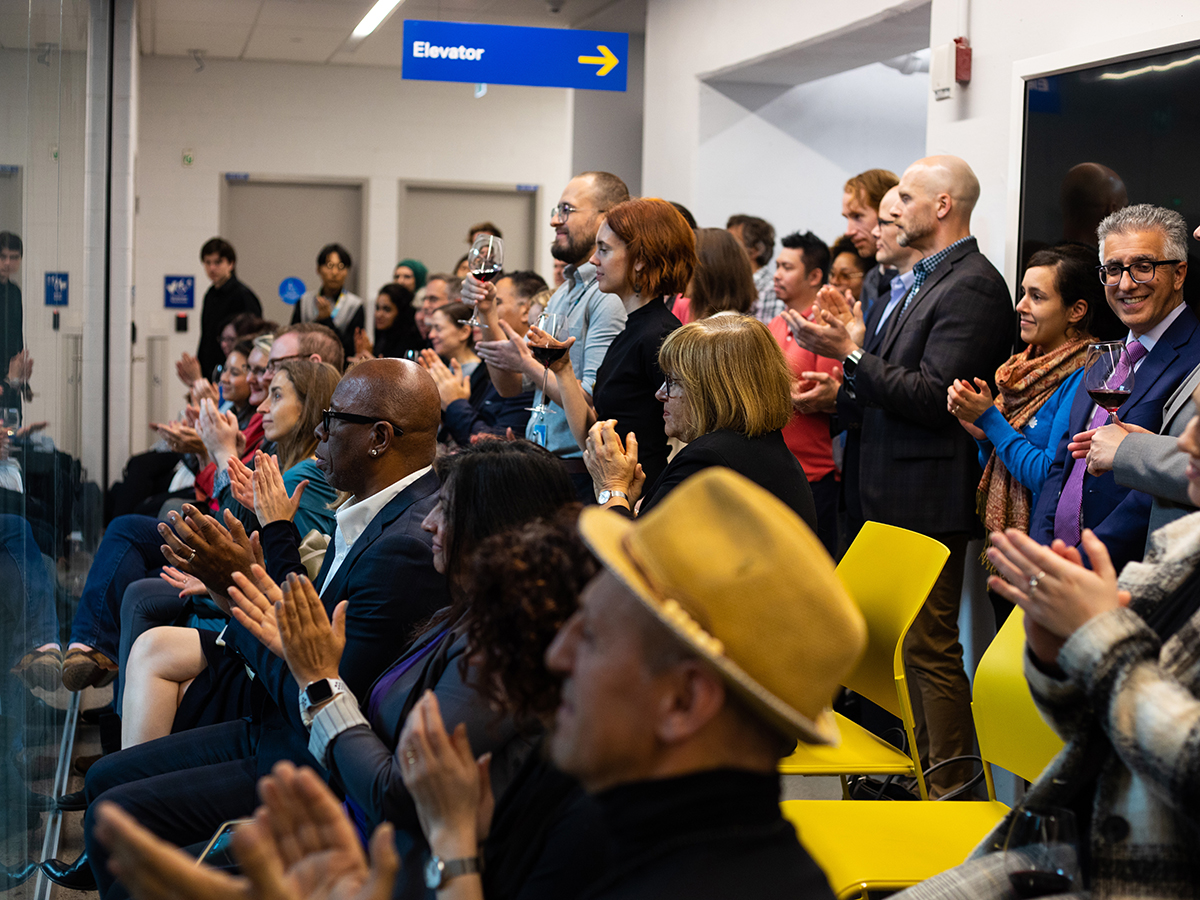 Pushing creative boundaries with new technology
The potential of virtual reality and 360° video in news reporting has not yet been fully explored by media companies, according to professor of journalism Adrian Ma who presented his project Hong Kong 360. The aim of his research was to find out how the technology could be used for compelling storytelling. Using Hong Kong as a filming location, professor Ma and his team tested techniques and produced content that was available to watch at the Creative Technology Lab launch. He is now writing a textbook on practical tips for shooting with 360° video.
"We haven't found a mass adoption quite yet in newsrooms, but the very nature of telling stories in 360 degrees has some really interesting applications for journalism and it's incumbent upon us to keep pushing those storytelling boundaries," he said.
Other projects exhibited at the event included RTA School of Media professor Steve Daniels' exploration of circuit board printing on flexible materials. Interior design professor Anderson also displayed his 3D-printed castings for concrete sculptures and revealed he would be using the lab's large new robot arm to produce castings on a greater scale. The potential of using cross-reality (XR) experiences to influence our understanding of accessibility needs and invisible disabilities was explored in a project by RTA School of Media professor Richard Lachman. The startup Taiga Robotics, based in Ryerson's Design Fabrication Zone business incubator, offered guests the chance to try its IRIS platform, which allows users to control robots with virtual reality equipment.
The 7,500 square foot Creative Technology Lab, located in the Daphne Cockwell Health Sciences Complex, was made possible thanks to support from industry and government partners, according to Michael Benarroch, provost and vice-president, academic, who spoke at the event.
"It is really unique in both Ontario and in Canada, and I think it demonstrates Ryerson's commitment to providing our students and faculty with the tools necessary to be innovators and to push boundaries," he said.