Ryerson researchers delve into YouTube with Watchtime Canada report
May 30, 2019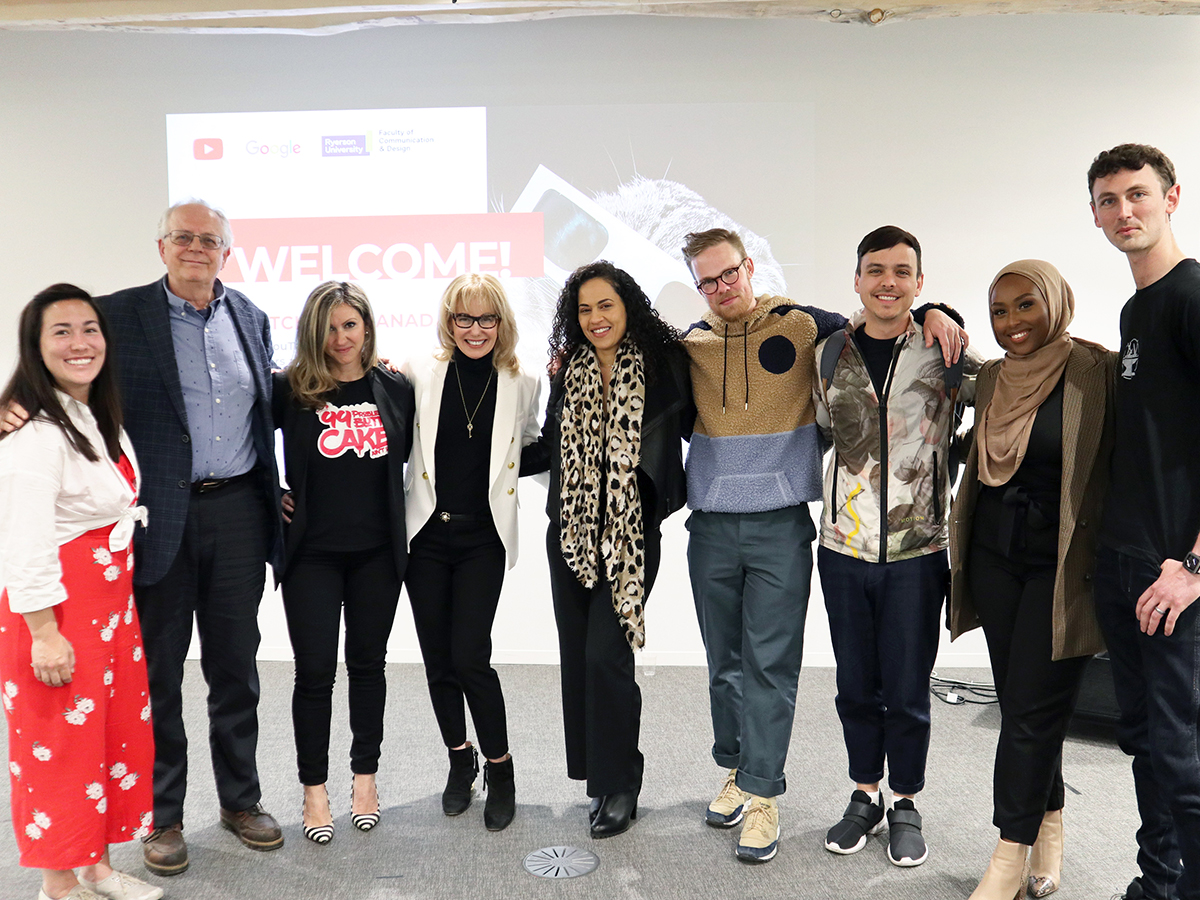 Canadians are using YouTube to learn.
That's one of the top findings from a first-of-its-kind Watchtime Canada, external link report produced by Audience Lab at the Faculty of Communication and Design (FCAD) and commissioned by Google, the parent company of YouTube. The report was publicly released on May 22 at The Catalyst at FCAD.
The report examines Canadian YouTube content creators and consumers and YouTube's role within the Canadian media ecosystem. The report was authored by Irene Berkowitz, policy fellow at Audience Lab; Charles Davis, associate dean, Scholarly, Research and Creative (SRC) activities, FCAD; and Hanako Smith, a PhD candidate in communication and culture.
The research, compiled from YouTube content creator and consumer surveys as well as public data, shows that for 70 per cent of Canadian YouTube consumers, the video platform is the media destination of choice for learning. "It is the first media space, that Canadians go to learn how to do anything, whether it's fixing your dishwasher, fixing your computer, or learning how to play the guitar," said lead researcher Berkowitz at the media event. She said the data shows that creators are increasingly motivated to educate and inform their audiences as subscriber numbers grow.
The report also found that YouTube is a unique platform.
"There's really no equivalent in the domestic media ecosystem. It's not a legacy broadcaster, it's not appointment TV, it's not like cinema, it's not like social media," said report co-author professor Davis.
That unique role is the key take-away the researchers identified in the report, along with highlighting 21 value propositions and five meta-insights. YouTube plays a unique role in the national media ecosystem, facilitating the rise of new Canadian creative entrepreneurs and resulting in significant outcomes regarding diversity, employment, domestic popularity, and global export and access. These results are achieved without requiring creators to transfer their intellectual property rights and largely without incurring any public cost.
The researchers found that there are an estimated 160,000 Canadian content creators on YouTube, including 40,000 who have enough of an audience to monetize their channels. These 40,000 creators have in turn sparked the development of nearly 28,000 full-time jobs, employing people in production, administration and more.
As part of the Watchtime Canada release event, a panel of Canadian YouTube creators from channels such as How to Cake It, Aysha Harun, AsapSCIENCE and The Hacksmith shared insights into their journeys in turning content into full-time jobs, including using the in-depth data analytics provided by YouTube to assess what's appealing to audiences and to adjust their content accordingly.
Aysha Harun, a beauty and lifestyle YouTube creator from Scarborough, said in an interview that with her business background, she loves the analytics available to her as a creator. Her channel started by offering makeup tutorials, a skill she herself learned as a young teen by watching videos on YouTube. She said that even without millions of subscribers – she has more than 270,000 – she's been able to make her living as a content creator.
Lead researcher Berkowitz said she was "so happy" with how many responses were received for the creator survey, noting that 1,268 creators responded. She said the creator-respondent demographics ended up being diverse on a number of fronts, such as geography, gender and age. In addition to the creator responses, there were 1,500 responses to the consumer survey.
Professor Davis said that with the release of the report, the researchers' next steps include preparing further publications and digging into the data to examine topics like the kinds of audiences attracted to specific genres and the professionalization processes of YouTube creators.