You are now in the main content area
Mascot Reconsideration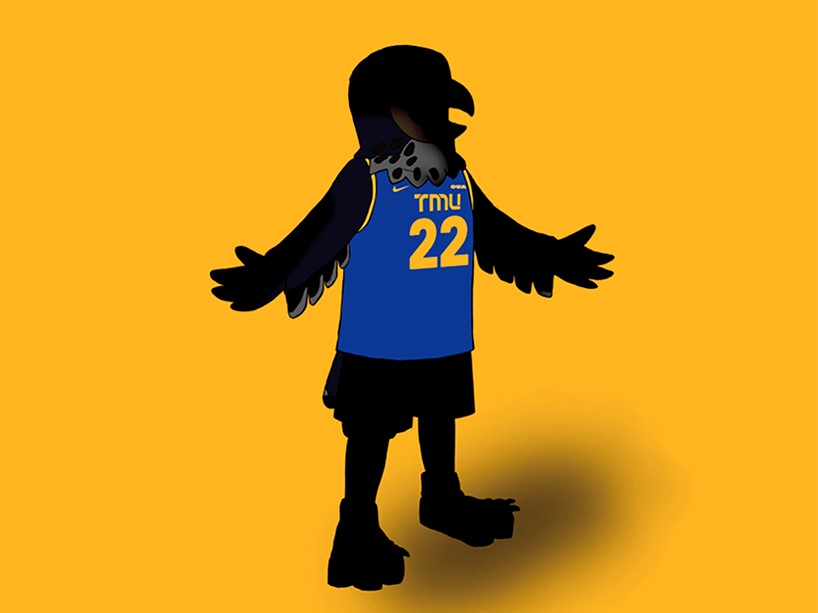 New falcon mascot to be introduced on September 22
"Falcons are as bold as they come. They are fast and fierce, they are good critical thinkers, they are strong."
From August 28 to September 5, 2023, all community members with @torontmu.ca email addresses were invited to vote from the community-generated shortlist for the name of TMU's new falcon mascot!
On September 22, at the TMU Bold men's homecoming hockey game, the new mascot will be introduced to our community and the name will be announced just before the 6 p.m. puck drop.
Mascot and team name project timeline
Timing

Project Phase

Objective(s)

May 19 - 30, 2022

Collect mascot and team name ideas

May 31 -
June 15, 2022

Mascot and Team Name Committee Review

June 16, 2022

Community informed of committee decision

June 17 -
July 11, 2022

Mascot and Team Name Committee Review

Creation of shortlist of team names and mascot ideas

July 12 - 19, 2022

Community input on shortlist and opportunity to submit additional ideas

July 20 -
August 28, 2022

Mascot and Team Name Committee Review

Review and research
Recommendation to the President

August 29, 2022

Inform community of new team name and mascot

August 30, 2022 -
March 21, 2023

Implementation and production

Immediate adoption of 'TMU Bold'
Design and implementation of athletics brand and graphics
Design and production of mascot

March 22 -
March 31, 2023

Collect name ideas for the falcon mascot

April 1 -
August 27, 2023

Establishment of shortlist of mascot names

Review of ideas and relevant research

August 28 -September 5, 2023

Identification of community preferred name from a shortlist of ideas

September 22, 2023

Mascot debut at the TMU Bold Men's Homecoming Hockey Game
Mascot name announced
Parameters

Drawing from the community's input, the committee established a set of parameters that thoughtfully considered the university's values and aspirations. This set of parameters allowed each idea to be assessed in a more consistent and intentional way.
Some of the parameters were more subjective, such as:

Does this idea make sense for the university?
Is it appealing?
Others were more objective, such as:

Does this name make sense for community members of all genders?
Does it align with our recent renaming?
Is the name legally ownable?
Context
On August 26, 2021 the university's Board of Governors accepted the 22 recommendations put forward by the Standing Strong (Mash Koh Wee Kah Pooh Win) Task Force to guide commemoration at the university and to address the legacy of Egerton Ryerson. One of the recommendations was to reconsider "Eggy" the mascot.
Egerton the Ram, more familiarly known as Eggy, acted as the university mascot since 1961. In addition to his name being a form of commemoration of Egerton Ryerson, our understanding is that the ram (a male sheep) was chosen to represent the university because it was Egerton Ryerson's zodiac sign.
The community-informed parameters that were developed after the first round of community engagement led to the decision that a ram mascot and team name was not to be considered moving forward. Reconsidering our mascot and team name provided us the opportunity to find a name that better aligns with the values of the TMU athletics programs.
FAQs