You are now in the main content area
How to View My Advisement Report
The Advisement Report is a tool for undergraduate degree students that shows all the courses that you have taken or are enrolled in as well as those courses needed in order for you to graduate from Toronto Metropolitan University (TMU).
You can use the Advisement Report to:
Check the accuracy of your academic record, including approved transfer credits, challenge credits and course substitutions or directives.
Assist you during the Course Intention and course enrolment process to determine outstanding requirements.
Ensure that your course selections fulfill your requirements.
As you work your way towards graduation, this report reflects your progress and gives details of the courses you still need to take in order to graduate.
The Advisement Report is unofficial, may contain inaccuracies and is subject to change. It does not represent an irrevocable contract between the student and the university.
If you are enrolled in your final course, semester or year of study and are planning on graduating, you must submit an Application to Graduate by the deadline date published in 'Significant Dates' in the Undergraduate Calendar. Go to How to Apply to Graduate for step-by-step instructions.
Every time you change your course selections, you should run the Advisement Report to ensure that your changes have met your requirements.
Understanding TMU Curriculum
TMU's full-time program curriculum is dynamic and can change each year. The information shown in your report is based on the curriculum into which you were admitted. It is the responsibility of each full-time undergraduate student to access the updated online Undergraduate Calendar each year and follow the curriculum as published.
The Advisement Report should be run each year before and after submitting your course intentions and when making changes to your course enrolments.
TMU's part-time program curriculum is static. It is the responsibility of each part-time undergraduate student to complete the curriculum for their program as published in the Undergraduate Calendar of the year they were admitted to their program, unless stated otherwise.
The Advisement Report is available for most part-time students who were admitted in 2009 or later.
Step-by-Step Tutorials
You can access the Advisement Report through the Academic Records tile on your home page.
Click the View My Advisement Report menu item.

Click the View My Advisement Report link.

This page provides information about who can use the report and where to find complete information about its uses and limitations.

This is your Advisement Report. It shows all the graduation requirements for your currently active program and plan(s).

The report is broken down into a number of sections that can be expanded by clicking ► or collapsed by clicking ▼ to the left of the title.
To collapse all of the sections, you can use the Collapse All button at the top of the report.

This shows a list of courses that meet one of the requirements.

If the course list is long, only the first part of it displays. To view the full list, click the View All link.
You can sort each course grid by clicking on the top of a column. You can sort by course description or when you took the course. (You will need to click twice on "When" to put your most recent courses first.)
Click the course Description to see the course details from the course catalogue. You can then inquire on what sections of the course are available, using the View Class Sections button.
The Advisement Report does not represent an irrevocable contract between the student and the university. Please contact your program department immediately with questions or concerns, or if there are any inaccuracies found in this report.
Sections within the Advisement Report
 Information and Restrictions for All Undergraduate Students
This section contains information that applies to all undergraduate students such as limits on transfer credits and challenge credits, repeat course rules and information on completing minors, specializations and concentrations at TMU. It also lists your ungraded and incomplete courses.
The total number of transfer credits awarded are also included in this section.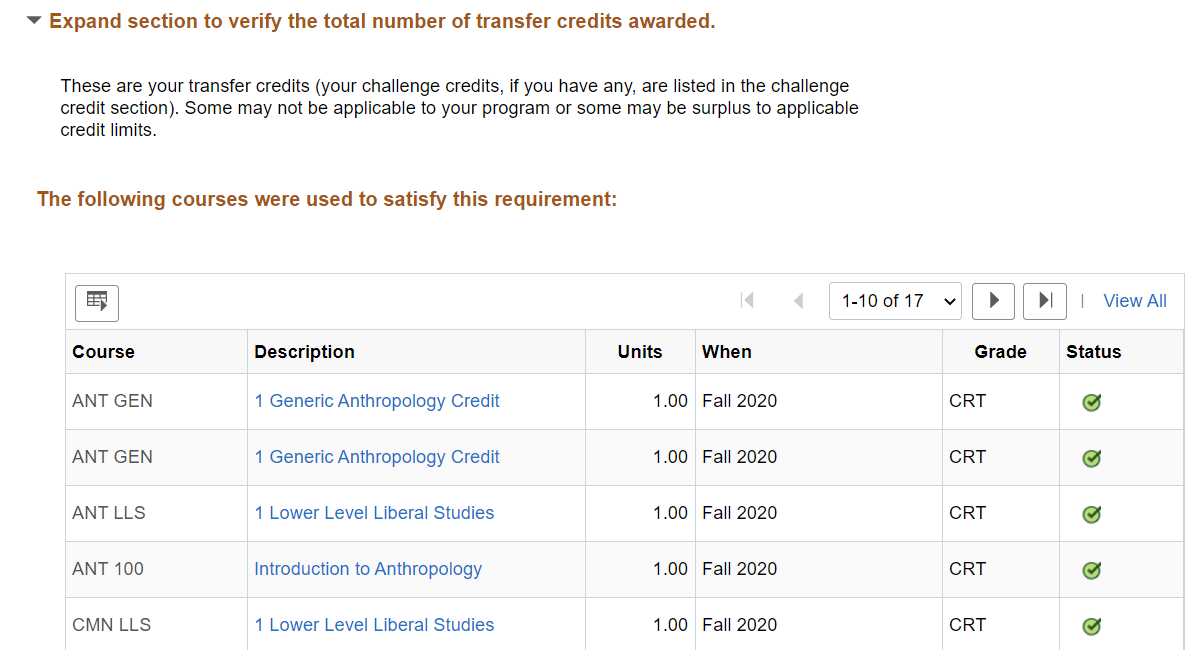  Non-Applicable Courses and Credits
This section may appear at the beginning or end of your report, depending on the program.
It contains courses or credits that are not being used to fulfill program requirements. These can include:
Failed courses
Courses that do not meet minimum grade requirements
Courses replaced for Grade Point Average (GPA) improvement that cannot be used to fulfill program requirements
Previous attempts of repeated courses
Courses and credits that are not officially part of your program requirements
The A-portion of any multi-term (A/B) course.

The earned value of two (2) is only on the B-portion of the course (both portions must be completed in order for the B-portion to appear as part of your program requirements)

Courses that you are taking that apply towards a minor but not towards the degree

After you apply to graduate and declare a minor, applicable courses will apply to the minor requirements
 Degree, Program and Plan
This section is the degree, program and plan that you are working towards. This title will be different within your account, based on the program you are in. Degree requirements are broken down into sections called requirements or requirement lines that can be expanded or collapsed by clicking the arrow () to the left of the requirement heading.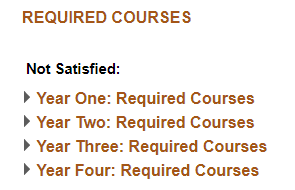 This example shows the requirement that contains the Required Courses in the degree program.
The Required Courses section is further broken down into requirement lines that display the Required Courses by year for the program. Your Advisement Report may contain other requirements such as Open Electives or Liberal Studies as applicable to your program.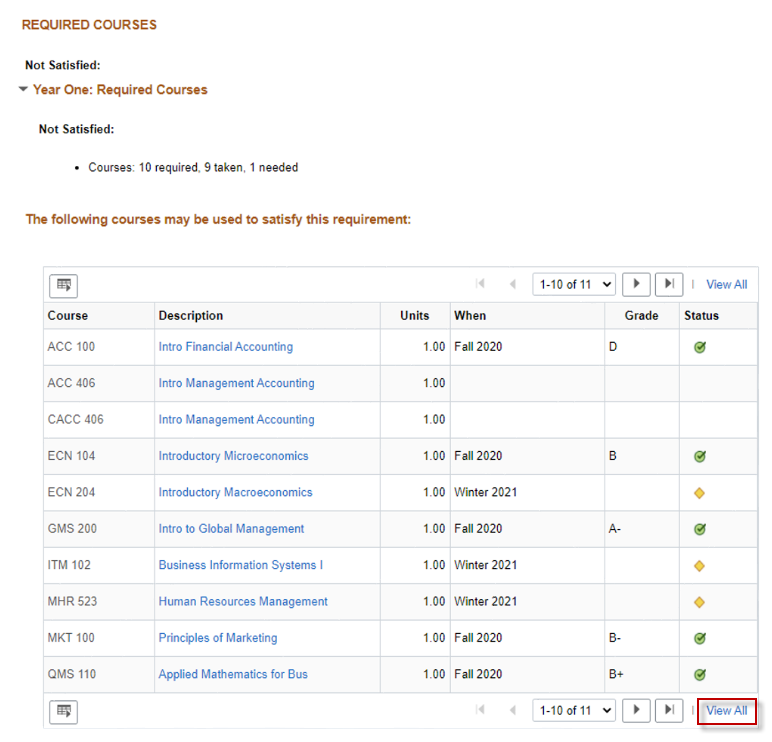 Expanding the requirement lines will display specific detail of the courses needed to fulfill the requirement.
Satisfied or Not Satisfied
This indicates whether you have completed all of the courses for the requirement line and/or the overall requirement.
Courses (Required/Taken/Needed)
Required: shows the total number needed to fulfill the requirement line
Taken: shows the number of courses you have completed or are currently enrolled in
Needed: shows the number of courses remaining to complete the requirement line
Course List
This section shows all of the courses (including Chang School offerings) that may satisfy the requirement line. Courses which end in an "E" (eg: RTA 101E) are only available to students studying at the Ryerson campus at Universities of Canada in Egypt.
If there are more than 10 courses, select View All to see all courses for the requirement line. When the course list is exceptionally long (e.g. Liberal Studies), the individual courses are not shown and you must refer to the Undergraduate Calendar.
Course Grid
Course: course subject and area number
Description: course title
Units: Grade Point Average (GPA) weight
When: the term when the course was taken or enrolled in
Grade: grade achieved
Status: a symbol will indicate the status of the course
Course successfully completed or credit awarded.
Course is a current enrolment or course intention selection.
No symbol
Course is not yet taken.
You can sort each course grid by clicking the header of a column. You can sort by course, description, when you took the course, grade or status.
Click on the course title in the Description column to view the course detail, enrolment information, course description and class sections.
Your Advisement Report includes graded courses, currently enrolled courses, and approved transfer and challenge credits.
If you are unable to see your grades, you may have a Hold on your account. See Holds in your Student Center for details.
Course Distribution
Courses are slotted in the first possible appropriate position and may be directed to a more appropriate requirement.
Course Exceptions (Substitutions/Directives)
Course exceptions allows students to use a course that is not part of the normal curriculum of a program to fulfill program requirements.
Course exceptions will only appear once they have been approved and after you have enrolled in the course. A Notes column will appear in the course grid if you have approved course exceptions.
Clicking on the number in the Notes column will provide you with details of the course exception.

If you change your program, plan or major, previously approved directives and substitutions may no longer apply.
Transfer Credits and Challenge Credits
Transfer credits will only appear on your Advisement Report once they have been validated and posted as "CRT" by the Transfer Credit Unit. Not all transfer credits that have been granted are applicable to your degree requirements. You may apply to have these transfer credits directed to your degree requirements with approval from your teaching and/or program departments and the Curriculum Advising Office via the Degree Course Exception (Substitution/Directive) Form.
Challenge Credits will only appear on your Advisement Report once they are validated and posted as "CHG" by the Curriculum Advising Office.
Repeating Courses
Only the most recent enrolment of a repeated course is applied to your degree requirements. Earlier attempts are shown in the Non-Applicable Courses and Credits section.
Note: If you took one attempt as a Continuing Education (CNED) student and the other as an undergraduate (UGRD) student, it is possible that both instances of the course will show as fulfilling a requirement. The report could falsely show it as Satisfied because one course is counting twice towards the requirement.
You must confirm that you are not missing any other courses that apply to that requirement. Report any instances of a course being used more than once to your program department immediately.
Remember: The Advisement Report is only a tool to aid you in selecting courses appropriate to your program. You are ultimately responsible for ensuring that you have met all university requirements for graduation as set out in the official TMU Undergraduate calendar. If you have any problems understanding your Advisement Report or have questions or concerns about fulfilling these requirements or about any limits, restrictions and variations applicable to your program, contact your Program Department.