Race and Criminal Injustice: CABL and the Lincoln Alexander School of Law at Ryerson University release new report
February 11, 2021
The Canadian Association of Black Lawyers (CABL) and Ryerson Law have published a new report confirming significant racial differences with respect to how the public perceives and interacts with the criminal justice system in Ontario.
The report, entitled Race and Criminal Injustice: An examination of public perceptions of and experiences with the Ontario criminal justice system was prepared for CABL by Dr. Scot Wortley, Dr. Akwasi Owusu-Bempah, and Huibin Lin. The report was funded by Legal Aid Ontario. The researchers used an online methodology to survey 1450 residents of the Greater Toronto Area (GTA) who were 18 years of age or over to gather their perceptions on the criminal justice system. The survey data was collected by Environics Analytics.
Public perceptions of the police and courts are important social issues. The authors noted that: "In addition to stark differences in how the public perceives the criminal justice system, our research also found significant racial differences with respect to levels of contact with the police and observed that rates of police contact have not been significantly reduced by Ontario's street checks legislation."
"The need to address racial disparities in our criminal justice system remains paramount," added Donna E. Young, founding dean of Ryerson Law. "This report serves as a compelling reminder that there is still much work to do in addressing the obstacles to justice that many Canadians face. By disseminating these findings, we hope to inform critical dialogue and progressive policy change."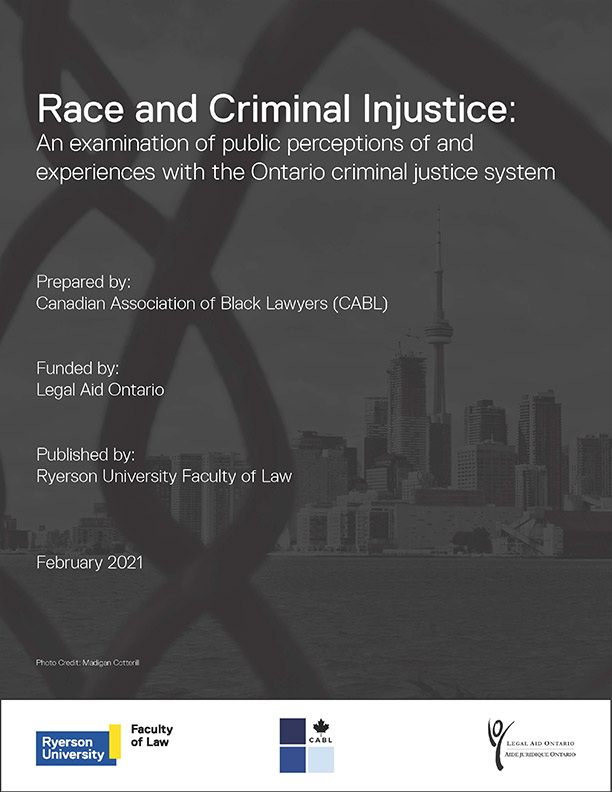 "This report is the result of collaborative work through researchers from the University of Toronto, CABL, and Ryerson Law. It is only through continued work together that we can address the fact that racial bias in Ontario's criminal justice system continues to be as prevalent as ever. The report is a reminder that we must work to counteract this simple fact," said Raphael Tachie, President of the Canadian Association of Black Lawyers.
Read the entire PDF fileRace and Criminal Injustice report.