You are now in the main content area
Let the Rivers Flow: A Gathering about Responsive Early Childhood and Community Inclusion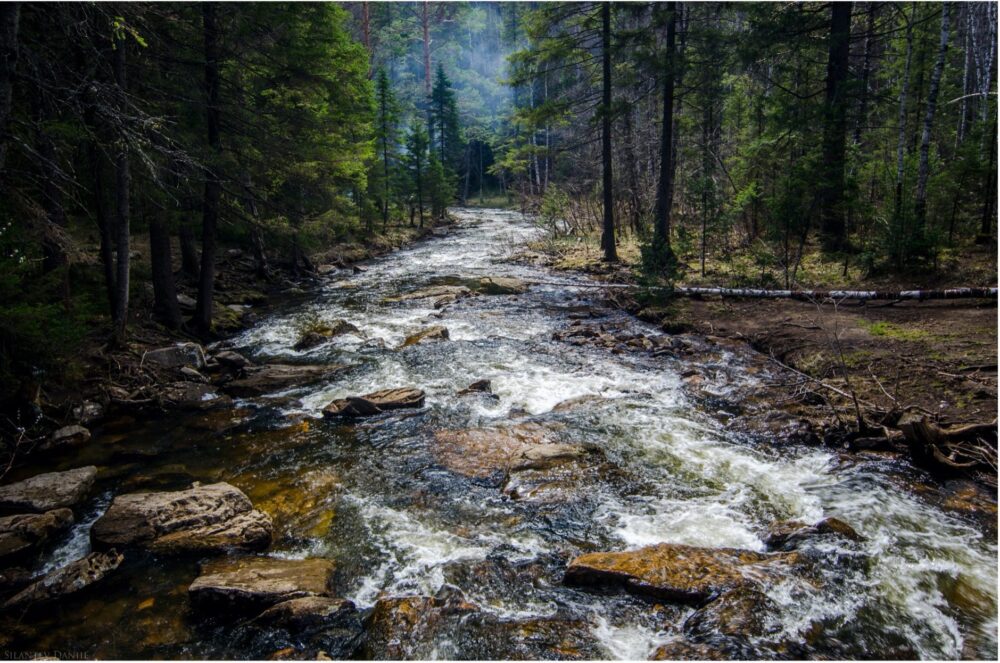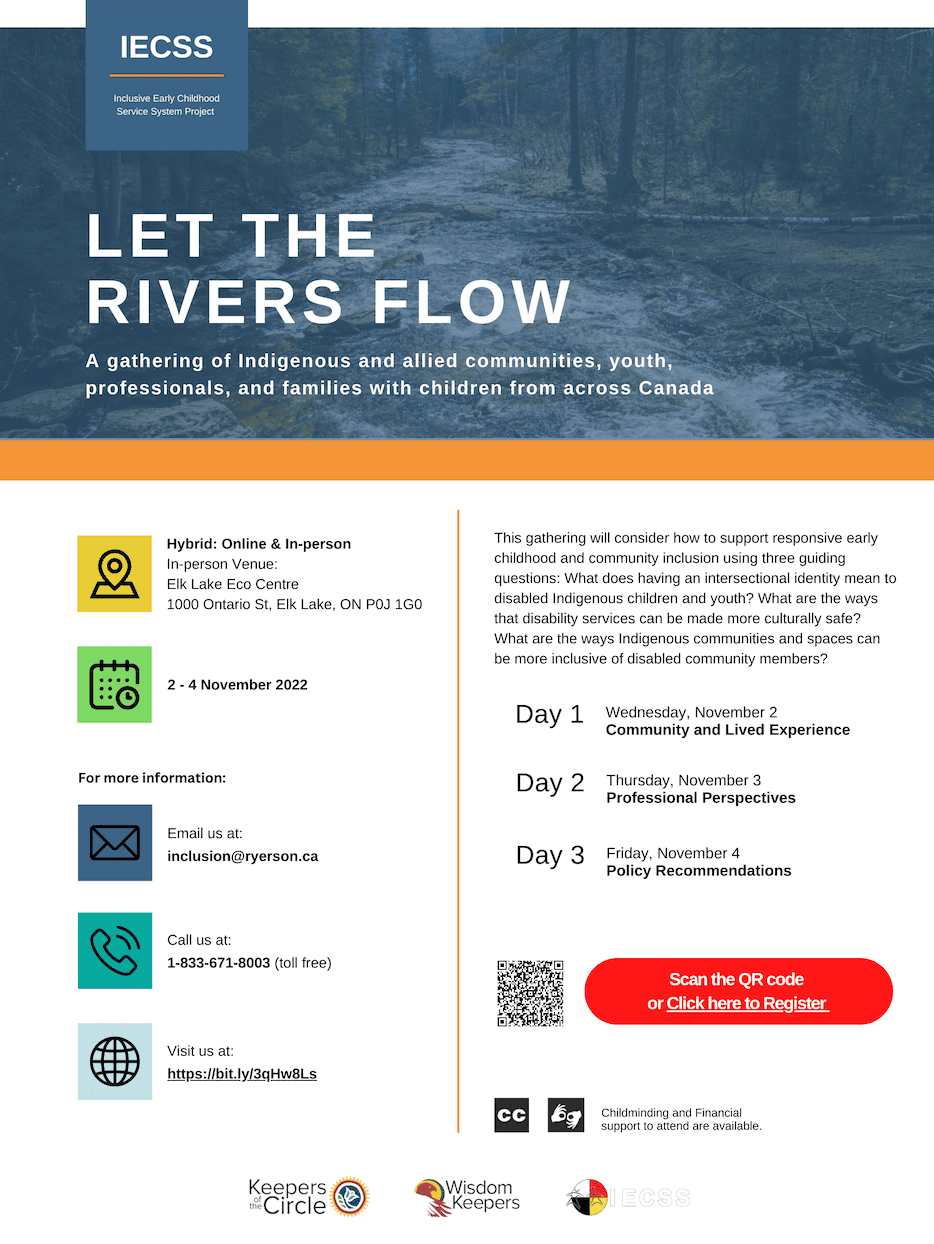 Gathering Schedule
We are excited to announce the schedule of events for the upcoming gathering, Let the Rivers Flow. We will gather in person in Temiskaming at the invitation of the Wisdom Keepers at Keepers of the Circle.
The gathering welcomes Indigenous, disabled and allied community members to share in discussion about responsive early childhood and community inclusion. The gathering is guided by three questions:
What does having an intersectional identity mean to disabled Indigenous children and youth?
What are the ways that disability services can be made culturally safe?
What are the ways Indigenous communities and spaces can be more inclusive of disabled community members?
The gathering will be in a hybrid format with people gathering in person and online. Indigenous peoples generally do not follow a strict timeline in a gathering of this nature. We will do our best to follow the timeline, in order to make it accessible for those online. We do however ask for patience as we listen to the experiences of those who are coming together to share. All presentations will be available to both in-person and online audiences.
Zoom links will be shared with those who are registered in the days before the gathering.
9:00-9:45am Opening, Keepers of the Circle Wisdom Keepers Council
9:45-11:00am Lived Experiences Panel with Regis Huston, Tyler Huff (external link) ( (PDF file) video transcript), Mike Ashkewe, Charlotte Hunter, moderated by Nan McLeod
11:00-12:15pm Parent Panel with Connie Hall, Samantha Chevrier, Tamara Chevrier (external link) ( (PDF file) video transcript), and Lorette McKnight, moderated by Dr. Kathryn Underwood
12:15-1:15pm Lunch
1:30-2:30pm Grandparent and Elder Panel (external link) with Tammy Chevrier, Philip Gliddy Sr., Marilyn Chevrier-Wills, and John Wills, moderated by Nicole Ineese-Nash
2:45-3:45pm An Indigenous Perspective to Supporting Children & Families with Disabilities and Challenges with Rona Sterling-Collins, moderated by Kaitlyn Wilcox (please contact inclusion@torontomu.ca for presentation slides)
4:00-5:00pm (PDF file) Nurturing the Young Child from Within An Indigenous Paradigm, keynote by Dr. Sharla Mskokii-Peltier moderated by Kaitlyn Wilcox
Closing Song and Prayer
9:00-9:30am Opening
9:45-10:45am
Oneida Sign Language: Marsha and Max Ireland
Parent Perspective: Kendra Danielle Nisawaynoodinaawkokwe, Rama First Nation
11:00-11:45am IECSS Presentation of Research Findings and Policy Recommendations by Dr. Kathryn Underwood and Dr. Nicole Ineese-Nash
12:00pm Closing prayer and song
Policy Brief & Event Technical Report
Speaker Bios
Day 1: Community and Lived Experiences
Day 2: Professional Perspectives
Day 3: Policy Recommendations
Kendra Danielle Nisawaynoodinaawkokwe, member at Mnjikaning (Rama) First Nation, Ontario is a Social Worker, educator, community resource and Mother. With her daughter Harper Kendra has navigated all systems related to education of an Indigenous child with special needs. Kendra develops and facilitates Indigenous community programs addressing drugs and alcohol, MMIW, Rape Culture, Indigenous family systems and Life Promotion.
Frequently Asked Questions (FAQ)
Let the Rivers Flow will be a hybrid gathering offering both in person and online options for participation. For those who are attending in person, we remind everyone that we are guests in this community. We ask that you listen respectfully, that we centre Indigenous and disabled people's experiences. We also ask that no alcohol be consumed at the gathering, and that local community etiquette is followed (if you have questions, please ask). We have also provided a document that is an introduction to the community and people of the District of Timiskaming (https://keepersofthecircle.com/ (external link) ).
Acknowledgements
The Inclusive Early Childhood Service System (IECSS) Project is a partnership between Toronto Metropolitan University, Guelph University, McMaster University Carleton University, several municipal governments (Wellington County, City of Toronto, District of Timiskaming, City of Hamilton) and community organizations (Brandon Friendship Centre, Childcare Resource and Research Unit, Comox Valley Child Development Association, Native Child and Family Services, Niwas Kendaaswin Teg, Keepers of the Circle (Temiskaming Native Women's Support Group), Toronto District School Board, Yellowknife Women's Centre and Macaulay Child Development Centre).

The gathering is funded by the IECSS Project. The project is funded through a partnership between: the Corporation of the County of Wellington, District of Timiskaming Social Services Administration Board, City of Hamilton, City of Toronto, University of Guelph, Offord Centre for Child Studies and Toronto Metropolitan University, as well as through grants from Social Sciences and Humanities Research Council.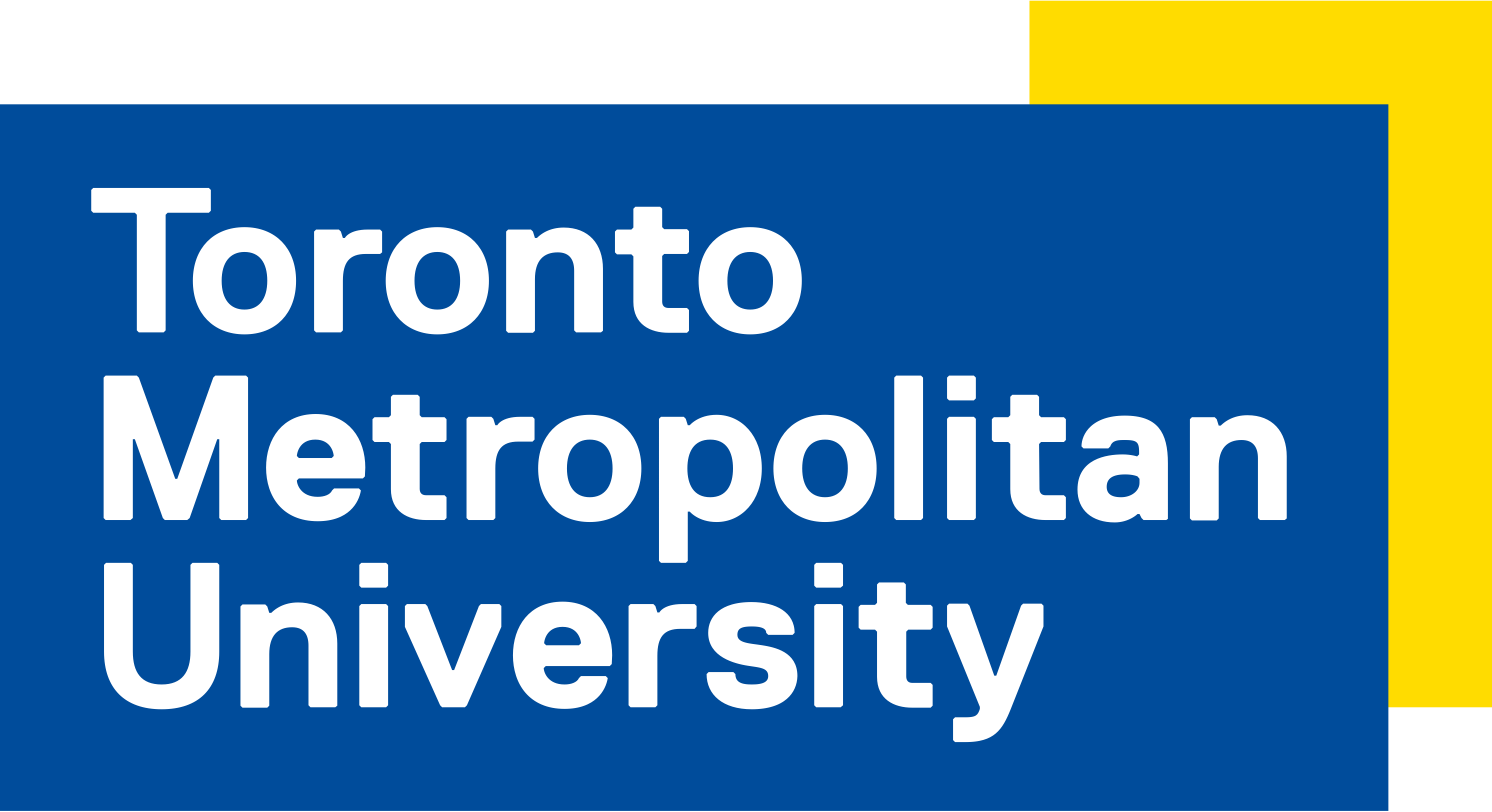 Special thanks to the gathering's working group
Arlene Hache – Keepers of the Circle
Carol McBride – Keepers of the Circle
Deborah Terrance – Independent First Nations: Ending Violence Against Indigenous Women
Patty Douglas – Brandon University
Shannon Murphy – Native Women's Centre: Hamilton Chapter
Lori Huston – Rising Indigenous Voices in Early Learning
Mia Francis- Independent First Nations: Ending Violence Against Indigenous Women
Lisa Sloan – Keepers of the Circle
Judith Mintz – Native Child and Family Service's Toronto
Yvonne Bomberry