You are now in the main content area
Inclusive Signage & All Gender Washrooms

Everyone needs a washroom!
Inclusive washroom signage and all gender washrooms on TMU are an important part of making our campus safe, accessible and welcoming. This initiative addresses the ongoing need to prioritize the safety and comfort for trans and gender diverse people in gender segregated spaces.
All gender washrooms
All gender washrooms are safe spaces where anyone, regardless of gender identity or presentation, can use the toilet, wash their hands and check the mirror. They decrease anxiety and fear for trans and gender diverse people while using the facilities as there is less chance of physical or verbal harassment or assault—a real and ongoing risk in gender segregated spaces.
Locate single-stall washrooms on campus
We encourage you to visit the Accessibility and Amenity Information page to locate single-stall washrooms across campus.
Inclusive signage in washrooms
Washrooms on the TMU campus include signage, indicating the space is inclusive and that TMU respects everyone's right to choose the washroom that is appropriate for them.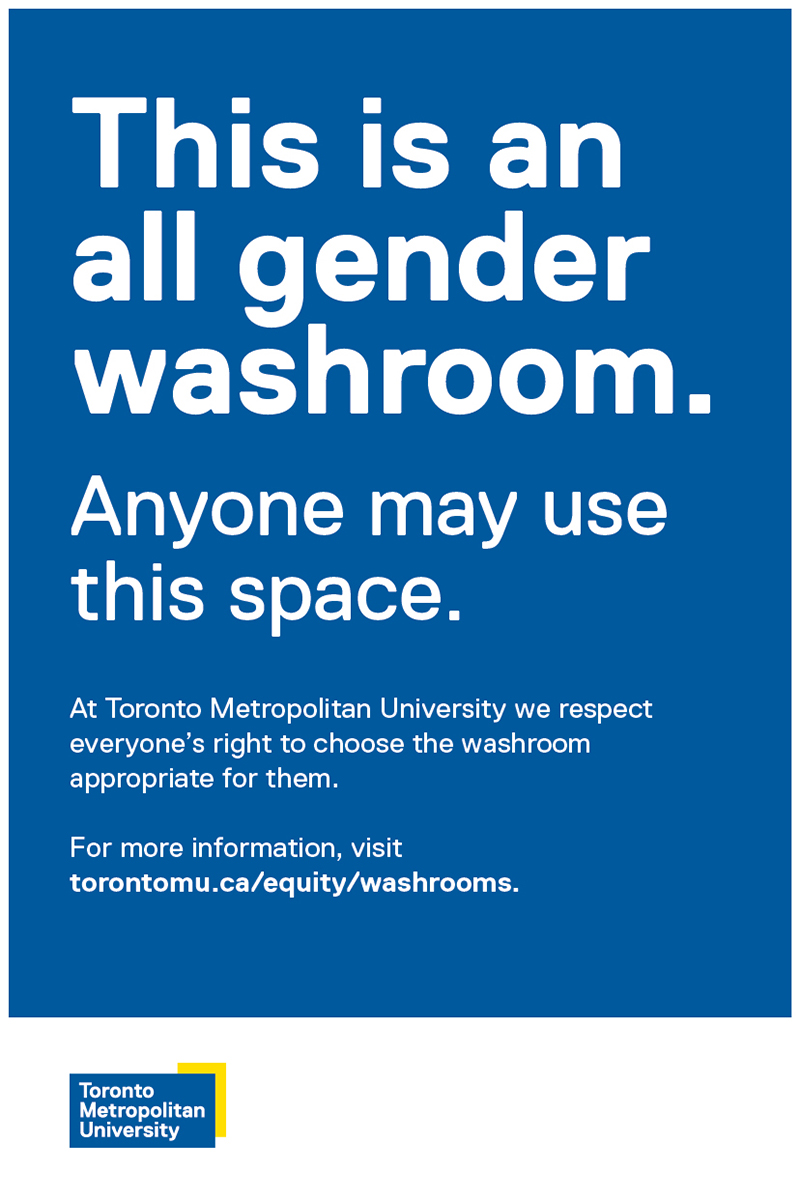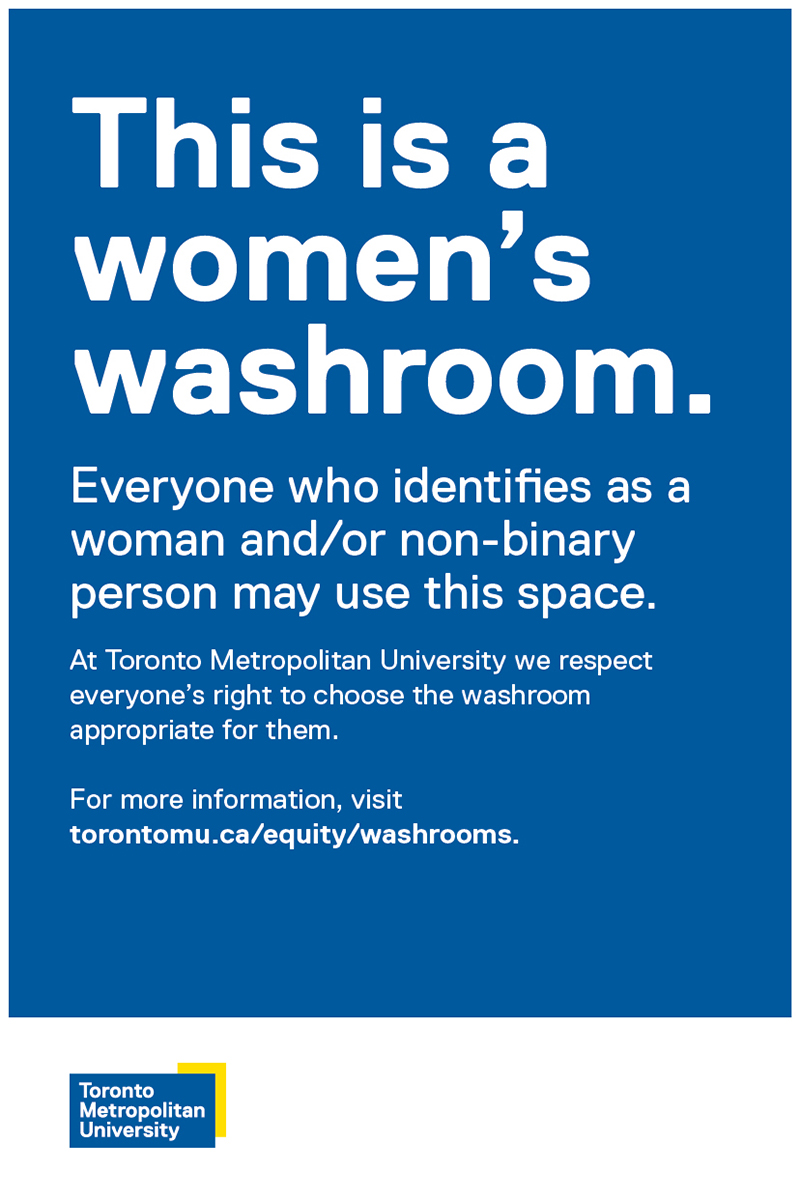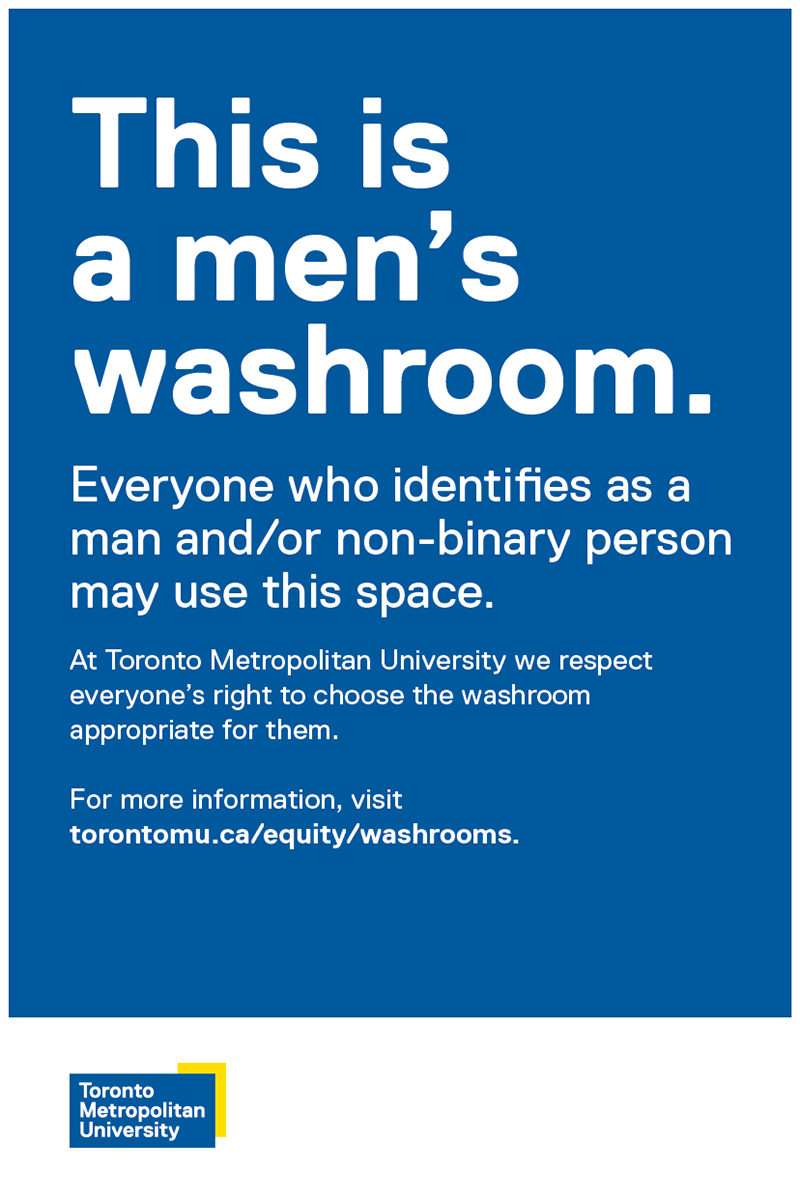 In the TMU Student Campus Centre, temporary all gender washrooms are currently available on the second floor. Permanent all gender washrooms are constructed on the first and second floors of Oakham House.
Support from TMU Community Safety and Security
TMU Community Safety and Security is here to support the entire community and understands that when a complaint is being made about someone in the "wrong" washroom, it's often the person being reported who needs protection. The team receives sensitivity training from Human Rights Services and will be collaborating with the RU Trans Collective (external link) to continue to increase their awareness and skills.
If you encounter concerning behaviour on campus or vandalism of signage, please contact TMU Security:
Phone: 416-979-5040
Email: security@torontomu.ca
In an emergency, please call 911.
(Photo by Mélissa Jeanty via Unsplash (external link) )