You are now in the main content area
Create quiz questions

Now that you have created a quiz, it's time to start considering the questions.
There are two main ways to create and store quiz questions:
Directly in the quiz.
In the Question Library, organized into sections. (Recommended)
You should first determine which workflow will work best for you, and review the tutorials on each method for more details.
Why create questions in a quiz?
If your quiz is quite simple, and you have no need to reuse or randomize questions, you may want to try this method first.
More efficient
All students will get the same questions - but they can be shuffled to randomize the order.
It can be quicker to set up a quiz with the questions created directly within.
Why create questions in the Question Library?
Creating sections of questions in the Question Library offers some added flexibility that make it possible to create random quizzes, organize questions based on topic or difficulty, reuse questions, etc.
More flexibility
A random selection of questions can be pulled from a larger pool of questions, ensuring students each get a unique quiz.
Questions can easily be organized and grouped by topic and difficulty.
Questions can easily be reused in a number of quizzes.
Find the Quizzes tool in the top menu bar, under Assessment. If it isn't there, review how to enable course tools.
Three steps to creating a quiz:
If you have created questions in the Question Library and would like to use them in a quiz, follow these steps to import them into the quiz.
Start by creating a quiz. If you haven't done this yet, please review the "Create a quiz" documentation page.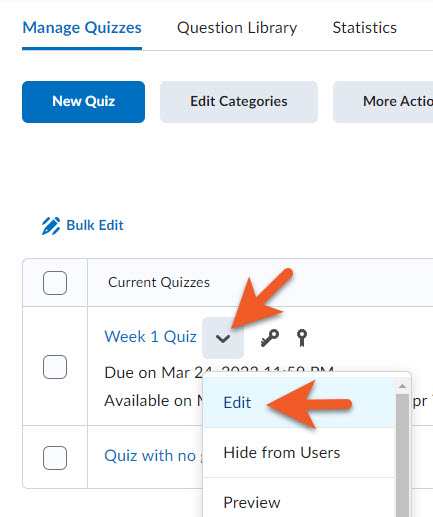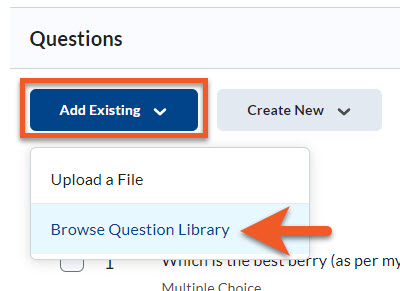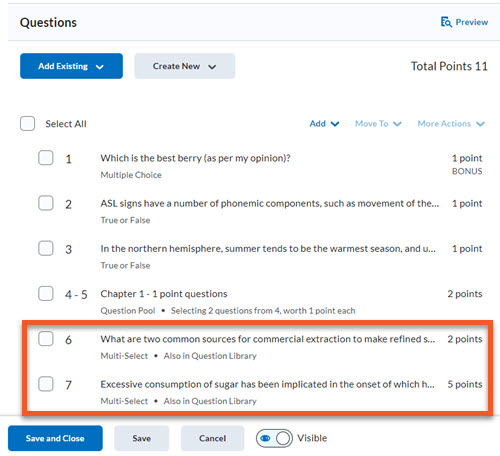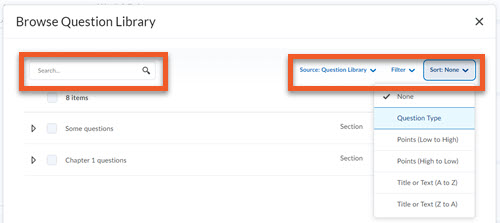 It is a good idea to create or save all quiz questions within the Question Library. This enables you to reuse questions in various quizzes, question pools, surveys, and self assessments.
To create a question in the Question Library, see the steps above.
However, if you have inadvertently created questions inside a quiz, and now realize you need them in the Question Library, it's not too late. You can easily copy them into the Question Library.