You are now in the main content area
Grades

The Grades tool in D2L allows you to enter and manage grades for your course. When entering the Grades tool, the default view will be the Manage Grades page - the perfect place to begin setting up grades.
Students only see their own grades when viewing the Grades tool.
Grade items
Grade items are the core of your course gradebook. A grade "item" refers to the column created to enter grades.
Grade items can be one of a few different types, but keep in mind that you can only enter grades in a "numeric" grade Item.
Grade categories
Grade "categories" are a way to group grade items together so that a common weight can be applied (i.e. all quizzes are worth 20% of the final grade) and possibly apply some additional settings (i.e. drop the lowest of the quiz grades).
Grades cannot be entered into a category - the category can only calculate and display grades based on the settings you enter into the category.
You do not need to create any categories in your course gradebook.
For example, you might want to create a grade category called "Quizzes", or "Assignments" to group together items of the same type. This is especially useful if you have multiple quizzes in your course, and all the "Quizzes" make up 30% of the final grade. A category will allow you to apply a weight of 30% to the Quizzes category. In the image to the right, you'll see the Quizzes category is comprised of four weekly quizzes. Categories appear in the darker grey row.
We highly recommend hiding your grade columns at the start of the term.
There are a few reasons for this:
It may be upsetting for a student to see a 0 value grade (or even an F), even if they know it is too early for those grades to be official.
As you begin entering grades, students may receive notification emails (if they have enabled them). Some students may contact you if they hear that their peers have received grades when they haven't yet.
Also related to email notifications, some workflows may send students notifications of incomplete grades - again, leading them to believe they have achieved a 0 on an assignment.
Overall, based on feedback we have received from instructors , setting all grade items as 'Hidden' (or scheduled for a future date release) seems to offer the best student and instructor experience.
Two methods for controlling students' access to the grades:
Hide the grade items (detailed instructions provided below).
Use a release condition to set criteria to release the grades to students. You can review our tutorial about how to add or edit release conditions.
You can review our tutorial about how to add or edit release conditions.

Hiding grade items/cateogries:
Grade items and categories can be hidden from learners by either manually hiding from the user, or by scheduling a start and/or end date for the items' visibility.
The Manage Grades page allows you to see which Grade Items are hidden/visible:
A crossed-out eye icon beside the grade item indicates that it is currently set to be hidden from students.
A clock icon next to the grade item name indicates that it has a scheduled visibility start and/or end date.
Note: Visibility for the actual assignment is controlled separately, under the Assignments tool.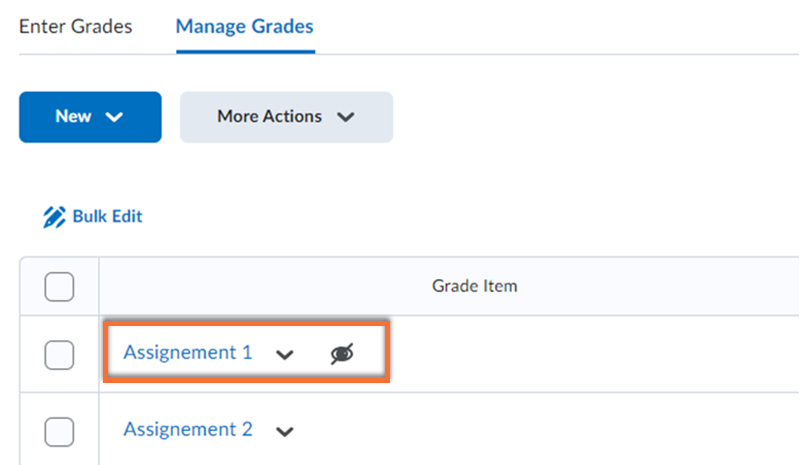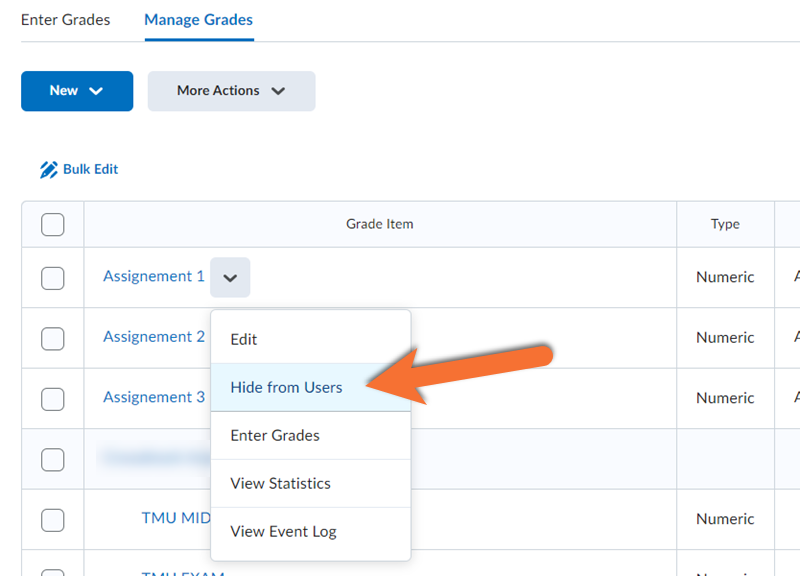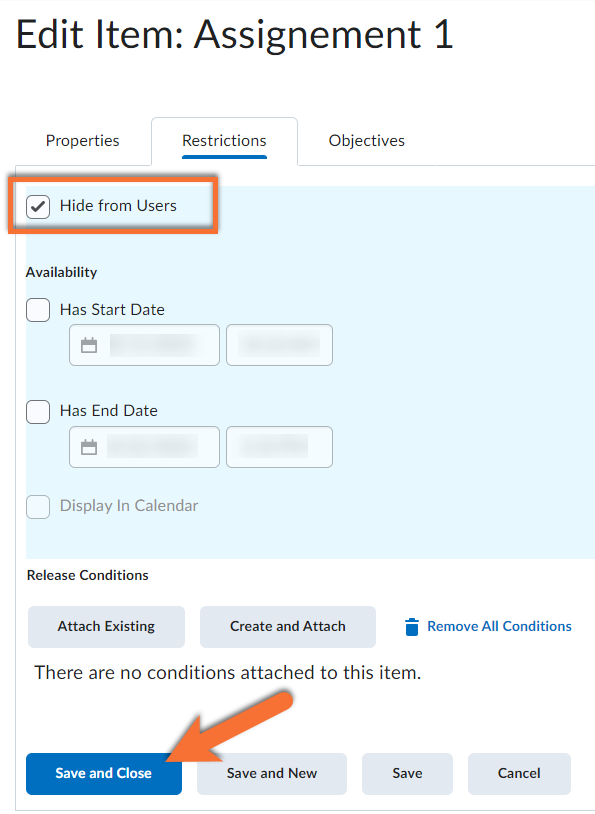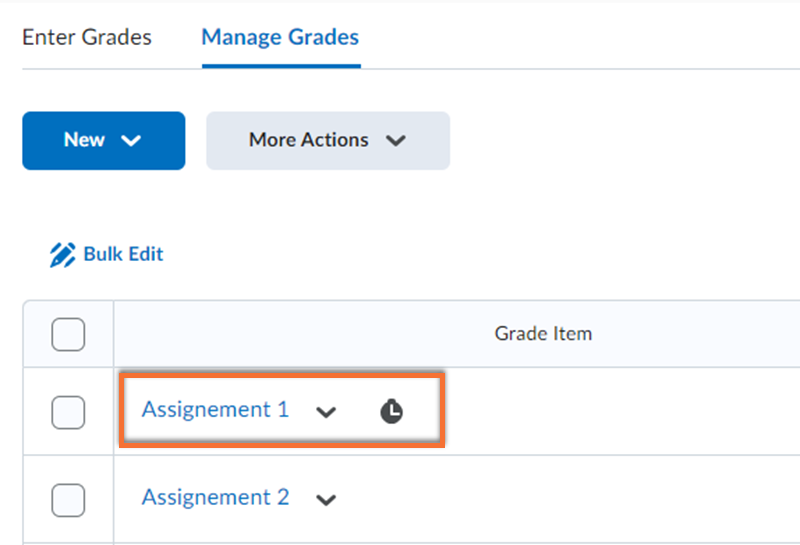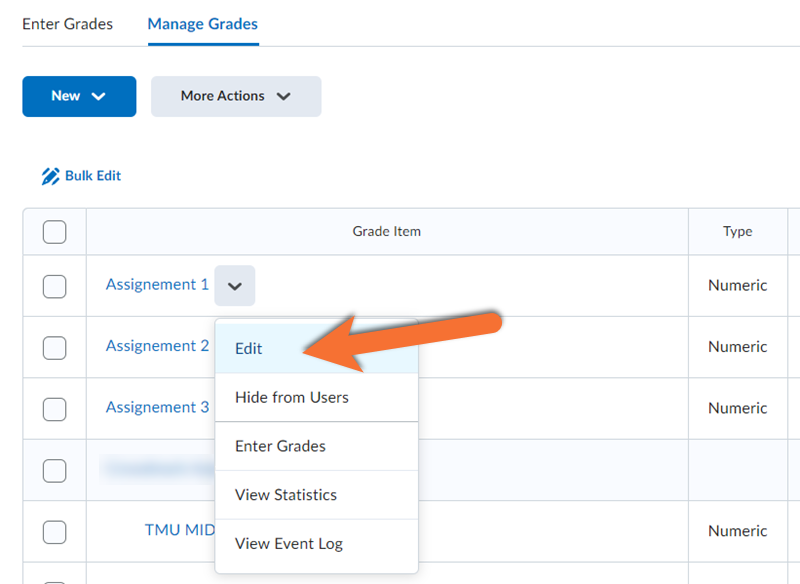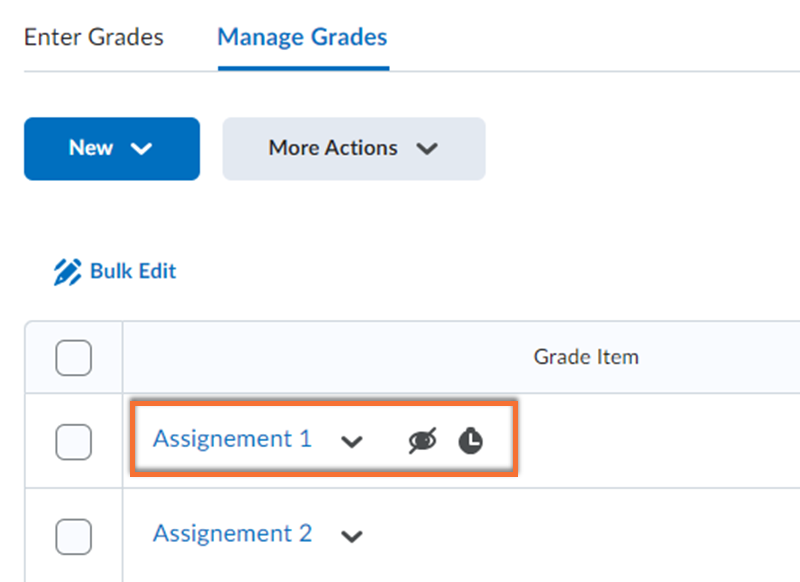 The "Settings" area of the Grades tool provides ways to control a number of elements, including final grades are calculated and the default settings for displaying grades to students and to the instructor.
Grade "settings" can be found in the top-right of the Grades tool.