You are now in the main content area
Dr.
Farhad
Ein-Mozaffari
Professor
Graduate Program Director, MEng in Engineering Innovation & Entrepreneurship
BSc, MASc, PhD, PEng
Areas of Academic Interest
Flow visualization (tomography and ultrasonic velocimetry)
Computational Fluid Dynamics (CFD)
Discrete Element Method (DEM)
Dynamic modeling and identification
Education
| Year | University | Degree |
| --- | --- | --- |
| 2002 | University of British Columbia | PhD |
| 1988 | Tehran Polytechnique | MASc |
| 1986 | Tehran Polytechnique | BSc |
Selected Courses
| Course Code | Course Title |
| --- | --- |
| CHE 44/B | Plant Design |
| CE8304 | Rheology |
| CE8303 | Advanced Fluid Dynamics |
Spotlight
Farhad Ein-Mozaffari is compelled by a desire to give back to society. "If I can help advance material production, everyone will have access to lower-cost pharmaceuticals." It's a life-changing goal, one he is working towards through his research in the highly specialized field of fluid mixing.
The research is progressing well. NSERC has granted him funding and several of Canada's largest pharmaceutical companies have partnered with his lab. Ein-Mozaffari credits these successes to the hard work and discipline of his research group, which includes post-doc, master's, and PhD students.

Ein-Mozaffari selects his team members carefully, saying that you need well-rounded students to establish a thriving research program—those with deep knowledge, exceptional communication skills and the drive to make a difference. "That's why I'm so happy to be at Ryerson," he adds. "Those are exactly the kinds of engineers we train."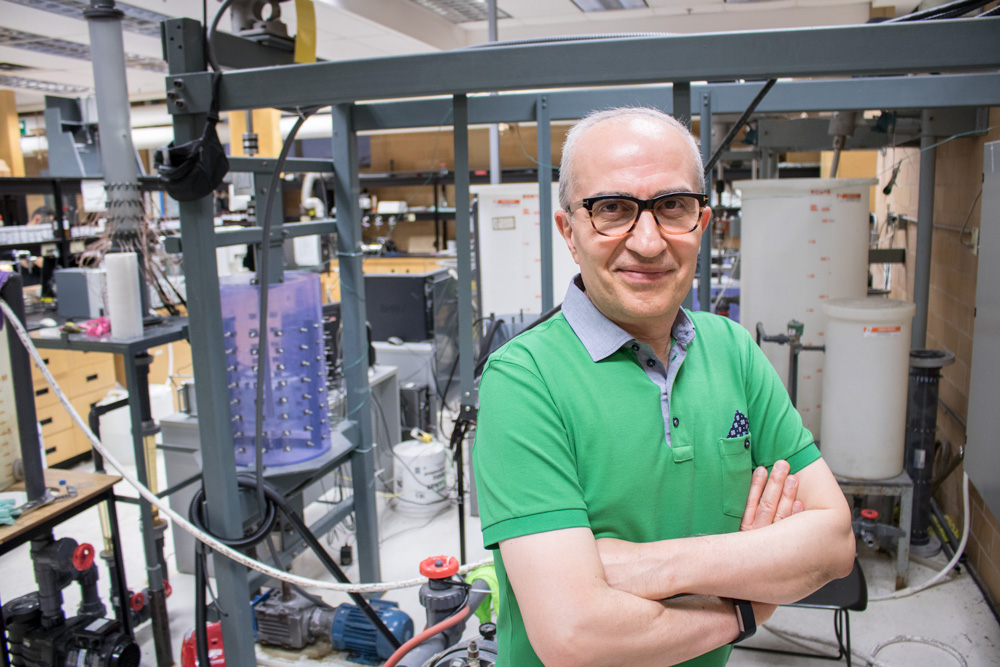 "The best coaches know how to motivate."