You are now in the main content area
Part 1: Defining Course Learning Types
This module is available for anyone interested in completing the ABC Online Course Design process on their own. We have also made it available for anyone who has attended our sessions and would like to review the process or share it with colleagues.
The purpose of Part 1: Define Course Learning Types is to:
Introduce you to the Learning Types used in storyboarding,
Map and reflect on the learning types you currently use in your course
Prepare you for the storyboarding activity in Trello, including learning about some features and getting your own account and empty board set up.
After Part 1, continue with "Part 2: Independent Storyboarding."
Defining Course Learning Types
Review the Learning types and some example activities below.
Map Your Course Learning Types
Map your current course learning types using the learning types mapping tool (external link, opens in new window) , and save a copy of it for Part 2 of the workshop.
Reflect
Look at the map of your current course learning types and reflect on the following questions.
Does this represent what I intended when I designed my course?
Are there any learning types that are over- or under-represented?
Are there any gaps I want to address?
Introduction to Storyboarding
In this section, you will
Watch an introduction to the storyboarding process, and
Watch an introduction to storyboarding in Trello
Sign up for Trello and make your own copy of our template storyboard
Getting Started with Trello
We are using a tool called Trello for the storyboarding process. The tool is fairly intuitive, but creating a log-in and learning the basic functions of the tool ahead of time will make the storyboarding process go smoothly.
By the end of this section, you will be able to:
Make an account and log in,
Create a blank storyboard from our template,
Add a new learning activity card,
Move a learning activity card,
Specify an instructional activity, and
Add an assessment.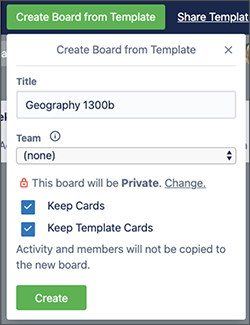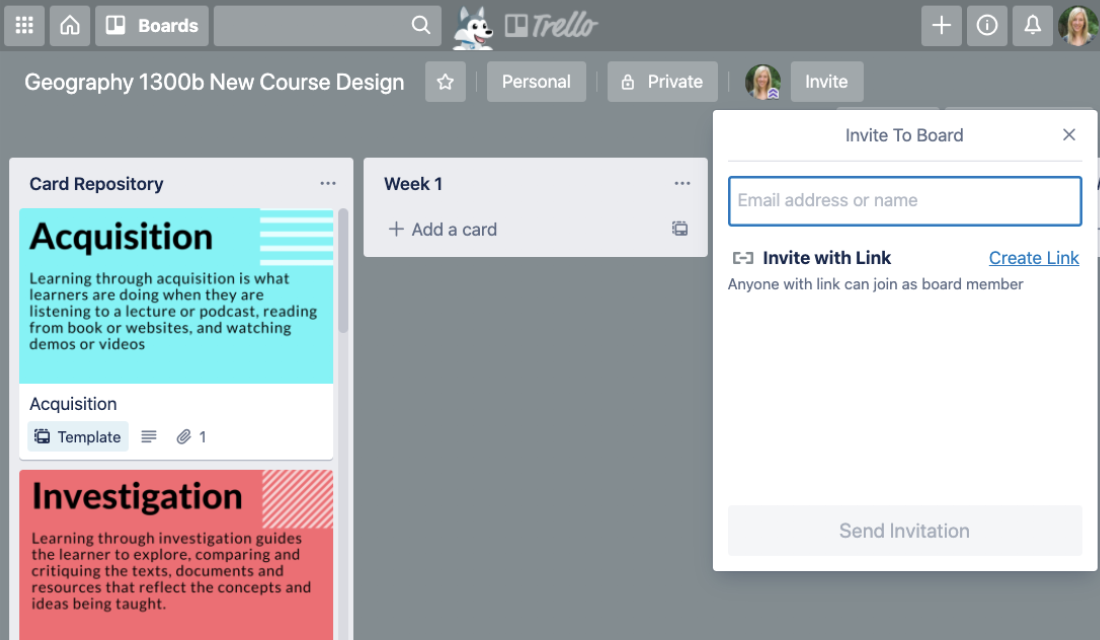 Storyboarding in Trello
Congratulations, you've completed part 1 of ABC Online Course Design! You have in hand your learning outcomes, your syllabus, and a map of your current course learning types.
If you're planning to continue with storyboarding on your own, continue to Part 2: Storyboarding Your Course.