Preliminary Insights from the Student Experience Research Team regarding Online Learning During COVID-19
August 25, 2020
In March 2020, Ryerson shifted rapidly to an essential services model in response to the COVID-19 pandemic and public health guidelines to reduce the spread of the novel coronavirus. Students enrolled in classes at that time experienced a drastic shift in their course delivery and experience of support services. This summer, as we prepared for a Fall 2020 semester delivered almost entirely online, we were interested in learning from students what their experiences were in March and what they anticipate needing to be successful in the upcoming semester. We were also interested in creating a space for students to practice using online communication tools they may be asked to use in their classes. Finally, we hoped to share our results with faculty and staff at Ryerson to encourage them to understand students' needs.
In July 2020, two research assistants from the Student Experience Research Team in Student Affairs (learn more about SERT here) conducted focus groups with 23 participants regarding their experiences with, anxieties about, and hopes for online learning during COVID-19. Both incoming and current student participants across two different and unique focus group methods told us their stories. Below, you'll find insights we gained from these students and our summary of what we learned as research assistants in this project.
We hosted a total of 4 focus groups with a total of 23 participants between July 29 and 30, 2020. Our focus groups included groups with new, incoming students and groups with current students. We also posted questions to students on Instagram via @rustudentlife and garnered 72 responses using that method.
We used two methods to learn with our participants: Interactive Digital Collage-Making using Zoom and Google Slides and a Facilitated Google Chat Group.
Themes: What students told us they need and are concerned about when it comes to learning online during COVID-19
Accessibility
"I would want to tell them that they need [to] find a multiple channels for communication. People with disabilities may struggle on one forum but excel in other ways. There were a few people in my program that really struggled online but were amazing in class. Just finding a way to foster success in those that are differently abled."
Software and Technology
"I had some issues with wifi. Actually, I had a problem in an exam. My internet froze and I got really scared that I won't be able to write the exam."
Collaborative learning
"I would hope that the solution or that the resources that are built from can sort of look or move in a direction where they are intentional about meeting the needs of different groups, the more vulnerable groups that won't have the same access to learning in the same way other people do."
Transparent communication
"my ideal learning would be having more effective communication, having things more uniform. So every professor has a different way of doing things, but some instructors will post announcements on announcements, some will post it somewhere else."
Connection with Peers
"I do want to get to know more classmates, but again I feel like it's harder when they're not actually physically in front of you. Like you can't really start a conversation with a class you don't know since it's all on Zoom..."
Motivation or Learning Habits
"I'd want both [asynchronous and synchronous learning options]!! A live lecture is interactive and forces you to pay attention. Having it recorded and posted later is beneficial because you can go over anything you missed later or use it as a study tool."
Diverse options for engagement and interaction
"I am very busy and have very limited time. And sometimes it's nice just to be able to access the web and do some online learning when I'm at work, or when I'm on my lunch. I can just read up a few things on my phone. So it's very versatile in that matter."
Themes expanded: Focus group facilitators share what they learned
by MJ Wright, 5th year Arts and Contemporary Studies student and SERT Research Assistant
The method used in my focus groups was Google Hangouts. Ryerson students were given a link to a Google Hangout chat-room and in this chat-room, they and other students discussed their feelings about entering into a semester of online learning during COVID-19, and we considered different ways that professors may be delivering course content. This entire focus group took place through texting. I conducted 4 focus groups in this style: 3 with current students and 1 with new, incoming students. Each of the focus groups lasted about an hour, with group sizes ranging from 2 to 5 participants, on July 29th and 30th, 2020.
In the chatroom style focus groups, we intended to create a space of conversation where students could reflect on their feelings as they move into online learning during COVID-19 and consider the methods that professors may be using to conduct classes. In this regard, the focus groups were a rousing success, with many core themes consistently communicated by students across all 4 focus groups.
The core theme that emerged in all focus groups was a pervasive concern about accessibility. Many students expressed having inconsistent internet connection and using technology that they can't rely on, and some students have observed their professors having the same problems which worries them even more. Even during the focus groups themselves we experienced some technical and access difficulties leading to students being unable to attend at the last minute. Additionally, there was some confusion about the programs or software they will need to use throughout the semester, including D2L and discussion boards. One student told a story about their internet freezing during an exam last semester. They experienced immense stress when they had to reload the page possibly being kicked out of the exam application and failing the class. There was also a desire to have training sessions for D2L and Zoom etiquette, and for an intentional space created in classes to introduce them to the material and methods of presentation. Students were also worried about being able to have consistent communication with their professors, hoping for a regular space throughout semesters for synchronous chat with their teacher to ask questions. Many students expressed already having experiences with professors being inaccessible during the switch to online when the quarantine started last semester, which adds to their anxiety.
The second concern raised was a worry about not being able to make connections with their peers. Making friends in classes is very important for the majority of the students I spoke to. This is especially true for classes where there is a focus on group work; students are concerned that there will be difficulties with collaborating and networking efficiently. A positive result, however, is that some students have become more involved in student groups because of this situation. In general though, there was still a general attitude that the institution would provide very few opportunities for connection and that they would have to take care of themselves in this regard, with one student saying "We gotta have each other's backs, especially for incoming students dealing with a whole new world of online learning." This concern was directly addressed in one of the focus groups, with the students very quickly developing rapport amongst themselves, turning the planned structure of the focus group into a more fluid conversation. Despite the lack of any visual cues or speech communication, the students in this particular group very quickly became connected and were inviting all the members to each other's student groups. By the end of the group the students had all shared their Instagram handles, and it's possible that they have continued to develop this initial friendly connection after the focus group ended.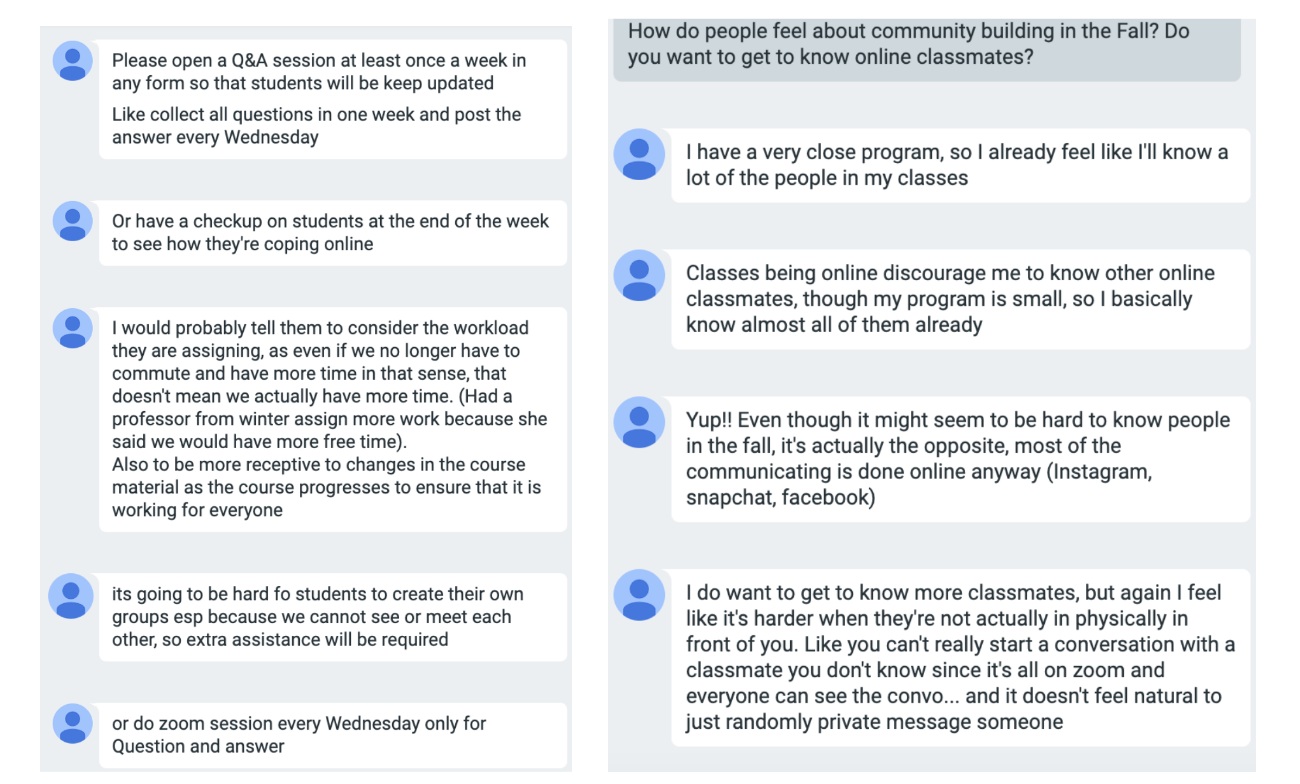 In terms of specific teaching methods, both synchronous Zoom lectures and asynchronous pre-recorded lectures were both desired, with students hoping for chances to connect with professors and classmates, but also a need to be able to review content at their own time and pace. For current students, a blend of synchronous and asynchronous material was generally desired. Discussion boards were generally seen as being only helpful for maintaining connection with the class, and quizzes were preferred otherwise. Students had little interest in turning on their cameras during lecture, often due to an inability to create a presentable environment, preferring to use chat functions. A core theme is the acknowledgement that different students will have different needs, and accordingly a desire for a variety of options to receive material in order to benefit all students. Students are not just self-interested, often articulating unease not only about their own situation but also about the students who will have more difficulties than them in this coming semester, with one student empathizing with fellow students, wanting to tell their profs, "that they need to find multiple channels for communication. People with disabilities may struggle on one forum but excel in other ways."
Incoming new students' attitudes were often different to current students, and this tells us that it will be important to implement different teaching approaches between the two groups. The incoming students I spoke to had much more interest in synchronous learning methods, such as Zoom lectures, and were adamant that they would want to turn their cameras on and interact with the class, wanting to get to know the professor and their classmates. This is unsurprising as students who are just entering Ryerson are seeking chances to belong in and connect to the new community, while those who have been attending for years are trying to retain and revive the community connections they already had. We must be intentional about providing opportunities to connect for these new students and be wary about trying to apply the same teaching strategies for all students.
by Emkay Adjei-Manu, 5th year Social Work student and SERT Research Assistant
The method that was utilized for the Interactive Digital Collage focus group was Google Slides and Zoom. We utilized this method as a digital space in which students could express anticipatory feelings towards online learning during COVID-19. I had a total of 9 participants: 4 incoming students and 5 current students across 2 different focus groups. In the hour and a half, participants were asked to build a digital collage in response to the questions provided by myself as the facilitator. Each question was designed with the intention to prompt the participant to think of, search for, and paste images from Google Images as a visual response to what I asked them. Participants were given roughly 30 minutes to build their digital collage, and then they each spent an additional 10 minutes at the end sharing the meaning of their collage which led to dynamic discussions about the student experience. Participants had the option of engaging with their camera on or off, and most participants primarily engaged via microphone. The focus groups were conducted July 29th and July 30th, 2020.
This online space was organized to facilitate an online environment where students, both current and incoming, could share their thoughts, feelings and concerns about the upcoming semester during the COVID-19 pandemic. As you could imagine, our participants had many thoughts, feelings, and concerns that they wanted to share, and they did exactly that by building a digital collage. The interactive element of this focus group created an open space for folks to communicate their thoughts through an array of options. Due to being facilitated on Zoom, participants could either vocalize, type, or even engage through webcam. This allowed for a level of interactivity between and among participants as well as myself as facilitator.
Participants openly expressed their current and anticipatory emotions regarding learning online during COVID-19. Through this, various key themes did emerge between both current and incoming students. In our first question, "Do you have any experience with learning online? What two words would you use to describe that experience?" a few themes that emerged in the responses were: desire for user-friendly interface, issues with procrastination, and the interaction/participation. Participants expressed that they become disengaged with content if the platform is not "modernized" and interactive. Additionally, some of our participants expressed their concerns of transitioning into the fall semester with habits and patterns that were rather unproductive for strong academic performance and engagement. Although self-directed learning was an element to online learning that a few participants seemed to find useful, many of them also expressed how attending campus usually minimized their procrastination behaviours. Amongst current and incoming students, participants expressed the desire for increased connectivity between classmates and instructors. One participant mentioned that they'd prefer live discussions as opposed to only having a discussion board as a way to engage with instructors and classmates.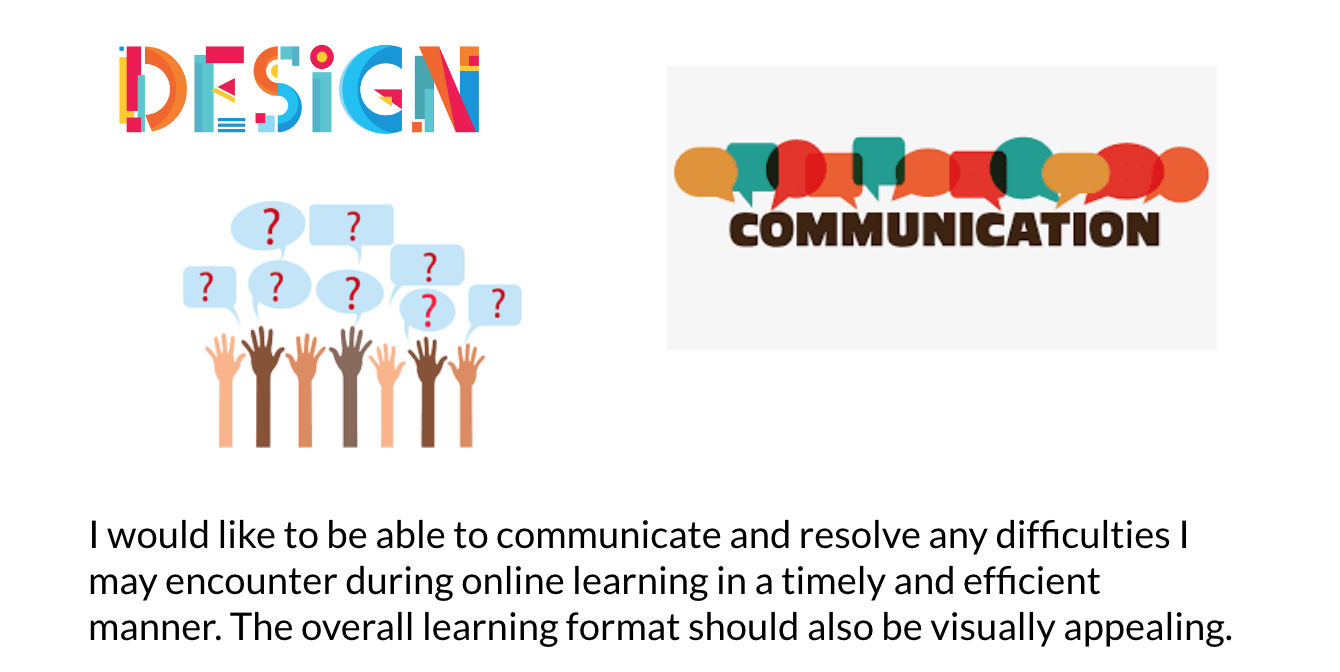 As a student research assistant, my major learning point through both questions and in both groups was how evident it was that students wanted and needed the space to share, which is the core piece to learning that COVID-19 has impacted. Although students are still able to share in online spaces, they still have anxieties about adjusting to online learning as their primary mode of learning. A few themes that came up briefly that I believe are worth exploring in future focus groups were how we think of students with disabilities, mature students, and international students in the age of COVID-19. There are groups of students on campus who are socio-economically vulnerable who depend on the services provided by the institution that they will no longer have access to. I am curious to further investigate the ways in which vulnerable students are able to access educational resources in a way that holistically supports their student and personal life, as we know that student engagement is dependent on whether other areas of a student's life and their needs are being sufficiently met, fulfilled and supported.
When students were asked to respond to our second question; "Within the context of COVID-19, what is your ideal online learning experience? How can Ryerson staff/faculty support that experience for you?" several themes emerged between both incoming students and current student groups. Among them were: transparent communication, collaborative, and increased live interaction. Participants expressed the need for communication between students and instructors to be as clear and transparent as possible. Due to the lack of in-person interaction, students fear the impact that miscommunication between instructors could have on their engagement, grades, and overall enjoyment of the course content. In addition to stronger communication, students also expressed the need for a more collaborative experience with their instructors. Participants also expressed a desire for a more collaborative learning environment where students were given the opportunity to contribute and receive ongoing feedback throughout the duration of the semester. Among both groups, participants were enthused at the idea or potential of being able to share suggestions as to how to make online learning a mutually enjoyable experience - in other words, they are interested in co-creating the experience with their instructors and peers. Lastly, the majority of participants made mention of the need for more interactivity between class and instructors. Some participants spoke to the importance of community in a shared learning environment so that ideas could be shared around course content. Both synchronous and asynchronous learning were received equally amongst participants, due to the fact that it would remain accessible for students who were completing their online courses from different time zones.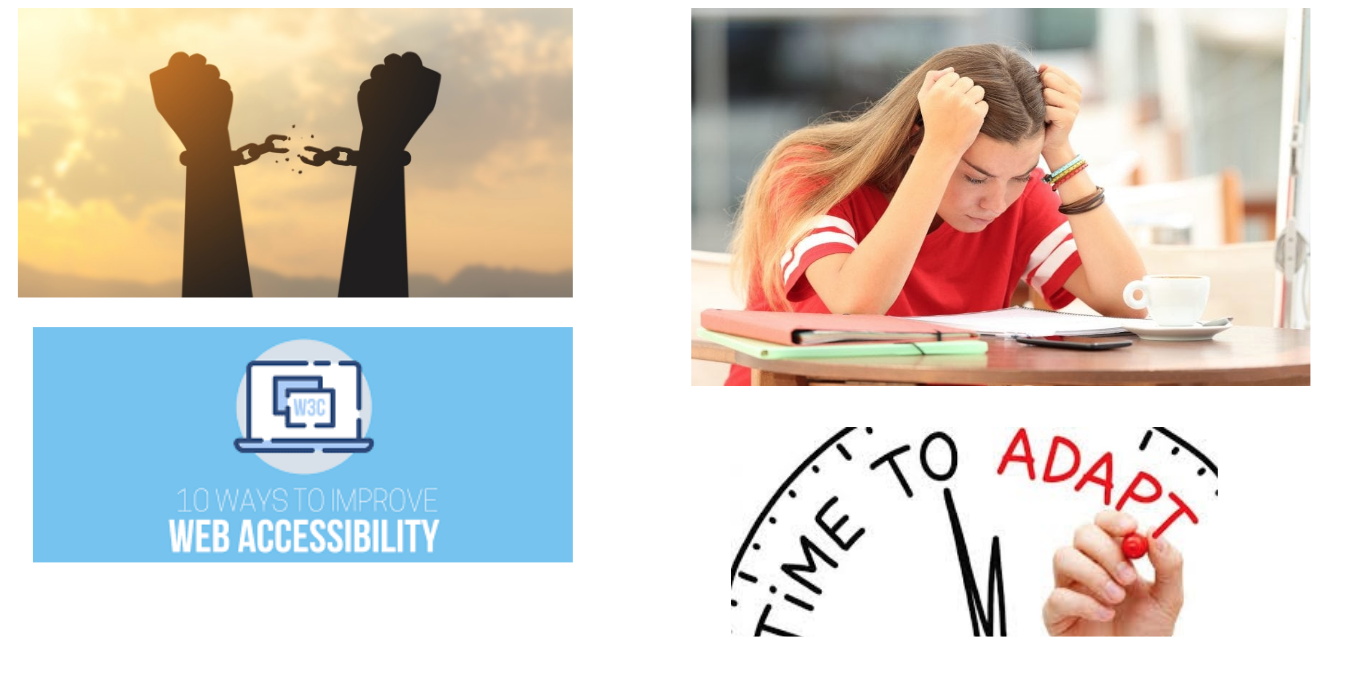 There is much more to learn from students about online learning, teaching, and support during COVID-19
When we sent out a call for participants to join us in our focus groups, we were struck by the number of responses we received and even more so, we were encouraged to hear from so many students who were not only interested in the opportunity but who told us they wanted to "help", "connect", "share resources" and "give back" to the Ryerson community and their peers. What we learned, in addition to the results shared here, is that many students are ready to collaborate, ready to share, ready to participate - if only we as educators provide the spaces, the tools, the access for them to do so. SERT entered into this pilot project hoping to create a space for students during a challenging time, and it reaffirmed for us the value of providing such spaces, and the power that student-oriented and indeed student-run research projects can have for providing those spaces. We know we only scratched the surface with our findings shared here and there is much more to be learned from all Ryerson students who are experiencing COVID-19 and its implications on their education in their own individual and intersecting ways.