You are now in the main content area
Master of Interior Design

LEFT: IDS 2023 booth designed by Interior Design students | CENTRE: Students working in the Design Studio | RIGHT: "Akin Studios" by Interior Design student Meimei Yang

Master of Interior Design
The Master of Interior Design program is a rigorous, one-year post-professional program designed to prepare future leaders and changemakers to take on growing industry demands. As a student in the program, you'll gain a deep understanding of how interior design impacts society and delve into cutting-edge concepts such as design thinking models, emerging technology, and new approaches to sustainability. Whether your goal is to pursue academia or break new ground as a designer, this program will give you the tools and expertise you need to succeed.

Degree Earned
Master of Interior Design
Program Format
Full time / 1 year

LEFT: "Play To Power (A Generation)" by Interior Design students Meimei Yang, Daniella Muraca, Nautica Holdip & Buthaina Ahmed | RIGHT: Student working in the Design + Technology Lab
Why Master of Interior Design?
Research + Creativity
Prepare for the design industry and build strong practice and theoretical foundations with curriculum that fosters both creative work and advanced research.
Facilities & Technology
Access a world-leading digital fabrication facility as well as traditional woodworking shops, ceramics facilities and a materials library specifically curated for interior design.
International Reputation
Earn an internationally recognized degree from the only interior design graduate program in Ontario. Our reputation within the design community means opportunities to collaborate with industry partners and expand your professional network.
Paid Opportunities
Apply for scholarships, funding and paid opportunities like research assistant and graduate teaching assistant positions.
Moving the Industry Forward
Be a part of a progressive educational hub that's responding to the economic, social, cultural, environmental and technological forces demanding change in interior design and allied fields.
A Growing Field
According to the most recent Government of Canada's job outlook, employment growth for interior designers will increase over the next five years.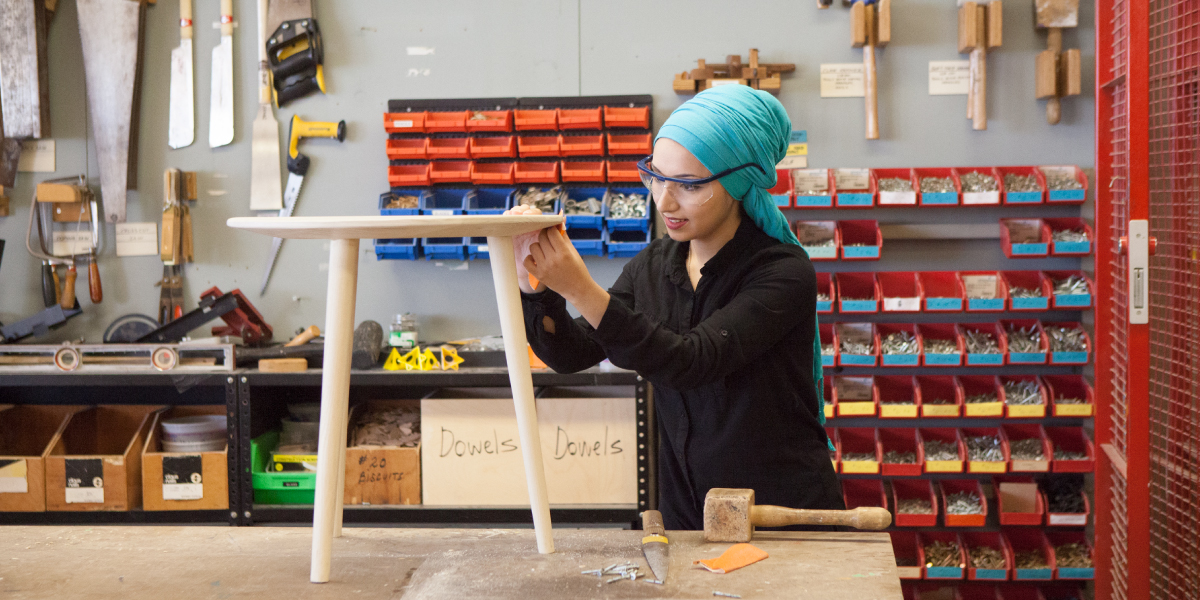 The Master of Interior Design curriculum strikes a balance between creative practice and design inquiry. Working in a studio environment, you'll explore emerging trends and develop innovative design solutions to real-world problems. Through research and community engagement, you will learn how the built environment contributes to strong communities.
Design Seminar
Graduate Elective
Milestone: Creative Project Proposal
History of Interior Design
Graduate Elective
Milestone: Creative Project Phase I
Milestone: Creative Project Completion
Academic Requirements
Completion of a four-year undergraduate (or equivalent) degree in interior design from an accredited institution

Minimum GPA or equivalent of 3.00/4.33 (B) in the last two years of study
Transcripts
English language proficiency requirement
Non-Academic Requirements
Statement of interest

A statement of 500-1000 words that addressed the following:
Applicant's reason for pursuing a graduate degree in Interior Design
Areas of emphasis the applicant wishes to pursue
How the applicant's previous studies and experiences have prepared them for this program
Career objectives upon completion of the degree program

Resumé/CV
Include professional work experience, creative practices, and related activities.

Two letters of recommendation
Letters of recommendation must come directly from the referee. At least one recommendation letter must be from a professor familiar with the applicant's work. Applicant submitted copies will not be accepted.

Portfolio
A portfolio consisting of 10-15 pages of design or design-related work. Applicants with prior professional work experience can include office projects in the portfolio but will be asked to identify the role and scope of work completed on any team project, as well as any team projects from previous academic work. Please complete the Statement of Authorship form (opens in new window) .


Proof of Accreditation

A letter from the degree granting institution confirming the applicant's program was CIDA accredited. Where an applicant did not attend a CIDA accredited program but passed the NCIDQ exam, documentation can be submitted confirming this from NCIDQ or from the certifying organization.
*Please note that the TMU interior design program leading to the Bachelor of Interior Design is accredited by the Council for Interior Design Accreditation (CIDA). As a TMU Interior Design graduate, you will only need to submit a letter stating you will graduate (or graduated) from the TMU Interior Design undergraduate program.
Frequently Asked Questions

You belong at
The Creative School
As an Interior Design student, you'll be part of The Creative School, a dynamic faculty offering 26 degree programs in media, design and creative industries. Through global experiences and transdisciplinary opportunities, our students emerge as some of the most in demand and employable graduates anywhere.