You are now in the main content area
Research & Experiential Learning
Experiential learning is a major theme at Toronto Metropolitan University. As a Faculty of Science student, we learn by doing. Experience authentic science – not just through textbooks, but as it's actually practised in the real world. If you love to experiment in the lab, team up for competitions, or create new ventures, check out how to enrich your undergraduate career.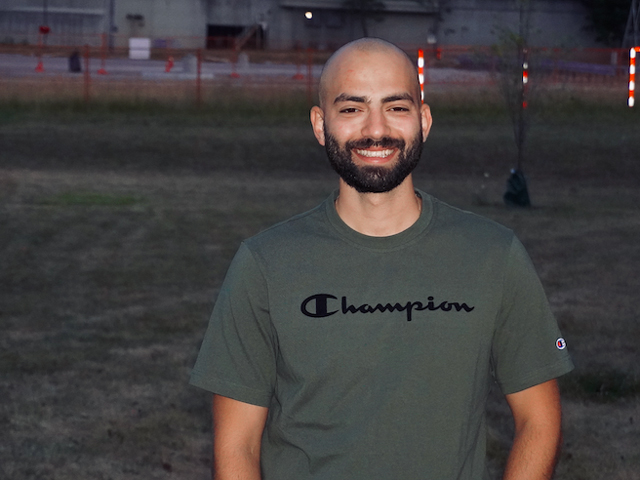 Just one week before a Toronto Metropolitan innovation competition, computer science student Vahid Safar pitched a solar-powered camera system that uses computer vision. The idea won him a $2000 prize. He's now connecting with industry experts to develop prototypes for red-light traffic cameras, remote monitoring of farm crops and other industrial applications.
"Throughout my years at [TMU], I had countless entrepreneurship opportunities, including seminars, guest speakers, competitions, courses, and incubators. I got involved with the Science Discovery Zone because of my passion for science, technology, and entrepreneurship. [TMU]'s innovation culture definitely helped me in the process."
Check out Vahid's story.
Co-op Work Placements
Each Faculty of Science program offers an optional co-op stream. Work placements are embedded right into your program. It's a great way to try out different roles and companies, and find a career path that interests you most.
Global Exchange
Study a course or conduct scientific research in a foreign country for a term or a full year. The Global Science Citizen program has exchange partnerships with universities in Europe, Asia and Australia. With internal funding available, there's a placement to meet every budget.
Research Practicum
SCI 999 is an optional, one-term, non-credit course. You'll gain early exposure to real-world research as part of a professor's lab team. Talk with professors about their research and joining their lab. If you decide to work together, you must work with your supervisor to fill out and submit (google doc) Course Outline (external link) and the (PDF file) Application forms, along with departmental consent, to the course coordinator. You'll need to submit the forms two days prior to the open enrollment deadline for courses in each term. Check Significant Dates in the undergraduate calendar.
Summer Research Assistantship
These full-time, paid opportunities let you assist a faculty member with scientific research during summer. Placements are competitive and funded by the university or an external granting agency. Find out more about undergraduate research opportunities.
Volunteer Research Assistantship
Some faculty researchers offer volunteer assistantships in their labs. Learn how research works and collaborate closely with professors and graduate students. Visit your department's website or chat with faculty about their work, and express your interest in volunteer opportunities.
Conferences & Special Events
Attend a professional conference, compete in a hackathon, or even participate in an international research internship. The Faculty has funded many students to attend discipline-related events. Check out just some of the science conferences and competitions.
Community Science Outreach
Bring the joy of learning to the communities through science outreach. SciXchange is Toronto Metropolitan's centre for communicating science to diverse populations, in schools, community centres and public events. Find out the many ways you can volunteer and get involved.
Zone Learning
Zone Learning is offered only at Toronto Metropolitan University. Within various start-up communities, such as the Science Discovery Zone, you can apply your knowledge, collaborate on new business ventures and translate scientific ideas into real-world solutions.