You are now in the main content area
About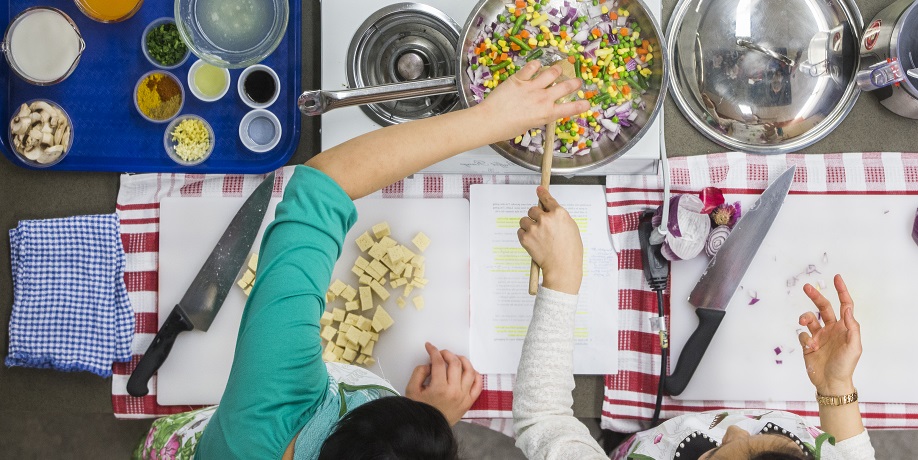 Our mission
To foster a diverse learning environment informed by our engagement in research and scholarship that prepares nutrition and food students for professional careers, reflective practice, and responsible citizenship.
Our guiding principles
Professional courses in nutrition, food, consumer and family studies are supported by foundation courses in natural and social sciences, business management, communications and research methods.
Our commitment to social justice within professional courses expands students' capacity to understand the social and cultural environment in which they function, both as professionals and as citizens.
Our program blends theory with practice in preparing graduates for private and public sector opportunities which will enhance the quality of life for individuals, families and communities.
Research and scholarly activities benefit faculty, staff, students and our professional communities. Students experience the implementation, interpretation, and critical analysis of research methodologies throughout the curriculum to develop an appreciation for practice-based research, evidence-based practice and research as a transferable professional skill. All students participate in a series of applied research courses, and are expected to maintain their professional knowledge base through regular reviews of relevant research.
Each student will have an opportunity to engage in an international or interdisciplinary learning initiative and various minor programs with other Toronto Metropolitan University students who are preparing to practice in other professions.
Graduates are encouraged to share in lifelong learning, uphold the responsibilities of their professions and recognize the essential nature of their link to the community.
A few highlights:
1948: Known back then as the School of Food Technology, we introduced a two-year program in Commercial Cooking and Baking. In the same year, we launched a two-year program in Food Preparation Administration and Baking Technology Administration.
1950: This year, we began to offer a Home Economics program, which then moved to the university's Institution of Home Management in 1951. Originally two years in length, we later expanded the program to three-years in 1955. We introduced Food Administration, Fashion, Pre-school Education and Teachers' College options into the program over the course of the 1950s and 1960s.
1971: Over the next three years, we introduced three- and four-year programs in Foods and Human Nutrition and a four-year program in Education in Schools/Community. Beginning in 1974, these programs came to replace our Home Economics degree.
1980: Our Department of Food, Nutrition, Consumer and Family Studies introduced a Bachelor of Applied Arts in Food, Nutrition, Consumer and Family studies.
1987: This year, we became the School of Nutrition, Consumer and Family.
1995: Reflecting the importance of integrating science into a nutrition education, our Bachelor of Applied Arts in Food, Nutrition, Consumer and Family Studies became a Bachelor of Applied Science.
1997: This year, we became the School of Nutrition. The following year, we renamed our degree to become a Bachelor of Applied Science in Food and Nutrition.

2005: We changed the name of our degree once again to capture a greater focus on health. Our Bachelor of Applied Science became the new Bachelor of Applied Science in Nutrition and Food.
2007: We welcomed the first cohort of students into our new Master of Health Science (MHSc) in Nutrition Communication. This program is the first of its kind in Canada.
2013: We began to offer a Dietitians of Canada Accredited Practicum option to our MHSc students. Practicums provide our students with a solid grounding in nutrition communication and dietetic practice experience.
2015: We launched our collaborative Professional Master's Diploma in Dietetics with St. Michael's Hospital as our first partner organization. Our master's diploma enables students to participate in top quality dietetic practical training developed and implemented by highly skilled dietitian preceptors. Our first cohort of eight students will graduate in 2016.
2016: North York General Hospital became the second organization to partner in delivering our innovative, new Professional Master's Diploma in Dietetics program.
With their understanding of nutrition, food and health, nutrition and food professionals are well equipped to meet the diverse needs of individuals, families and communities.
Nutrition at Toronto Metropolitan University offers a multitude of pathways connected to the social determinants of health. Interdisciplinary learning opportunities in the food sciences, nutrition, communications, and more, position graduates to apply their skills within a range of nutrition-related fields.
Many graduates choose careers in the food and foodservice industry, and go on to pursue rewarding opportunities in sales and marketing, quality assurance, product development, recipe analysis and more.

Others go on to become registered dietitians. Approximately one third of undergraduate students complete the competitive post-degree internship programs required to become a dietitian. Graduate students gain the clinical experience and advanced knowledge needed to begin or advance their careers as dietitians.
Working within a community framework, in business, hospital-based settings, corporate education programs or in private practice, dietitians and nutritionists promote healthy eating habits that enhance Canadians' quality of life.