You are now in the main content area
Wellesley Hospital School of Nursing Alumnae Association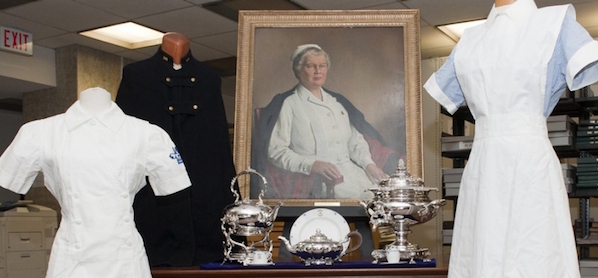 The Alumnae Association was formed in 1915, following the graduation of The Wellesley Hospital's first class of nurses. Since then, the association has offered friendship, support to the profession and assistance to nursing education.
History of The Wellesley Hospital
The Wellesley Hospital in Toronto was founded by Dr. Herbert A Bruce in 1912 in the former Frederick Nicholls residence at Homewood Place. It was situated on the north side of Wellesley Street East, opposite Homewood Ave.
The original 84 beds expanded to over 600 beds by the 1980s.
In 1999, hospital at 160 Wellesley St. E. was closed, due to the provincial government's hospital downsizing and restructuring.
Wellesley is the family name of the Duke of Wellington. Bruce obtained permission from the duke to use the crest from the family's coat of arms for the hospital. The lion rampant and flying pennant on the coat of arms with the motto inscribed by Bruce, 'Jamais sans Esperance' (Never without Hope), was a brave crest for the new hospital. It also made a very special graduation pin for Wellesley trained nurses.
History of the School of Nursing
The Wellesley's first class of trainee nurses began their training in September of 1912.
The School of Nursing trained 2,164 nurses during the years 1912 to 1972.

Three more classes graduated between 1973 and 1975, the transition period from the apprenticeship format of hospital-based nursing schools to full time academic study.
In 1973, the Ontario provincial government transferred responsibility for diploma nursing programs to the Ministry of Colleges and Universities.
The Fall of 1973 saw The Wellesley's nursing school become the Wellesley Campus in Ryerson's School of Nursing, joining the Hospital for Sick Children and Women's College Hospital nursing schools.
Endowment
In 2006, the alumnae association established an endowment fund that supports an award for Daphne Cockwell School of Nursing graduate students.
In 2011, the assocatiation established an archive endowment fund to support its nursing collection. The collection had been gifted to the School of Nursing in 2005.
More resources

Contact Us
Email: thewellesleyschoolnsgtoronto@gmail.com
In your email, please indicate in the subject line of your message the person you wish to contact, i.e. President / Secretary / Membership.