You are now in the main content area
Session Recordings

Thank you for visiting our session recordings. Below you will find full recordings of all of the opening, plenary, keynote, concurrent and closing sessions, as well as the special performances that were part of the National Forum on Anti-Asian Racism: Building Solidarities. All videos are available with English and French closed captions through the YouTube settings.
Also included are graphic recordings of select sessions, including the resulting graphic representations of the sessions and time-lapse videos of the creation of these pieces.


Graphic recordings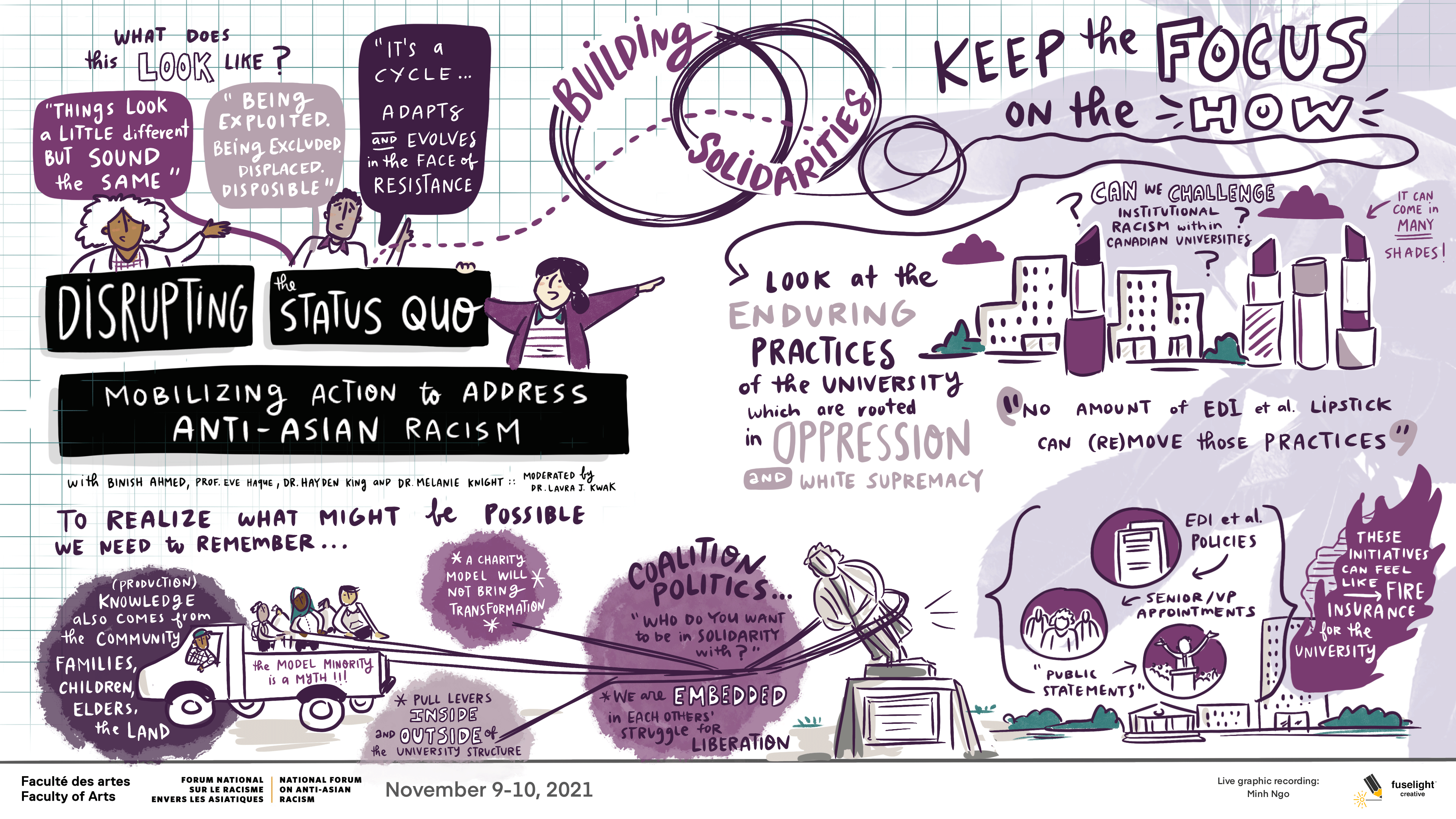 Graphic recording of Plenary Panel #4: Coalition Building. Title Coalition Building: Dismantling systems of oppression to build solidarity with Jasmeet Bahia, Anny Chen, Dr. Delia Douglas, Pamela Palmater and Vinita Srivastava; moderated by Sanjay Ruparelia Overall Image Description A collage of words and hand-drawn illustrations capturing key ideas and thoughts from the panel discussion roughly organized in three main sections. Section 1 Image Description A rainbow of different skin tones above abstract illustrations of people and trees. A purple banner circles above with text inside about the importance of relationships in coalition building. Section 1 Text "This is about our lives…" - This about all of our ethics of struggle for social justice - Moving forward - Listen and learn with courage - It's about relationships - We can't do this work if we don't trust each other - We can't trust each other if we don't know each other Section 2 Image Description A collection of illustrations around the idea of "How do you confront racism"" question. With a megaphone behind them, a group of people raise their arms looking at a university building. Purple arrows move through the university building's cogs and stop at an illustration of an appointed spokesperson and a list of activities. Section 2 Text How do you confront racism? - Name it. Say it. Out loud. "White supremacy & systemic racism exist" - Call it out in the media - Don't worm around the issue with gentler words like "equity", "inclusion" etc. - These policies often exist to displace the tension while maintaining the system and status quo - Simply self-identifying as an ally is problematic- do the work Section 3 Image Description A movement/group of protesters holding signs that say, #stopasianhate, #blacklivesmatter, #landback, #farmersprotest. Section 3 Text We need to own our stories and look at our complicity - We may have different paths but we're on the same journey - It's important to avoid the "Oppression Olympics" trap - While recognizing the value of triaging degree of harm
Graphic recording of Plenary Panel #3: Disrupting the Status Quo. Title Disrupting the Status Quo: Mobilizing action to address anti-Asian racism with Binish Ahmed, Prof. Eve Haque, Dr. Hayden King and Melanie Knight | Moderated by Dr. Laura J. Kwak Overall Image Description A collage of words and hand-drawn illustrations capturing key ideas and thoughts from the panel discussion roughly organized in three main sections. Section 1 Image Description A group of three people and speech bubbles sharing what the status quo looks like to them. Section 1 Text What does this [the status quo] look like? - "Things look a little different but sound the same." - "Being exploited. Being excluded. Displaceable. Disposable." - "It's a cycle–adapts and evolves in the face of resistance." Section 2 Image Description An illustration of university buildings with tubes of lipstick mixed in. One building is on fire. Beside the burning building are three icons that represent policies, public statements and human resources. Section 2 Text Building Solidarities: Can we challenge institutional racism within Canadian universities? - Keep focus on the how - Look at enduring practices of the university which are rooted in oppression and white supremacy - "No amount of EDI et a. lipstick can (re)more those practices. - It comes in many shades. - EDI et al. policies, senior VP appointments and public statements – these initiatives can feel like fire insurance for the university Section 3 Image description A group of people in the back of a truck pulling down a statue of Ryerson. Section 3 Text To realize what might be possible we need to remember… - Production of Knowledge also comes from the communities, families, children, elders and the land - The model minority is a myth - A charity model will not bring transformation - Pull levers on the inside and outside of the university structure - Coalition politics - "Who do you want to be in solidarity with?" - We are embedded in each others' struggle for liberation
Event organizers
This event was organized by the Faculty of Arts at Toronto Metropolitan University (renaming in process), in partnership with UBC, the University of Manitoba and in collaboration with students and faculty from a number of other Canadian universities.