You are now in the main content area
About the Midwifery Education Program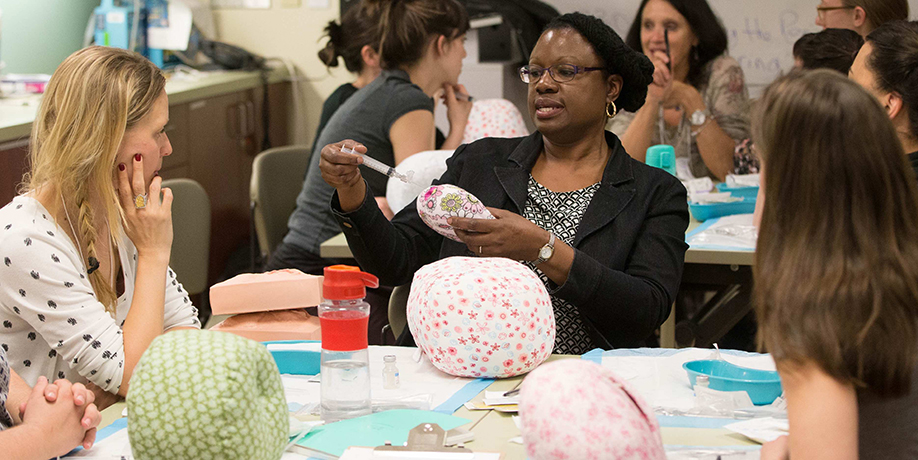 Midwifery students engage in academic studies in the pre-clinical portion of the program including health, social and biological science coursework. Upon successful completion of the pre-clinical program, students commence the clinical portion of the program which is comprised of six terms of midwifery clinical and interprofessional placements. Clinical placements provide opportunities for students to integrate academic knowledge with clinical skills as they develop the capability to take on the role of primary health care provider. Our teaching faculty are engaged in active clinical practice, leading edge research, and professional leadership. Students in the midwifery program are taught by both midwifery professors as well as specialist faculty in the social and biological sciences. Class sizes are normally limited to 10-50 students.
The Toronto Metropolitan University MEP is a collaborative program with McMaster University. Midwifery students from both universities have opportunities for shared learning at events such as the annual Student Conference, organized by the TMU Midwifery Course Union. Both sites welcome midwifery students from diverse backgrounds and we appreciate the wealth of life experience our students bring to our Program. Upon graduation, students are able to practice competently and safely as beginning practitioners in any Ontario maternity care setting. Our graduates:
Exhibit values and attitudes consistent with client-based care; advocate for clients' choices and preferences and work in partnership with them.
Provide safe, competent and ethical midwifery care that includes counselling, teaching and support for pregnant people and their families within varied cultural, ethnic and socioeconomic populations.
Promote childbirth as a normal part of reproductive health with an understanding of its cultural and social meanings.
Promote understanding of and participation in health care by pregnant people and their families.
Collaborate effectively with other health care providers; consult and refer appropriately.
Exhibit critical thinking skills that can be used throughout one's professional career.
Understand and appropriately apply research findings within clinical practice.
Are accountable for their actions and participate in self and peer assessment.
Contribute to the development of the midwifery profession.

Situated in the heart of Toronto, the Bachelor of Health Sciences (Midwifery) can be completed at Toronto Metropolitan University full-time in four years or part-time in 5-6 years. We also have an accellerated post-baccalaureate program for people with a previous degree in a health related field and labour and delivery experience. A limited number of seats are available for students desiring placements in Northern Ontario, designated Francophone or designated Indigenous midwifery practice groups.
If you are considering a career in midwifery, we can help you make it a reality at Toronto Metropolitan University.