Support from legal community improves access for law students
Law firms and legal professionals ease financial burden for inaugural students in new Faculty of Law
September 16, 2020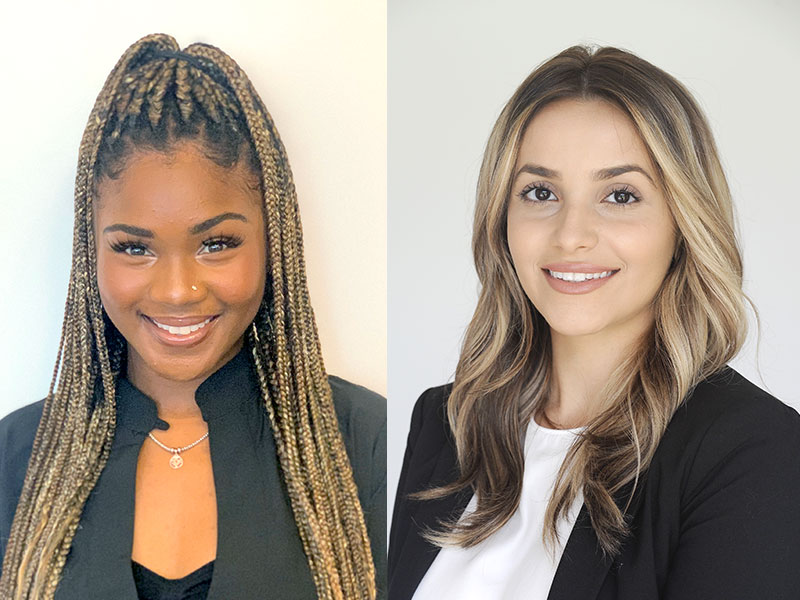 Ryerson law welcomed its first cohort of students earlier this month and, thanks to the generosity of supporters in the legal profession, many will be able to focus on their studies instead of their finances. Incoming law student Shanté Brown received the McCarthy Tétrault LLP Scholarship, and Mryam Sarkis is the recipient of the Omar Ha-Redeye Social Justice Award, created by the Ryerson alumnus and professor.
"The scholarship is life-changing," says Brown, who has a degree in justice studies from the University of Guelph-Humber and volunteered with Jane Harvey and Associates prior to coming to Ryerson. Brown mentions experiencing imposter syndrome despite her acceptance into Ryerson Law: "But the scholarship made me feel like I'm supposed to be here," she says. "It gives me confidence and is extremely motivating."
The McCarthy Tétrault LLP Scholarship is for students who are the first in their family to attend university. The scholarship is renewable, covering the entire three years of the Ryerson Juris Doctor program.
"Ryerson Law's vision of a progressive, inclusive and innovative student education reflects values that are core to who we are at McCarthy Tétrault," says Dave Leonard, partner and CEO at McCarthy Tétrault. "We know that students who are the first in their family to complete post-secondary education often lack access to the professional and social networks that others take for granted," he adds. "We are delighted to have an opportunity to support a talented student like Shanté Brown, and we're looking forward to seeing her academic and professional journey unfold."
"As a first generation student, I learned everything the hard way, but now it feels like my hard work is finally paying off," says Brown, who has known she wanted to be a lawyer since she was young. With one of her parents having spent time inside the detention system, she intends to practice as a criminal justice attorney and pursue reform.
"I know what it is like being on the other side of the fence, knowing the person suffering is a good person," says Brown.
Ryerson's commitment to diversity and inclusion drew Brown to the university. "Donna E. Young being appointed dean really sealed the deal for me," says Brown. "Everything I hold close to my heart is everything the law school is built on."
Mryam Sarkis also knew at a young age that she wanted to be a lawyer. As part of a Christian religious minority in Iraq, Sarkis' family was forced to flee persecution during the first Gulf War. The immigration lawyer that helped her family settle in Canada inspired Sarkis to pursue a career in law.
She started by engaging in the sponsorship process and has completed more than a dozen sponsorship applications for vulnerable, at-risk individuals. She has also been an active volunteer in support of displaced people arriving in Toonto.
While studying Human Rights and Equity at York University, Sarkis worked a variety of jobs, including as a research assistant at Cassels Brock and Blackwell LLP. She even started her own event marketing business to save for law school and support herself and her family.
"I wanted to have a lot of experience before going to law school," says Sarkis. "My family also sold everything to come to Canada so I had to make extra income to be able to afford it."
Students like Sarkis are the reason Ha-Redeye created an award. The Ryerson professor and executive director of the Durham Community Legal Clinic notes that the "cost of tuition can be prohibitive. Some people from different backgrounds who would make great lawyers don't pursue a career in law because of it."
Sarkis notes, "this is the award I really wanted: this is me. It champions those who have kept social justice at the heart of everything they've done. Being the recipient provides me with more motivation to help students who have had to go through the same obstacles I have."
Ha-Redeye, who received the Diamond Jubilee Medal in 2012 for contributions towards access to justice and advocacy for marginalized populations, notes that the high cost of legal education often deters lawyers from focusing on "the social justice issues that, in many cases, are the reason they became a lawyer. Instead," he adds, "they have to focus on a high paying role to pay back all the money they spent getting a legal education."
"With the award," says Ha-Redeye, "I'd like to play at least a small part to help facilitate their education and give them the time to engage in the access to justice and social justice issues that are important to them."