Scotiabank helps students jumpstart their careers
October 22, 2018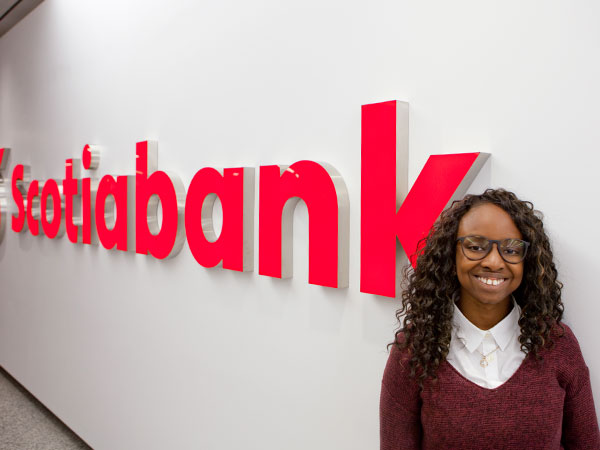 Scotiabank recently renewed their sponsorship of Career Builder, a program offered by the Career and Co-op Centre to students with an identified disability, LGBTQ2S students, and female students in Science, Technology, Engineering and Mathematics (STEM). The program prepares students at Ryerson for employment through information sessions with senior leaders in Scotiabank, the development of basic skills, and job shadowing.
"As a new grad you come out apprehensive about interviews, résumé submissions, and the whole process of getting started in your career," says Brandon Stahl, a recent graduate from the Global Management program in the Ted Rogers School of Management. "I think a lot of students find the process to be stressful, especially when dealing with other mental or physical barriers."
Stahl participated in Career Builder in its pilot year. Shortly after completion of the program, he was able to secure a job at Scotiabank.
"Networking and doing mock interviews made me a lot more comfortable and really helped," says Stahl. "I was able to build relationships and make connections, and learned how to conduct myself in a professional environment. I am in the position I am in now thanks to the program."
Deborah Mepaiyeda, a fourth year co-op student in Computer Science, and former president of the Women in Computer Science student group, found the ability to network with high-level employees at the bank invaluable.
"In tech," says Mepaiyeda, "there's this stereotype of 'coding in a corner.' But at work you realize the way you interact is important for your career. The program really stresses that and strengthens your interpersonal skills."
She was also impressed by how Scotiabank encourages diversity within the institution.
"Sometimes we can be too comfortable and it affects our ability to grow because we won't take risks," says Mepaiyeda. "Scotia places significant value on employees being able to be their true selves. They create an environment where employees have room to grow and are encouraged to try new things."
For Steven Little, senior manager, Diversity and Inclusion at Scotiabank, the benefits of the program are a two-way street. Students get an insider's view of the financial sector and develop the skills and competencies that will help them get and be effective in the job they want. Scotiabank learns about the needs of an emerging workforce and has access to a top talent pool.
"This program helps students see the broad spectrum of opportunities available at an institution like ours, and helps to demystify the process to apply, secure employment, and be successful in this environment," says Little.
"Career Builder represents the powerful impact that results from collaboration between industry and post-secondary partners," says Caroline Konrad, director, Ryerson Career and Co-op Centre. "Our partners create pathways for students to the careers they want, access to talent for hiring managers, and ensure that those entering the labour market are best equipped to contribute to and thrive in it."
Career Builder is one of many partnerships between Scotiabank and Ryerson. Scotiabank's investments in the university stretch across more than two decades and their impact is evident across a broad range of initiatives, including: the Ryerson Image Centre (RIC); the Student Learning Centre (SLC); scholarships for international students; DMZ Women in Tech Competition; annual team sponsorship for the MBA Games and Jeux de Commerce (JDA); and much more.