You are now in the main content area
Welcome to the Advanced Inorganic & Synthetic Materials Lab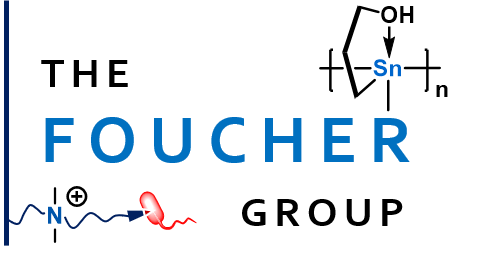 Our research lab focuses on the synthesis of light and moisture structurally stabilized polystannanes and quaternary onium antimicrobials for glass, metals, and plastics.
We are always looking to recruit undergraduate thesis students, graduate students at the MSc or PhD level, post-doctoral fellows, or volunteers unless otherwise noted below. If you are interested in pursuing one of these positions with this lab, please contact Dr. Daniel Foucher.
Please note: At this time we are only accepting MSc or PhD students who are either Canadian citizens or permanent residents. Unfortunately we cannot accept any international graduate students to our group unless they are fully funded and have been previously approved into our graduate program.
Please note: There are currently no post-doctoral positions available in our lab at this time.
Lab Code of Conduct
Our goal is to maintain a respectful and inclusive work environment to conduct research and to provide quality mentorship and learning experiences. To do this, all members of our lab will abide by the following Code of Conduct (adapted from the Evenden Lab, external link)
Respect shared work spaces
Follow all safety procedures
No discrimination or harassment
Acknowledge and learn from mistakes
October 21st, 2021: Dr. Foucher answers questions about antiviral fashion with Nina Kharey from the Canadian company Nonie in their blog post "What is "Antiviral" Material and How Does it Affect COVID-19?"

, external link

February 9th, 2021: Dr. Bougherara discusses her recent research in next-generation joints while also referencing two former papers published in collaboration with Dr. Foucher
May 18th, 2020: Dr. Foucher talks about his 2019 paper on small molecule sulfonamide-containing antimicrobial coatings, which was selected as part of the Editor's Collection of RSC Advances
March 31st, 2020: Dr. Foucher, Dr. Gossage and Dr. McWilliams reflect on working together with other members of the Faculty of Science to donate gloves, masks, lab gowns and goggles to St. Michael's Hospital, Women's College Hospital and Sunnybrook Hospital during the initial Covid-19 shutdown
March 30th, 2020: Dr. Foucher talks about working with Dr. McWilliams, Dr. Gossage, Rob Denning and Miriam de Jong to donate gloves to St. Michael's Hospital, Women's College Hospital and Sunnybrook Hospital during the inital shutdown caused by the Covid-19 pandemic
October 18th, 2019: Members of the Advanced Inorganic and Synthetic Materials Lab were in attendance at the Nobel Prize Inspiration Initiative featuring Nobel Laureate Martin Chalfie and VIP guest John Polanyi
December 31st, 2017: Jeffrey Pau's paper on synthesizing light- and moisture-stable polystannanes is selected as Paper of the Month on the Faculty of Science website