You are now in the main content area
Improvements to the Quizzes tool
Exciting changes to the Quizzes tool were implemented as part of our monthly D2L Brightspace updates on the evening of Thursday, July 27. Some of these changes may impact your current quizzes. Please review the details of these changes below.
See our summary of updates.
Subscribe to Teachnet to stay up-to-date about upcoming virtual workshops in August and learn more about these changes.
D2L Brightspace has updated the create/edit quiz interface, to match the create/edit assignments interface. This ensures that it's easier for those new to Brightspace to use.
This will take a little adjustment for experienced users to adapt to, but you can find all of the same settings in the new interface.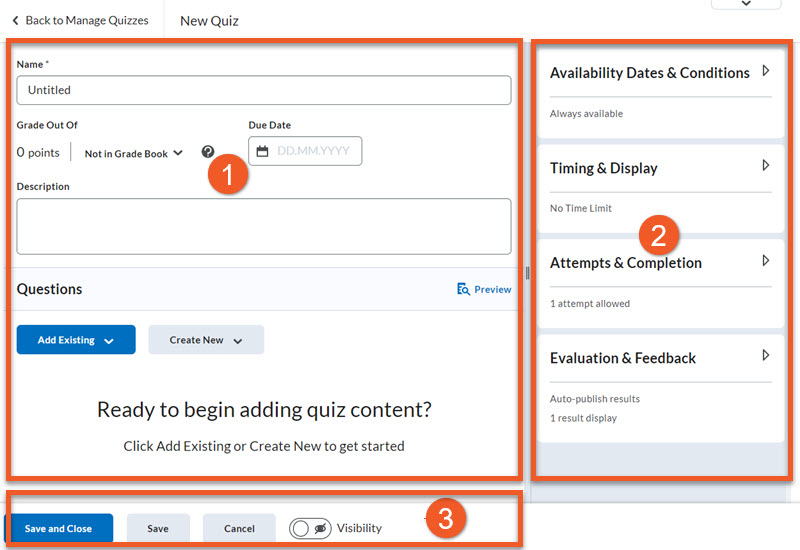 Warning: If you have copied quizzes from previous terms, please review all details in the copied quizzes. Pay close attention to any popup messages that appear while editing, to ensure you don't accidentally display or enable details that you don't intend students to see.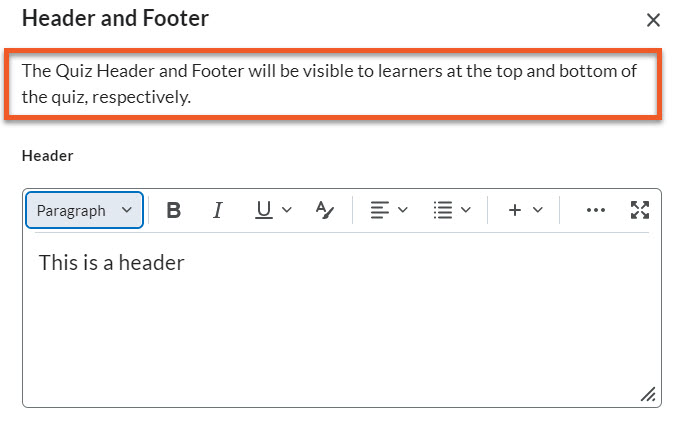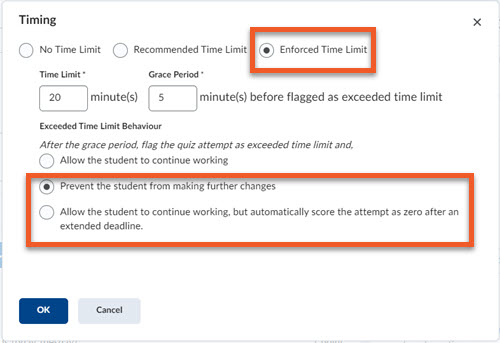 As of July 27, 2023, D2L has permanently removed the Grace Period as an option from its Quiz settings.
Behaviour before the update

Most quizzes previously had a default 5-minute grace period to allow students to have the quiz time to complete their quiz and the grace period to submit their attempt. Instructors had the option to change the grace period to a different time or to remove the grace period by setting it to zero.
Behaviour after the update
This setting no longer exists because it is no longer needed with the addition of the automatic submission feature. Students now only have the enforced time limit to complete their quizzes.
How this may affect your quizzes with a set grace period
If you have set a grace period of 0 minutes, or if you have set the quiz to "Allow the student to continue working" past their time limit, the removal of the grace period will not impact your quiz.
If your quiz starts and ends prior to July 27, there will be no impact.
If your quiz starts and ends after July 27, the grace period will be removed and your students will not receive any extra time beyond the stated time limit.
If your quiz begins prior to July 27 and ends after, you can ensure that all students have the same amount of time to complete it by editing the quiz prior to the start date and setting the grace period to zero (0) minutes.
To learn how to adjust your quiz timing options, please see the Timing & Display instructions on our Quizzes page.
The following Time Limit Exceeded options for Enforced Timed Quizzes have been removed:
Allow students to continue working, but score 0
Prevent students from further quiz entry, and quiz unsubmitted
These settings no longer exist because they are not needed. Instead, the new auto-submit feature allows quizzes to be automatically saved and submitted when the clock runs out.
To learn how to set quiz timing option, please see the Timing & Display instructions on our Quizzes page.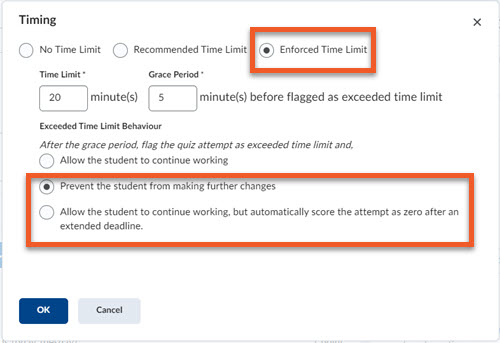 Previously, instructors could only create asynchronous quizzes in which the countdown timer would start once the student would launch the quiz.
Instructors now have the option to set up real-time quizzes that similarly mimic the ''in-person'' quiz experience.
Synchronous quizzes have a real-time countdown timer that requires all students to start simultaneously and complete their quiz within the designated time limit. When the timer runs out, quiz attempts will automatically save and submit.
Students who experience technical difficulties may leave and re-enter the quiz between the quiz's designated start and end time, however, the timer will not stop. Students who join late will also have less time to complete their quiz.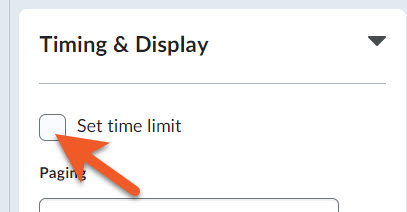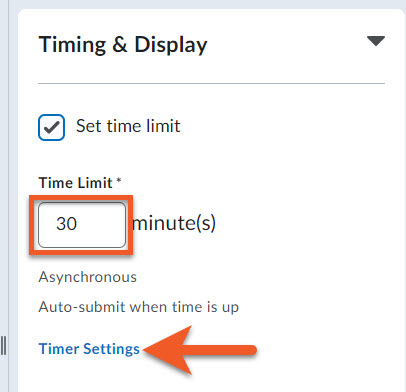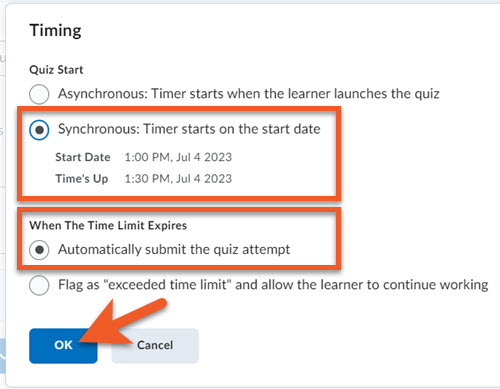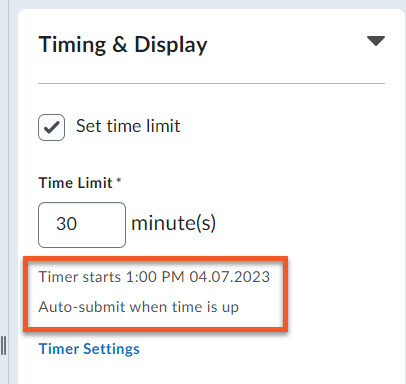 A new countdown timer has been added to the Quiz Start page for synchronous quizzes to reinforce the importance of the quiz start date and to reassure students that the page will update for them to begin their quiz.

Quiz Tool

Details

Auto-submission

Student attempts can be configured to automatically save and submit at the end of the Quiz time limit.

Removal of obsolete quiz timing options

The auto-submission feature has led to the permanent removal of the following quiz timing options:


Grace Period (available in the Quiz Time Settings)
Time Limit Exceeded: allow students to continue working, but score 0
Time Limit Exceeded: Prevent student from further quiz entry, and quiz unsubmitted



Quiz Timer Warnings
Students now receive timer warnings.
Show/Hide clock during quiz
Students can now choose to hide the quiz timer.
Quiz information link availability during the quiz
Students now have access to a Quiz information link during the quiz that will open quiz instructions and details without having to leave the quiz.
Quiz Results display page
New updates to the Quiz Results display page highlight essential information and re-ensure students that their work has been saved and submitted. New features include auto-expanding feedback and the addition of a basic default submission.
Synchronous quizzes
Instructors can now set up real-time quizzes that will begin and stop at the same designated start date and quiz time limit for all students.