You are now in the main content area
Work With Us!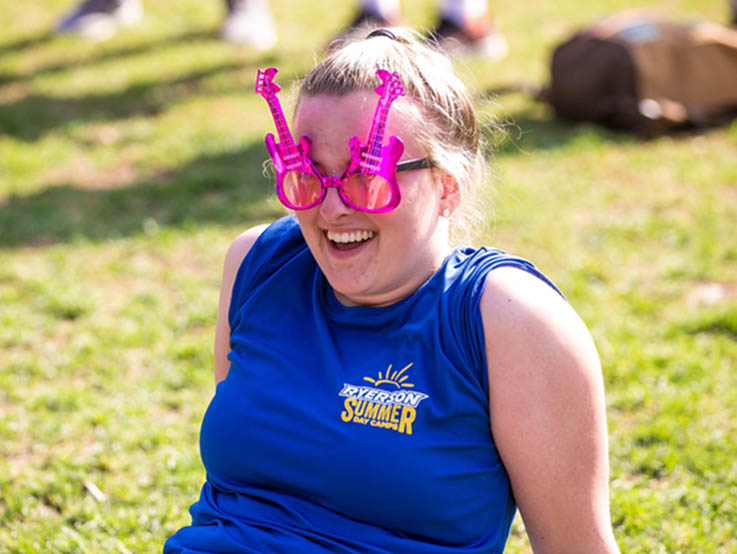 Toronto Met Day Camps staff members have a strong passion and demonstrated interest in working with children, youth, and teens. Each staff member takes initiative to create a community that is centred on the needs of our campers. Staff members are committed to providing each camper with a fun, safe, and memorable summer camp experience. Day Camp staff are selected for their skills as leaders, teachers, mentors, and creative programmers.
Day Camp staff are teachers, coaches, recreation professionals, university graduates/students, varsity athletes, and senior high school students. All staff members hold First Aid and CPR certification, and pool staff are qualified lifeguards. Toronto Met Day Camp staff members must successfully complete a criminal background check prior to the start of their employment.
All Day Camp staff are required to apply to us each year, whether they are returning staff or new applicants. New staff members complete an interview with us, and they must demonstrate a strong ability and desire to work with young people.
Overview
The Toronto Met Day Camps are renowned for their high-quality instruction, and experienced and caring camp staff. Chief among these staff are our Camp Counsellors, who provide supervision and instruction to new group of campers each week while supporting their Co-Counsellors and Instructors. Counsellors receive regular development support from a member of the Camp Leadership Team, including regular feedback throughout the summer. Counsellors report to either the Sport Camps Lead or Discovery Camps Lead, depending on their weekly assignment.
Position Details
Starting wage: $15.75 / hour
Application deadline: May 28, 2023
Position start date: June 23, 2023
Term & hours / week
Spring/Summer
June 23rd - August 18th: 37.5 hours / week
Position type:
Qualifications:
Previous camp staff experience as a counsellor/instructor is an asset

Well-developed interpersonal, and relationship building skills; ability to establish rapport and excellent communication with campers, parents/guardians, and staff
Proven ability to work as a team member in a fast-paced environment
Self-starter and organizer
Successful completion of a criminal background check
Role-Specific Responsibilities
Recognize and respond to the needs of campers within the activity group and within the broader Day Camp community
Plan, lead and evaluate all group-based activities
Provide opportunities within the group experience that allow for success of individual campers and the group
Be aware of any health issues or general concerns expressed by the Assitant Camps Coordinator, Leadership Team, or camper family prior to the start of Camp
Supervise all aspects of the campers' day including Morning Circle, activity rotations, lunch, snack, and pick up at the end of the day
Help with supervision of campers during Before Care, After Care, and lunch times as assigned
Instruct campers in emergency procedures such as fire drills, etc.
Ensure camper safety throughout the day
General Responsibilities
Ensure participant safety throughout each day
Ensure the confidentiality of all camper, family, and staff information in accordance with Toronto Metropolitan University's Privacy Policy
Ensure all Camp activities are proactive in supporting health and safety of campers and staff

Ensure risk management plans are in place
Set a positive example for campers and others including cleanliness, punctuality, and attitude
Follow and enforce Day Camp rules as outlined in the Staff, Volunteer, and Camper Codes of Conduct
Assist in creating and maintaining a culture of inclusivity, belonging, pride and excellence in Athletics & Recreation facilities by providing excellent customer service to campers, families, and guests
All other duties as assigned or required
Overview
The Toronto Met Day Camps are renowned for their high-quality instruction, and experienced and caring camp staff. As a pivotal component of our staff team, Camp Instructors are responsible for the planning and delivery of lessons and programming to campers ranging in age from 6 to 15. Instructors lead programming in their assigned subjects during pre-scheduled instructional periods, and provide supervision to their assigned "home group" of campers during intervening periods. Instructors report to the Sport Camps Lead.
Position Details
Starting wage: $16.00 / hour
Application deadline: May 28, 2023
Position start date: June 23, 2023
Term & hours / week
Spring/Summer
June 23rd - August 18th: 37.5 hours / week
Position type:
Qualifications:
Previous camp staff experience as a counsellor/instructor is an asset

In-depth knowledge in one or more of the following Camp subjects: arts & crafts, badminton, ball hockey, basketball, dance, drama, soccer, swimming, volleyball
Well-developed interpersonal, and relationship building skills; ability to establish rapport and excellent communication with campers, parents/guardians, and staff
Proven ability to work as a team member in a fast-paced environment
Self-starter and organizer
Successful completion of a criminal background check
Role-Specific Responsibilities
Recognize and respond to the needs of campers within the activity group and within the broader Day Camp community
Plan, lead and evaluate daily lessons in assigned subjects
Provide opportunities within the group experience that allow for success of individual campers and the group
Be aware of any health issues or general concerns expressed by the Assitant Camps Coordinator, Leadership Team, or camper family prior to the start of Camp
Supervise all aspects of the campers' day including Morning Circle, activity rotations, lunch, snack, and pick up at the end of the day
Help with supervision of campers during Before Care, After Care, and lunch times as assigned
Instruct campers in emergency procedures such as fire drills, etc.
Ensure camper safety throughout the day
General Responsibilities
Ensure participant safety throughout each day
Ensure the confidentiality of all camper, family, and staff information in accordance with Toronto Metropolitan University's Privacy Policy
Ensure all Camp activities are proactive in supporting health and safety of campers and staff

Ensure risk management plans are in place
Set a positive example for campers and others including cleanliness, punctuality, and attitude
Follow and enforce Day Camp rules as outlined in the Staff, Volunteer, and Camper Codes of Conduct
Assist in creating and maintaining a culture of inclusivity, belonging, pride and excellence in Athletics & Recreation facilities by providing excellent customer service to campers, families, and guests
All other duties as assigned or required
Previous (Closed) Job Opportunities