You are now in the main content area
Eureka Camp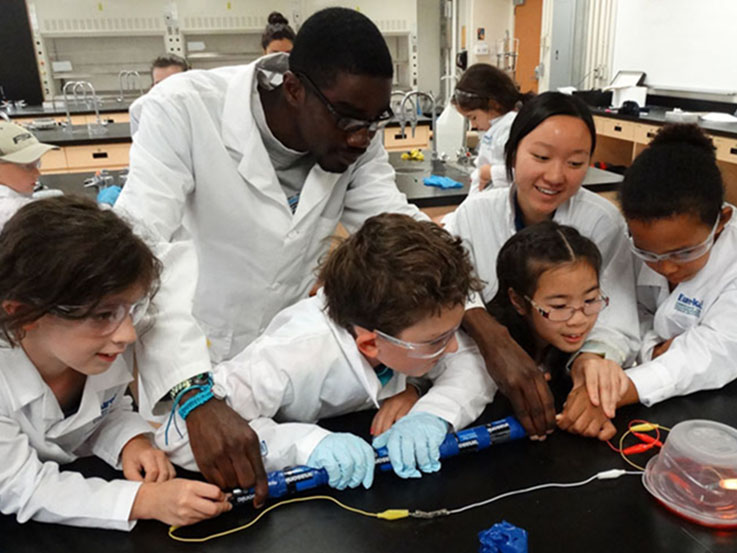 Description
The Eureka program focuses on providing campers with hands-on interactive activities that introduce them to the worlds of science and engineering. The weekly camp schedule features fun, innovative, and engaging exercises that inspire each camper.
Eureka is offered in partnership with the Departments of Science and Engineering. Each camp program is facilitated by Ryerson Day Camps staff with science and engineering students.
In addition to enjoying practical science and engineering activities, campers also take part in physical activity programming daily, including:
Soccer
Volleyball
Basketball
Dodgeball
Co-operative Games
Each week of Eureka is highlighted by a Science/Engineering Olympiad on the final day.
Ages
All campers 8 – 13 years old (as of December 31)
Dates & Fees
Week #1 (July 4 - 8): $410 - 5 days
Week #2 (July 11 - 15): $410 - 5 days
Week #3 (July 18 - 22): $410 - 5 days
Week #4 (July 25 -28): $340 - 4 days
Registration closes three (3) business days before the start of a session, OR when that program is full.

Please note that policies related to our program, "last minute" registration, transfers, refunds, and dismissal can be found on our Registration Policies page.
Support Science at Ryerson
The Faculty of Science is committed to providing Eureka camp experiences to children with financial need who would not otherwise be able to attend. A week at Eureka introduces a child to science and engineering. Campers meet new friends, learn new skills, and develop an appreciation for learning in a way that is unique to Camp.
These opportunities are not possible without the generosity of Camp families and community members. If you would like to make a donation to the Faculty of Science Eureka Summer Camp fund, visit our Support page and scroll down to the "Make a Donation Now" button. Donors receive a tax receipt for their contributions. Thank you for helping deserving kids to attend Eureka!
If you have questions about the Eureka Summer Camp fund, please contact Professor Emily Agard at eagard@ryerson.ca.