You are now in the main content area
Dr.
Kazem
Fayazbakhsh
Associate Professor
BSc, MSc, PhD
Areas of Academic Interest
Mechanics of Composite Materials
Finite Element Method (FEM)

3D Printing of Composite Materials

Materials Selection for Engineering Design

Spotlight
Kazem Fayazbakhsh wanted to teach his students how to make materials like composites stronger and more cost-efficient. But there was a problem. The machines Fayazbakhsh used in industry to perform this testing were enormous—not at all scalable in a lab setting. "3D printing solved my problem," he says. "It's like a new industrial revolution."
For his students, the benefits of 3D printing are revolutionary indeed. By working with Fayazbakhsh, they are developing solutions for one of the biggest problems faced in aerospace: quality control. By 3D printing a part, slicing it up, and testing the strength of each layer, Fayazbakhsh is hoping to make manufacturing more consistent—and air travel even safer.
This systematic use of 3D printing technology may not just solve aerospace problems, however. Fayazbakhsh is building partnerships with researchers in other fields, like health and fashion, and hopes to use the technology to develop materials such as bone replacements and body armour in the next five to ten years. "I want my students to be able to take what they learn in our lab and apply it anywhere," he says. "When they do that, amazing things can happen."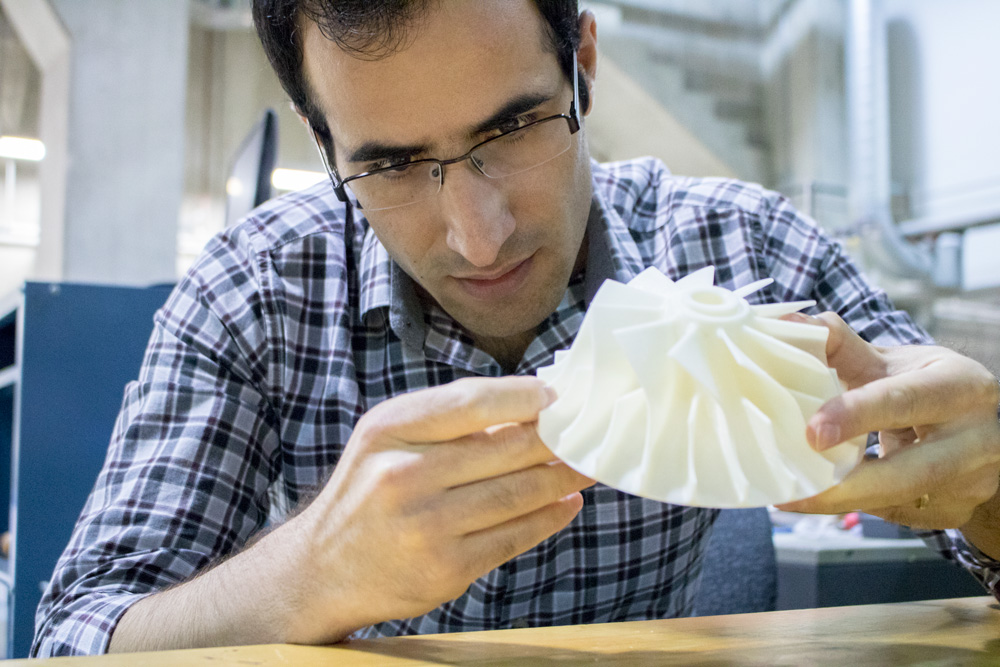 "In industry, engineers have to be able to predict a problem or account for it."
Fayazbakhsh, K., Arian Nik, M., Pasini, D., Lessard, L. (2013) Defect layer method to capture effect of gaps and overlaps in variable stiffness laminates made by Automated Fiber Placement. Composite Structures. 97: 245-251.
Fayazbakhsh, K., Abedian, A. (2012) Materials selection for electronic enclosures in space environment considering electromagnetic interference effect. Advances in Space Research. 49(3): 586-593.
Arian Nik, M., Fayazbakhsh, K., Pasini, D., Lessard, L. (2014) Optimization of variable stiffness composites with embedded defects induced by Automated Fiber Placement. Composite Structures. 107: 160-166.
Fayazbakhsh, K., Abedian, A., Dehghan Manshadi, B., Sarfaraz Khabbazet R. (2009) Introducing a novel method for materials selection in mechanical design using Z-transformation in statistics for normalization of material properties. Materials & Design. 30(10): 4396-4404.Ghiasi, H., Fayazbakhsh, K., Pasini, D., Lessard, L. (2010) Optimum stacking sequence design of composite materials Part II: Variable stiffness design. Composite Structures. 93(1): 1-13.
Development and Methods Analyst, Stelia Aerospace North America, 2014-2017