You are now in the main content area
About us
A joint partnership between the City of Brampton and Toronto Metropolitan University, formerly Ryerson University, Brampton Venture Zone is a purpose-driven, non-equity incubator that is dedicated to building and growing early stage technology startups in Brampton. We enable connections between aspiring entrepreneurs, current founders, industry experts, funders, and customers to build solutions that address hyperlocal issues in the community.
Our virtual programming teaches first-time founders the foundations of market development, enables industry partner collaborations and helps technology startups develop a playbook for market launch and growth beyond BVZ.

Our cohorts are comprised of entrepreneurs from all walks of life, from first time founders to serial entrepreneurs looking for a new challenge, or mid career professionals looking to pivot in their careers, we believe that entrepreneurship should be accessible to and inclusive of all.
Our values
Diversity and inclusion
A commitment to delivering programs that are accessible and inclusive across cultural backgrounds, gender, age, religion, identity, and experience.
Experimentation and coaching
Through our programming, focused on problem-solving for hyperlocal issues, and our ongoing support for entrepreneurs, we remain committed to providing a safe, open space for experimentation.
Community and experience
We foster an environment of continuous learning and engage directly with the community to understand their needs and contribute to economic growth in Brampton.
Shared success
BVZ is a platform for others to thrive: our ultimate success is realized in the successes of the community, clients and stakeholders.

City of Brampton
On January 7, 2020, Toronto Metropolitan University, Formerly Ryerson University, and the City of Brampton issued a joint media release (opens in new window) announcing the establishment of Brampton Venture Zone. Located within the burgeoning Brampton Innovation District, (external link, opens in new window) BVZ aims to enhance the city's social and economic vitality by supporting the growth of new business, creating high-skilled jobs, and solidifying Brampton's standing as a global hub of innovation. The presence of BVZ will build a future talent pipeline in the City of Brampton and serve as a model economic growth engine for emerging cities of the future. BVZ works alongside community partners and organizations such as the RIC Centre (external link, opens in new window) , Brampton Entrepreneur Centre (external link, opens in new window) , BHive, (external link, opens in new window) and Sheridan's EDGE (external link, opens in new window) centre as part of the City of Brampton's overall 2040 vision and commitment to innovation.
A home for innovation and cultivating local talent
BVZ aims to nurture local entrepreneurs helping drive the Brampton economy and create impactful solutions for businesses and people in Canada and beyond.
The presence of Brampton Venture Zone will build a future talent pipeline in the City of Brampton and serve as a model economic growth engine for emerging cities of the future.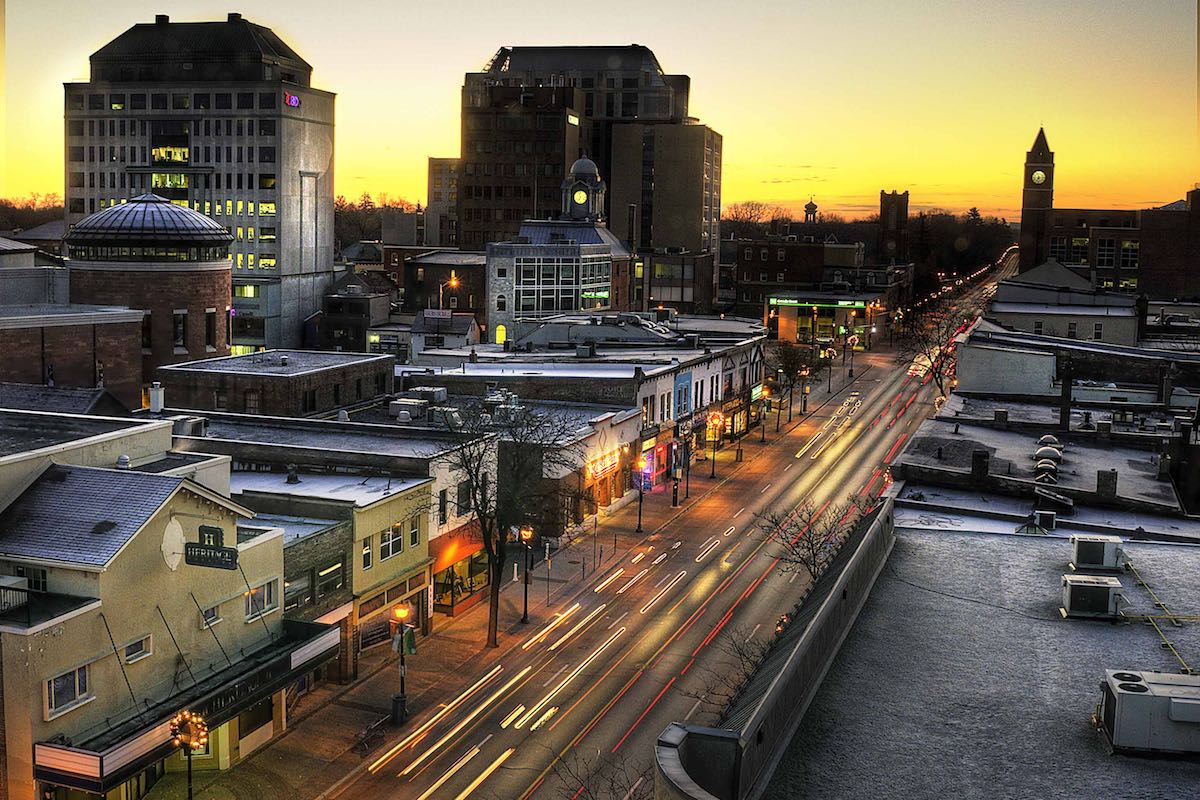 Sector Focuses in Brampton
Community Health and Wellness- William Osler Health System, (external link) is a hospital system that serves 1.3 million residents of Brampton, Etobicoke, and surrounding communities within the Central West Local Health Integration Network. It consists of Peel memorial centre, Brampton civic hospital, Reactivation care centre and Etobicoke general hospital. The health system is dedicated to evaluating and implementing more patient inspired technologies to enable efficient, effective and innovative care for this diverse community.
Smart City, Mobility and Logistics- Located near Pearson airport and home to many logistics companies, the following are some of the largest goods movement employers in the region: Chrysler, Maple Lodge farms, Coca-Cola, Amazon, Canadian Tire and Maritime Ontario to name a few. CN Rail's Brampton Intermodal Terminal (BIT) is the largest terminal in North America and is CN's intermodal hub for the GTA and Southwestern Ontario, operating 24 hours a day, seven days a week and nearly 60 percent of the railway's system-wide intermodal business passes through the terminal.
Food Sustainability - Brampton's food and beverage sector is a one-stop-shop, complete with food testing, processing and packaging facilities as well as transportation, packaging design, equipment and refrigeration storage all located within the city. It contributes $1.3 B to Canada's GDP and 8,500 people are employed in 300 companies. Top employers include Loblaws, Maple Lodge, Coca-Cola, Give & Go prepared foods, Italpasta to name a few.
Advanced Manufacturing - It is the largest employment sector in Brampton; contributes $4B to the Canadian GDP, 1,500 companies employ 30,000 people. Top employers include FCA, ABB robotics, Magna, Almag aluminum, BMP metals to name a few. Home to the key post-secondary training through Sheridan College's Centre for Advanced Manufacturing and Design Technology (CAMDT (external link) ) and Skilled Trades Centre (STC), Brampton is strategically positioned to support the diverse talent needs of the advanced manufacturing sector.
Zone Learning
BVZ is part of Toronto Metropolitan University's Zone Learning network, one of the most respected university-based innovation ecosystems in the world. Zone Learning is for anyone who wants to get practical experience in what it takes to build an initiative/venture from the ground-up. You can initiate your own projects or contribute to existing ventures involving faculty, business and community partners.
The 10 zones – each with a focus on a different industry – are incubators or spaces where people come together to brainstorm, kickstart projects, and build startups. Zone Learning (opens in new window) members work at the forefront of emerging markets to develop new products, explore innovative solutions, or embark on ventures to change the world.