I started to be more perceptive of injustices
November 09, 2021
When I first began my journey with the Transmedia Zone, I was unsure of what I could envision for myself as an emerging filmmaker and for my organization, Films With A Cause (external link) . Throughout my undergrad, I contemplated a career in social purpose work, while actively seeking out opportunities in Toronto's bustling film and television industry. I landed an assistant role at Charles Officer's production company, Canesugar Filmworks, yet I was also taking on roles with non-profit organizations. Needless to say, there was a lot ahead of me to figure out.
Movies have always been the way I could immerse myself in experiences beyond my own, and creating videos became a necessary means of self expression. As I learned more about systemic inequities in our social institutions, I started to be more perceptive of injustices that go unnoticed in everyday settings. In creating my first short films, From Syria To Hope (2019) and With Love From Munera (2020), I recognized how many barriers exist from obvious financial needs to time flexibility, access to networks and general bias towards marginalized communities. As a young South Asian Muslim woman, the odds were not entirely in my favour, yet I now recognize the privilege I have to already be this far.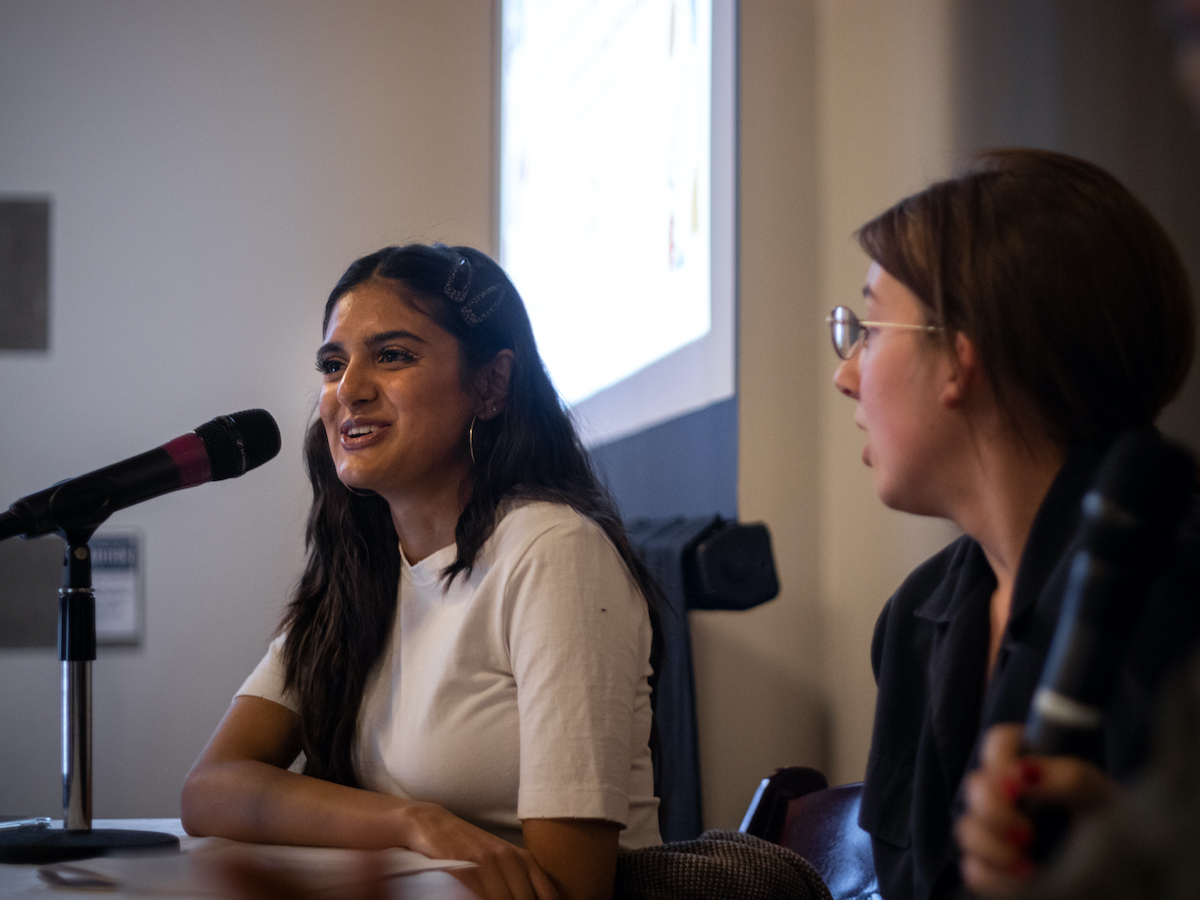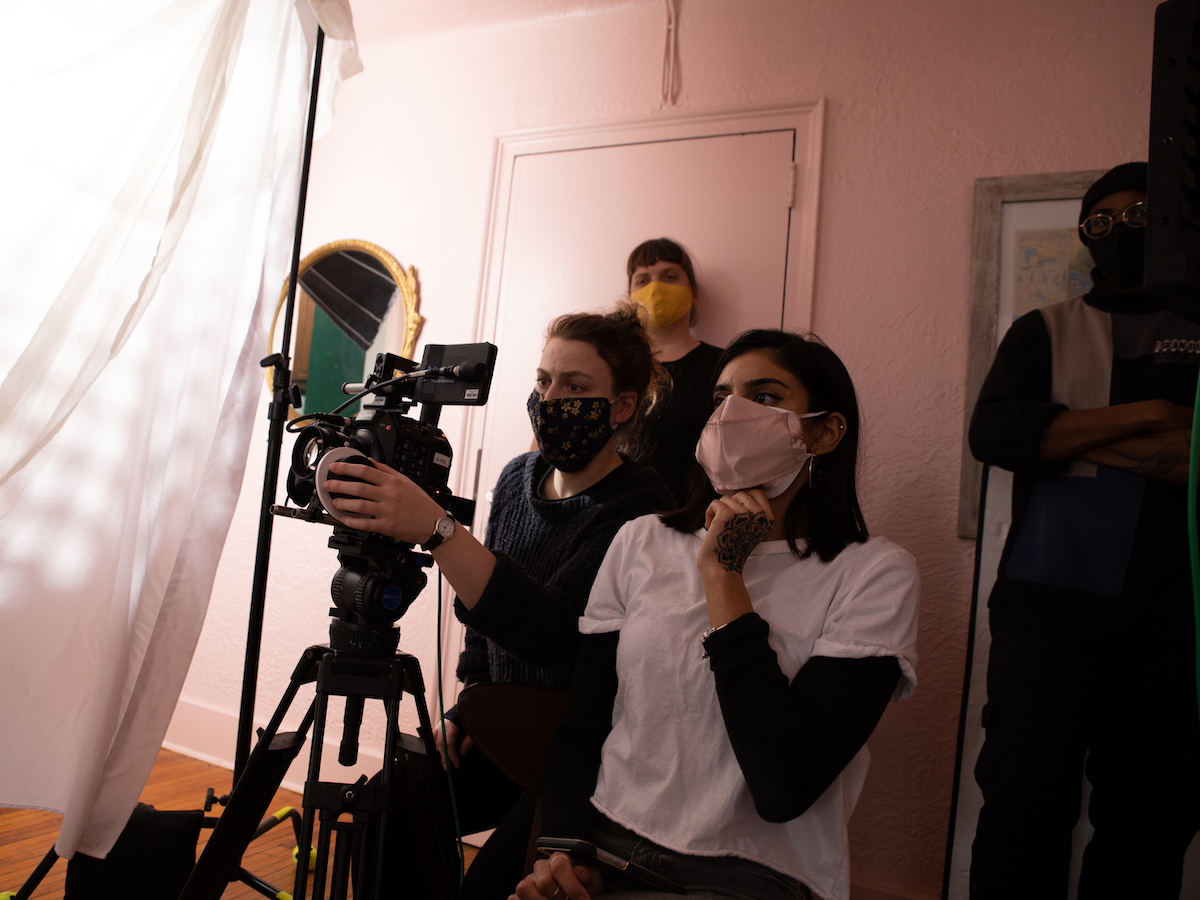 Films With A Cause began as a collective run by students who are passionate about storytelling that has the capacity to shift how we perceive each other and the world around us. We hosted events to encourage dialogue around representation issues, behind and in front of the camera, and we created digital campaigns to engage young people, especially from marginalized communities, to become involved in creative fields. As many of us were graduating and considering our career options, I knew I wanted to continue working in the film industry while growing Films With A Cause. I hoped the organization could become a platform for historically marginalized Gen Z creatives to participate in pushing the industry in a more inclusive direction.
Being introduced to a vibrant and authentic creative community at the Transmedia Zone was much more motivating than I could have anticipated. It has been encouraging to see a range of projects at very different stages of their development and to have a regular space where we share ideas about each other's work and express our grievances. The guest speakers, workshops and one on one sessions were also transformative, not only for how I envisioned Films With A Cause, but how I envisioned my personal career in the film and television industry.
Outside of writing and directing my own content, I began to take on more industry roles. From Production Manager to Story Editor, Cultural Consultant to Associate Producer, I learned much more about production work this past year than I ever have. I was simultaneously involved in TIFF Next Wave with my short film With Love From Munera and was selected as a Hot Docs Accelerator Fellow, both endeavours supported and amplified by the Transmedia Zone. I was also recently awarded development funding by Hot Docs to begin work on my first feature film in partnership with Gabriel Badejo, executive produced by Canesugar Filmworks. I finally felt imposter syndrome less, being amongst creatives who shared their similar sentiments of never feeling like you're doing enough, while doing quite a bit.
This past year and through the Transmedia Zone, for personal and professional reasons, I came to really understand the importance of prioritizing care for yourself. Whether I felt taken advantage of by a client or within my own circles, I learned many times that when you don't know and exert your own boundaries, everything can be at risk. I appreciated that personal development work was encouraged in Zone Learning. Without beginning to work on yourself as a creator or entrepreneur, you aren't able to give your all to the project or team you're committed to leading.
The Transmedia Zone helped our team at Films With A Cause to envision our future as being committed to advocacy and Diversity, Equity and Inclusion (DEI) consulting work, from the perspective of marginalized Gen Z creatives. We observed a gap between what more experienced creatives may perceive to be positive representation, and how our generation may respond and interpret meaningful representation attempts. When we figured out what we truly care about seeing change in the industry, we recognized where our power and strength lies. In moving towards this business endeavour, we are looking for motivated Gen Z creatives to join our team for the long haul.
Zone Learning has fostered an important community for exploring possibilities for myself and my team, when it can often feel isolating to pursue a creative or entrepreneurial career. I now always encourage students who are thinking about steps after graduation to work in community while learning to prioritize themselves when it matters most. Understanding yourself and what makes you excited is easier done when you share space with those who can support you. Anything is possible from there.